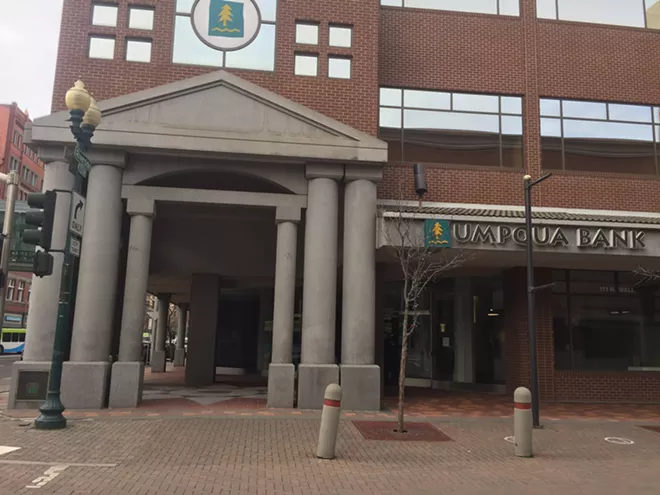 After months of discussion among Spokane elected officials about
moving the downtown police precinct office
to a more central location in the city's urban core, a new site has finally been selected: The former Umpqua Bank building at West Riverside Avenue and North Wall Street, just across the road from the transit plaza.
Woodward, who pledged to relocate the downtown precinct
during her campaign
— the precinct office is currently housed in the Intermodal Center — touted the move as her quickly fulfilling a core plank of her campaign platform.
"Our downtown can be so much more. It is a serious concern that I heard over and over again last year," she said at the Monday press conference flanked by Spokane Police Chief Craig Meidl and city council members. "The central location delivers in the first seven weeks of my administration on an important priority coming into office that will deepen officer connections with our community and our visitors."
During her mayoral bid, Woodward framed downtown Spokane as a dirty, crime-riddled and unsafe neighborhood, telling
KREM last June
that "a very small percent of the homeless population" was committing crimes in downtown, doing "aggressive panhandling," "damaging property," and that a new downtown precinct was needed to "clean up the criminal element."
But at Monday's press conference she characterized the city's urban core in much rosier terms, characterizing the neighborhood as "thriving" and "awesome."
"Our downtown is thriving, with so much more on the way. We have a lot to be excited about," Woodward said. "More people are enjoying events, conventions, and shows. And investment in hotels, restaurants, and other venues are creating an ever-growing vibrancy. We have an awesome downtown."
In order to lock down the former Umpqua Bank building as the new downtown police precinct, the city intends to sign a 10-year lease for the 6,800-square-foot space and will spend an estimated $295,000 on capital improvements and roughly $13,000 in monthly rent, according to city spokesman Brian Coddington. Woodward said at Monday's press conference that the facility will be operational by July.
Woodward also said that crime is decreasing, while her staff passed around an informational sheet noting a statistical decrease in crime in downtown since 2018.
"Crime, yes, crime is dropping," she added. "And opening a new precinct will enhance that progress."
That narrative contrasted with claims made by Woodward last year prior to the election, where she characterized downtown as getting more dangerous: "We've seen the crime rate go up and the homeless issue get worse downtown over the last — I'd say exponentially — in the last two or three years," she told the
Inlander last July
.
Similarly, Woodward characterized downtown property crime as increasing during a Pints and Politics forum last October: "We do have a property crime issue. It's huge," she said. "Property crime is no longer being investigated, it's no longer a priority."
In reality, while violent crime in downtown increased in 2018 before subsiding again, downtown property crime has been decreasing
since 2017
after an apparent spike.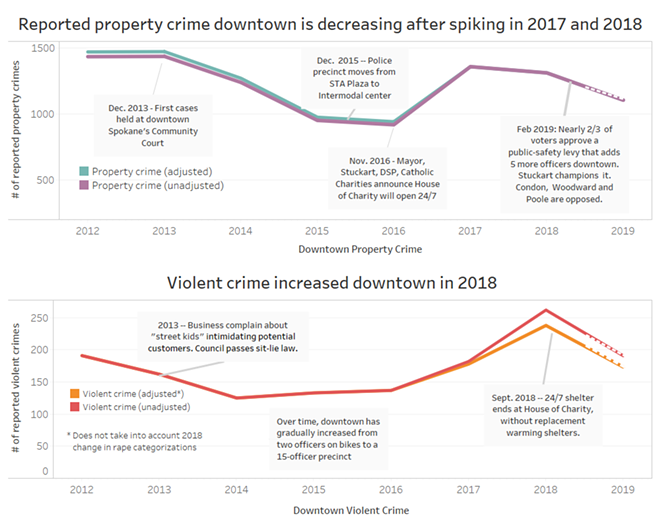 The common thread among elected officials and representatives of downtown interests who spoke at the press conference was that public perception of safety in downtown matters, regardless of the actual crime rate.
"My sense of the downtown is that it actually is a pretty safe space. But public safety is such a priority for people," said Spokane City Council President Breean Beggs. "It is the experience and it is the perception and as the city has grown and become more vibrant with more people visiting it, we have struggled with that."
"I feel safer already," Councilwoman Lori Kinnear quipped.
Former Spokane Mayor David Condon moved the downtown precinct to the Intermodal Center in 2015, arguing that it would
save money
because the facility is owned by the city. (City council members
criticized the move at the time
, citing skepticism about the potential cost savings.) Previously, the precinct was located in a
storefront near the downtown transit plaza
.
Mark Richard, CEO and president of the Downtown Spokane Partnership, said at the press conference that perceptions of safety are "often times more important" than crime rates.
"This is a huge moment for us," he added. "I can't tell you how excited we are."
Relocating the downtown precinct comes as Spokane Police Department plans to funnel more officers into the precinct, with an additional 7 officers expected to be assigned to the neighborhood on top of the existing 16. The new officers are funded by the public safety levy that voters approved last year. Two sheriffs deputies and several mental health specialists who are embedded with police patrols will also operate out of the center.

Part of the argument for moving the precinct and adding additional officers to the area from Woodward and other officials is that it will enable officers to be more visible on the street by patrolling downtown by bike and foot.


"We want a more visible police force and we want our officers out on the street, foot patrol, bike patrol, engaging with our business owners, with the people that who work downtown, the people who visit downtown," Woodward said. "I think the visibility will make a huge difference and to people's perception of being safe downtown."
"You are going to experience a new sense of safety. You will see officers walking. You will see them riding their bicycles," Beggs said. "You will see their patrol cars here."
Spokane Police Chief Craig Meidl told the
Inlander
after the press conference that the precinct won't be fully staffed with the new incoming officers until the end of the summer at the latest. But the new hires will "absolutely" enable the downtown precinct captain to dedicate more officers to foot and bike patrols without limiting the precinct's ability to respond quickly to incidents, he said.
"There's days where he may only have three officers on a shift at a time," Meidl said. "So if you have four officers working, two calls can tie up those four officers."
"With more officers, that means he can have more response options," he added.
Prior to the election, Meidl largely
avoided taking sides
on moving the downtown precinct.