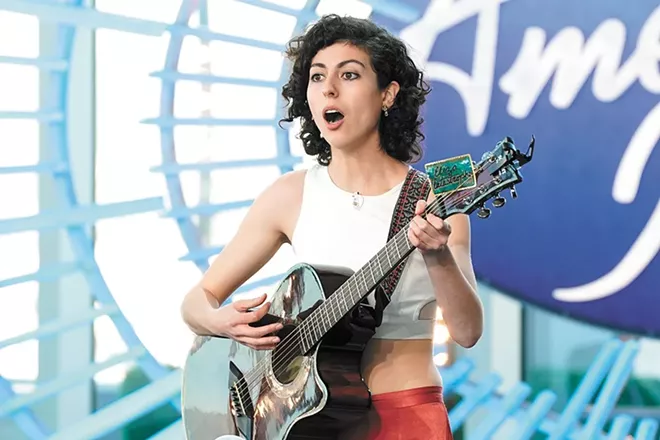 Back in November,
we wrote about
local singer-songwriter Eliza Johnson's musical project Eliza Catastrophe and her new album
You
, which she released on pre-loaded MP3 players. One thing we weren't able to mention in our interview — for contractual reasons — is that she had only a couple months prior auditioned for
American Idol
, and her performance finally aired on the ABC reality competition show Sunday night.
Idol
producers first visited Spokane back in September, which is when Johnson was selected to head to L.A. to audition for the show's judges — Lionel Richie, Katy Perry and Luke Bryan — on-camera a few weeks later.
On last night's episode, Johnson, appearing under her Eliza Catastrophe moniker, performed her original song "Sardines" — amongst the gifts she brought the judges were actual tins of sardines, much to Perry's chagrin — a catchy ode to the tinned fish that's sung partly in French.
As far as moving on to the next stage of the competition, all three judges gave Johnson a "no." But their criticisms weren't entirely negative, and Bryan seemed most enthusiastic about the performance, noting that the song would undoubtedly be stuck in his head.
"I don't know where this... fits, not that you're not entertaining," Richie says in the clip.
"You make us laugh," Perry adds, "and it's super unusual. It
is
weird. I'm weird, too, just a different kind of weird."
"Would you ever want to hang out socially?" Johnson retorts, and she's met with silence.
If you've ever seen Johnson live, you'll know that this kind of deadpan self-deprecation is totally her style, and it continues into her post-audition interview: "Maybe Katy Perry will be opening for me some day," she tells the camera.
Following the airing of the episode, the
American Idol
YouTube channel shared a
singalong version
of "Sardines" with a follow-the-bouncing-fish lyrical scrawl at the bottom, which has already been viewed 256,000 times. (Johnson tells the
Inlander
there's actually a typo in the lyrical captions: She's singing "pesca," not "Pescal." Make note.)
Despite the judges' somewhat perplexed reception, most of the user responses on the YouTube video of Johnson's audition are overwhelmingly positive. The top-voted comment, in all caps: "SARDINES IS KINDA A BOP THO."