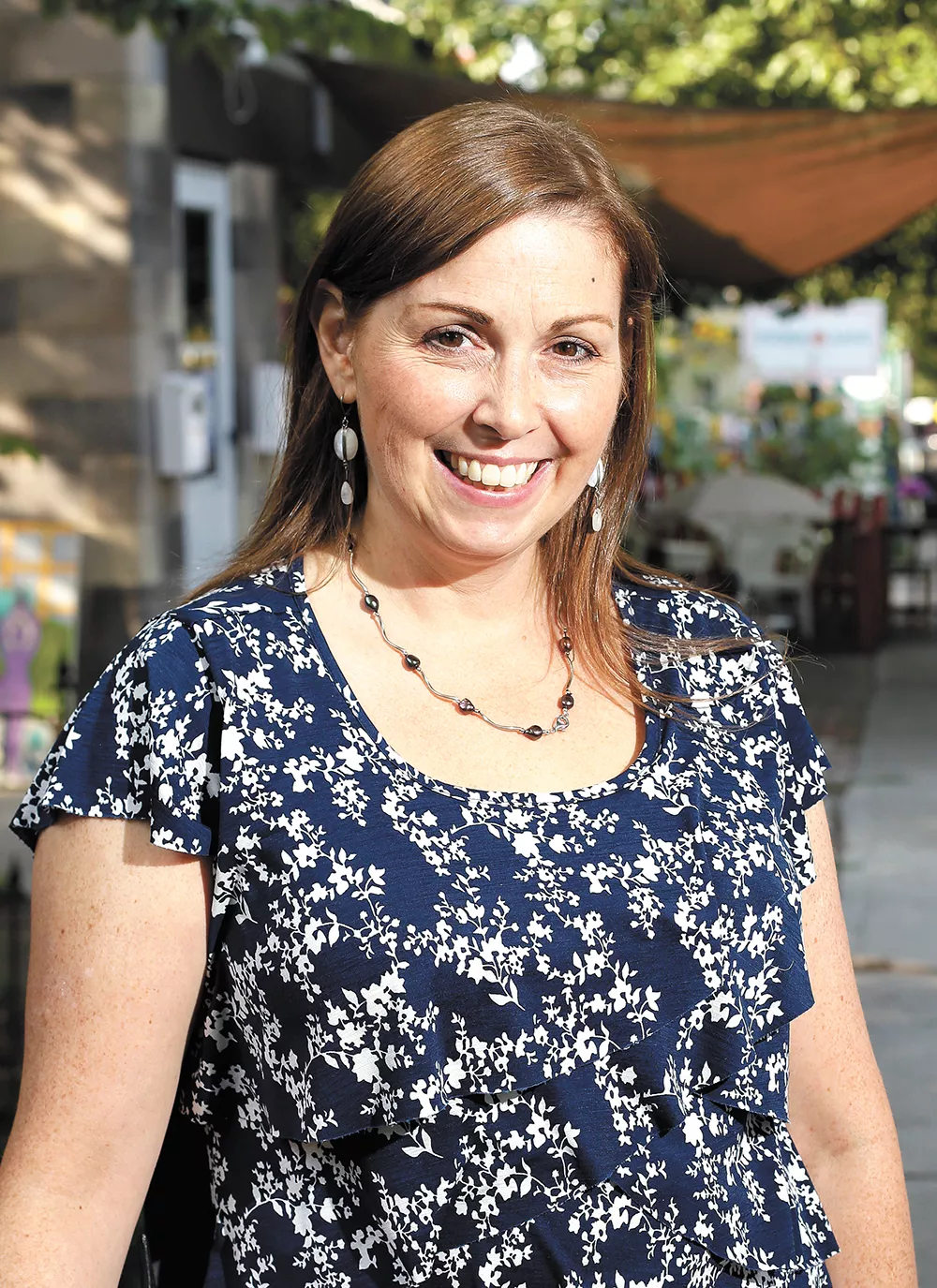 Writing, Laura Read says, is the center of pleasure in her life. When she's not teaching classes at Spokane Community College, she'll take long walks in her South Perry Neighborhood with her energetic terrier mix, Henry, and think about concepts she could write about. Excitement begins to bloom as ideas percolate. As they become more complex, she looks forward to the time she'll spend at her desk, fleshing out the details, turning the sprout of an idea into a full-grown poem.
The former poet laureate of Spokane will release her third collection of poetry, Dresses from the Old Country, on Oct. 9.
Though Read is an accomplished poet with a great deal of work to show for it, when it comes to creating, her routine is basically nonexistent, she says.
"I'm not like one of those people who gets up every morning and writes. I don't really have that much to say," she laughs. "I know that sounds weird, but I'm not a fiction writer, so I don't have a story that I can keep coming back to, so I always have to invent the starting point again, and that takes a lot of reflection."
Dresses from the Old Country is largely influenced by her own life in Spokane as a teacher, mother and wife, nestled in the context of the city she's dwelled in for the majority of her life. The concept began as a collection of poems about specific places in Spokane, but eventually shifted as her writing focused less on settings and more about the preservation and passage of time.
Read chuckles as she recalls a time she was told "she's a good person to know in your early 20s." Indeed, her writing does tend to shed a light on coming-of-age as a young woman, which she believes will appeal to younger audiences struggling to tack down their identities. But her newest book also has narratives from an older perspective, highlighting motherhood and teaching, which allows a variety of audiences to engage.
Despite her love of writing, Read doesn't hesitate to say she's a teacher first, not a poet. At SCC she teaches composition, creative writing and, every so often, a poetry-specific course. Mark Anderson, Spokane's current poet laureate, has experienced Read's teaching firsthand, in various community workshops she's held.
"I feel like I learned a little bit of a different set of skills when I took some workshops with Laura," he says. "I definitely learned a lot more about how to pay very particular attention to exactly what the image is I was using in a little bit more of an in-depth way."
Anderson spoke to her strength as a teacher. One of his upcoming projects found its conception in one of Read's workshops. He says she volunteered to take a look at his work and has been suggesting great edits ever since.
"Her writing is very empathetic, it's very caring. But at the same time, there's a lot of seriousness to it as well. She's not afraid to go to those deep, dark places. But she does so in a very kind way," Anderson says.
The majority of Read's work is autobiographical. Putting intimate pieces of yourself into work that will be tossed into the hands of students, strangers, you name it, can be an incredibly vulnerable process.
Read gives the example of Sharon Olds, a poet who claimed her work wasn't autobiographical throughout her career. After Olds' parents passed away, she confessed everything she ever wrote was true. Though sometimes Read wishes she could use a similar ruse in her classroom, she says she could never pull it off.
"I just end up saying, 'Yeah, it's me!' which does make me feel more vulnerable. But I also feel like I really appreciated the risks other writers have taken that I've benefited from, because I feel personally connected or comforted or expanded by something honest that they've said," Read says. "So I still feel like it's a risk worth taking. Even if it makes me feel vulnerable, I'm like, 'Yeah, maybe this will help someone.'"
Thomas Caraway, Spokane's first poet laureate, knew Read's work before he knew her. He thinks about sitting down with Read's first publication, The Chewbacca on Hollywood Boulevard Reminds Me of You.
"I remember reading that and thinking, 'What is going on here?' I mean there was such a sense of depth to everything," Caraway says. "They seem like these kind of playful, kind of kitschy, fun titles and phrasings, she's very, very funny, but also, like suddenly you're tearing up at a set of images or phrasing that are so poignant."
He was on the selection committee that elected Read as the second poet laureate of Spokane. Her take on the position excited him because the ideas and projects she pitched differed so greatly from his own. Though Caraway and Read have similar backgrounds — both are professors and published poets — he says her approach to poetry and the laureate title was so distinct that it lead to a real development of the position.
"I think she did a tremendous amount of work to make poetry accessible, that was really great to see," Caraway says. ♦
Laura Read will be celebrating the launch of Dresses from the Old Country on Oct. 8 at 7 pm at the Bartlett (228 W. Sprague) with readings by fellow writers Ellen Welcker, Kat Smith and Maya Zeller, and a performance by local musician Ruthie Henrickson. The event is free.
---
MORE LOCAL BOOKS COMING THIS FALL
Sherry Jones, Josephine Baker's Last Dance
The Spokane-based Jones has made a name for herself among lovers of historical fiction thanks to her tales of courageous and passionate women. Her latest, arriving Dec. 4, is a novel based on the life of performer and activist Josephine Baker, a riveting singer and member of the French Resistance during World War II.
Asa Maria Bradley, Siren's Song
This Spokane Falls Community College physics professor launched her Viking Warrior series of fantasy romances back in 2015, and there's been no slowing her since. While the next book in that series arrives next year, on Nov. 27 she'll publish this short novella, part of a project with six authors all penning stories from a shared urban fantasy world setting.
Trent Reedy, Gamer Army
Gamer Army, arriving Nov. 27, is Reedy's seventh novel. Geared toward the YA audience like his popular Divided We Fall trilogy, the Iowa transplant to Spokane describes Gamer Army as "a story of video games, virtual reality, robot warfare, artificial intelligence, and thoughtful action."
— DAN NAILEN