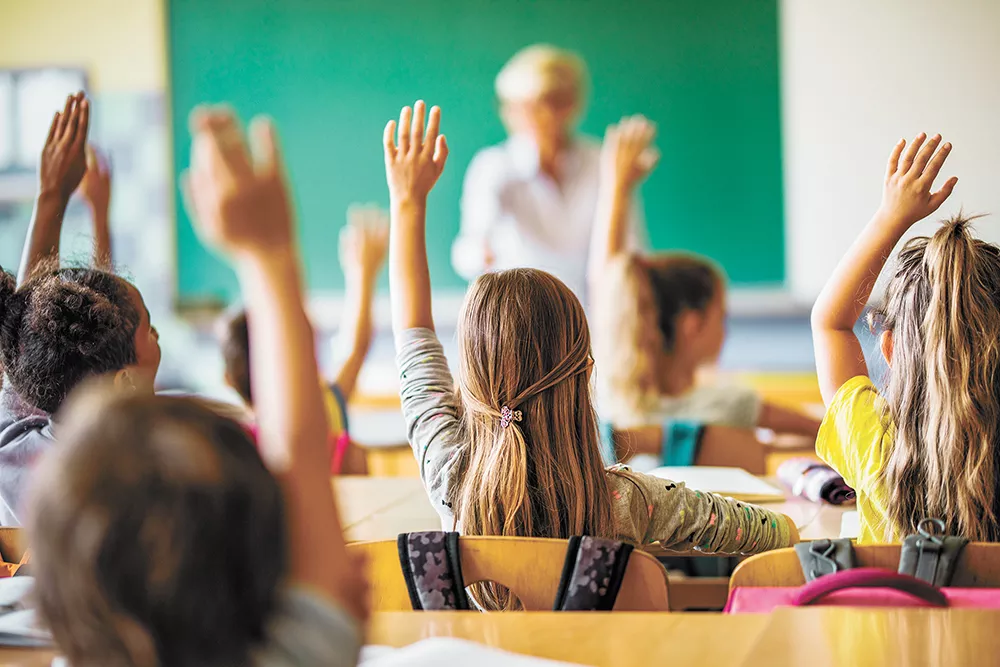 When Spokane Public Schools teacher Mary Douthitt was told this spring that she was no longer being laid off, it came with a condition: She'd have to switch schools.
"I was told what my assignment was," Douthitt says. "I was told we just had to say 'yes' or it was a resignation."
Spokane Public Schools was able to recall all but a few teachers and certificated staff who were originally on the layoff list this spring due to a budget crisis. But many of those teachers were recalled into a different position or to new schools, which teachers worry negatively impacts students. Douthitt, a special education teacher now at Shaw Middle School, says it can particularly affect special ed students.
"It takes time to develop relationships with students who have learning disabilities, to understand what supports are needed within an individual school's program and how best to deliver that support," she says.
Brian Coddington, a spokesman for Spokane Public Schools, notes there is a certain level of teacher movement that occurs every year due to retirements and resignations. But he admits that the budget situation did create "abnormal" movement among teachers. Based on the contract language written into the district's contract with the Spokane Education Association, teachers were chosen for layoffs based on seniority, and when they were recalled, the positions they vacated often were likely unavailable.
"There's no doubt it's not ideal, and it wouldn't be the first choice," Coddington says.
Douthitt had been teaching at Chase Middle School for a year when she came into school on April 11 and noticed something was different. The principals looked somber. Teachers were crying.
Then she got the news that she was one of the teachers who was going to be laid off.
A total of 325 employees at Spokane Public Schools got the same notice that day. Last summer, the Spokane Education Association — like other teacher unions across the state — negotiated huge pay raises. But those pay raises put the Spokane Public Schools budget in the red, and the district has said the state funding formula combined with a cap on local authority to raise levy dollars resulted in inevitable budget cuts. Teachers with the least experience bore the brunt of those cuts.
But since April 11, due to attrition and additional money from the state Legislature, Spokane Public Schools slowly was able to recall more and more teachers from the layoff list. By the time school started, of the more than 180 teachers who thought they were losing their jobs, all but four were recalled, says Spokane Education Association President Jeremy Shay.
"And I know every single one of those people who gets recalled is recalled into a position for which they're qualified," Shay says.
Coddington says the district isn't able to provide exact numbers on how many teachers on the entire recall list moved to new positions. Every year, due to resignations and retirements, some shuffling is bound to occur. But he can say that there were 24 special education teachers who were recalled from the original layoff list. Of those, 10 went to a new program and 14 went to the same program as before.
Still, being in the same program doesn't necessarily mean the same school. Douthitt, for instance, was recalled back into the secondary resource program, but moved from Chase to Shaw Middle School. Other teachers went from a resource program to a behavioral intervention classroom.
Douthitt says breaking up that continuity and trust doesn't help kids, especially in special ed.
"I put a lot of time, energy and my own money into developing appropriate supports for my students last year, which I was happy to do because I believed I was laying the groundwork for future years," she says.
Now, she's starting over.
Of course, some district employees didn't get that chance. Sheree Rizzardi was a counselor at Libby Center and frequently worked with kids with behavioral problems before she got the layoff notice. She was among the few who never got another call for an open position.
"It's devastating to kids. You need consistency and structure."

tweet this
Rizzardi says she's frustrated that she doesn't have a job now. But she's also concerned that the kids at Libby Center have gone through four counselors in four years.
"It's devastating to kids," she says. "You need consistency and structure."
Becky Ramsey, the director of special education in Spokane Public Schools, says she hasn't heard about any kids impacted by losing a teacher so far this school year. She adds that in some high-needs programs, like the district's Autism Behavioral Learning Environment program, schools were able to keep the same teacher as before.
"The students in that program have high needs related to autism," she says. "So having a consistent adult is important for the stability of behavior and academics."
While Spokane Public Schools knows that the layoff and recall process hasn't been ideal, district officials and teachers union leaders say their hands were tied by contract language. Coddington, the district spokesman, says it's a challenge to follow the prescriptive model for handling a layoff or recall process and balancing it with the customized individual approach schools are trying to take with students.
"We are obligated to follow contract language and to follow state law in how we operate a layoff process," Coddington says. "That's what is dictating how this process ran."
Shay, meanwhile, says he's confident teachers in Spokane Public Schools are up to the challenge.
"One of the great things about having competitive salaries and being in Spokane is we do get highly qualified people," Shay says. "And despite moving around, I think our staff can do an amazing job of educating those kids — whether or not it's ideal." ♦