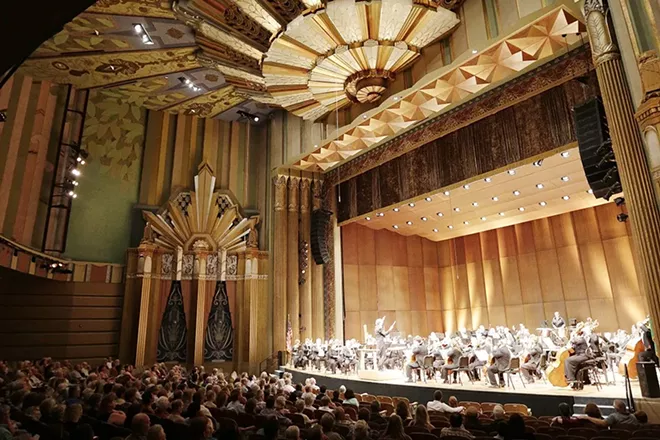 Y
ou might not know it from the fancy attire
they wear on stage at the Fox Theater, but for the musicians in the Spokane Symphony, it's a part-time gig. It's a prestigious gig, to be sure, but like most artists, for the musicians, it's just one piece of a puzzle full of hustle they have to solve to make a living.
Consider the case of
Amanda Howard-Phillips
, the symphony's principal second violinist. She's married to
Chip Phillips
, the symphony's principal clarinetist. Both teach as adjunct faculty at Gonzaga, and she takes on private violin students as well and plays in the
Spokane String Quartet
, while he also earns money as a professional landscape photographer. Howard-Phillips and Phillips both saw their earnings take a hit when the Spokane Symphony was forced to cancel the remainder of its 2019-20 season due to COVID-19, with all 70 members of the symphony furloughed.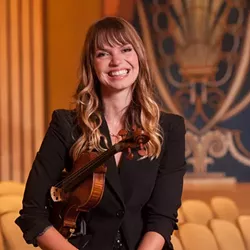 For this couple, though, the cancellation comes right on the heels of an economically devastating medical emergency just a couple months before the coronavirus started making its way around the world. Their second child, Arthur, was born prematurely six months ago and had to spend a month in the neonatal intensive care unit before he could go home and join his parents and 5-year-old brother David.
"I had a problem with my placenta that caused dangerous bleeding," Howard-Phillips says from her home, where she's trying to keep David entertained since his kindergarten year was cut short.
"You never plan for something like that. And you really never plan for something like that
and
a global pandemic. I missed a lot more work than I originally intended to."
The couple spent their "meager savings" on medical care for their son, so the arrival of COVID-19 is one economic disaster on top of another.
T
heir story, and similar economic hardship
among Spokane's classical musicians, has inspired the creation of the Musicians' Relief Fund for community members to help out these artists who bring vibrant life to the Fox stage and special events throughout the region for much of the year. Donations will help the musicians pay the bills until they are able to get on stage again.
"This Relief Fund will be an essential resource for Spokane Symphony musicians who need help making rent, buying groceries and squeaking by," said Colleen McElry, piccolo and second flutist with the symphony, in a statement announcing the fund's creation.
The fund was designed to help musicians who either didn't qualify for unemployment benefits, or for whom those benefits still won't cover their needs. Donations are tax-deductible, and can be made online at
spokanesymphony.org
(hit the "Support" tab, then go to "
Give Now
"), or by mailing a check to: Musicians Relief Fund c/o Spokane Symphony, P.O. Box 365, Spokane, WA, 99210.
Howard-Phillips is quick to note that while her family's situation is dramatic, "we all have our own individual stories, different combinations of jobs we cobble together to make a living. It's not just Chip and me, there are lots of musicians that the relief fund will help bridge the gap during this difficult time."
Her own family's growth was part of a "baby boom" Howard-Phillips has seen among her fellow symphony musicians the last decade or so, and many of her peers were there for support during Arthur's time in NICU. The family vibe among the symphony's members is real, she says, and not just because there are "like 20 or 25 couples" in the symphony.
She's really looking forward to some return to normalcy, like we all are. For her family, that's maybe a trip to a national park where they can camp and hike and Chip can take pictures, followed by getting on stage again this fall to perform in the symphony's 75th season.
"We're optimistic we'll be able to get back to work," Howard-Phillips says. "When I was hospitalized, I really missed playing. Music is my therapy. When you're stressed out or scared or feeling overwhelmed, that's what you do. For the musicians and the audience. It's cruel we can't play for an audience right now."
[Editor's note: The original post had some confusion about the musicians' health insurance, it's been removed.]