With COVID-19 drastically changing daily life for everyone from students to retail workers, many are looking for ways they can help their community through this stressful time.
For 16-year-old Connor Duncan, a sophomore at North Central High School, that inspiration came when he stumbled on a YouTube video of someone 3D printing face shields to help meet the demand for their local health care system.
"Because of the shortage of the personal protective equipment, it's kind of something that I wanted to do to protect my mother," Duncan says.
His mother, Christina Duncan, is a nurse practitioner who works with
DispatchHealth
, an app-based service that provides in-home urgent care for everything from urinary tract infections and strep throat testing to stitches and IV-fluids. The system, which now has 13 employees in the Spokane area, also sometimes helps patients with upper respiratory symptoms, which is where the concern comes in with protective equipment to prevent the spread of the novel coronavirus.
For a typical visit, the health care workers wear a surgical mask, eye protection (goggles), and gloves, but they also don a gown, shoe protectors and a face shield for patients with respiratory symptoms, Christina Duncan says.
So Connor Duncan decided to put the 3D printer he got as a gift two years ago to use printing plastic headbands that can be fitted with removable transparent face shields made from hole-punched overhead projector sheets.
Over the last few days, Duncan has put his printer and a neighbor's to use to print about 15 headbands by Monday, March 30.
With an interest in science and technology, Connor had previously used his printer to create everything from parts for the printer itself to a button-operated wallet that can display all your cards at once. Now, it's all business as he tries to do his part to protect health care workers.
"The headbands can be reused, and the face shields can just be interchanged," he says. "And since it is plastic, it can be sanitized."
Or, the whole setup can be thrown away. He plans to continue printing more for his mom's team and others who may need them. Part of his aim is to protect the very health care workers who may someday train aspiring medical professionals like himself.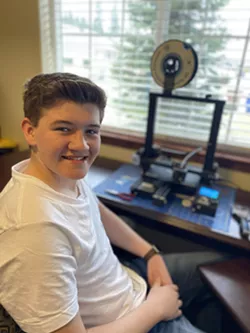 "I want to be a surgeon, and I know with keeping the entire medical field safe, it's going to let future generations kind of learn," he says.
DispatchHealth has been in Spokane since August, but the company has been around for five years, says Christina Duncan, who serves as the clinical practice lead for Spokane. It operates in 12 states and 18 cities, with 70 vehicles to go out and treat people across the system.
"We saw over 400 patients in the month of March, and our numbers are growing," she says. "We see everybody from 3 months old and older."
Before the COVID-19 outbreak, many of the patients the Spokane workers saw were seniors, but there were also mothers who didn't want to take all their kids with them to an urgent-care facility, she says. That demographic has expanded since the virus outbreak.
"We're definitely seeing a broader spectrum of patients," she says.
Their service runs from 8 am to 10 pm, and costs the same as an urgent care co-pay for those with insurance, and a flat $275 fee for those without it, Christina Duncan says.