T
he Spokane Tribe of Indians
, whose name has been poetically interpreted as Children of the Sun, is reinforcing its ties with the natural resource with a brand new 650-kilowatt solar installation.
At a May 16 celebration of the new project, known as the Children of the Sun Solar Initiative (or COSSI), people from the many collaborating organizations that pulled it together cheered the start of work that is expected to save the tribe $2.8 million over the next 30 years.
It was a major fire in 2016 that took out power for days and destroyed more than 18,000 acres that pushed the tribe to look into a solar installation of this size. Not only did the Cayuse Mountain Fire destroy 14 tribal homes, it took out access to water, which in the rural community depends on access to power, explains Tim Horan, executive director of the Spokane Indian Housing Authority.
"In response, the tribe launched COSSI to develop a large-scale renewable energy project on tribal buildings and homes as a step toward achieving tribal energy sovereignty and climate resilience," the tribe announced before the May 16 event. "Partners include the Department of Energy, the Tribal Solar Accelerator Fund (GRID Alternatives and Wells Fargo Foundation), SunVest and the HUD NW Office of Native American Programs."
For AJ Kieffer, a 24-year-old member of the Spokane Tribe who's been trained in recent weeks to install the solar panels, the work has been empowering in more than one way.
Kieffer, who grew up on the reservation, says he finished treatment for heroin addiction at the Thunderbird Treatment Center in Seattle a little more than two months ago. He had little direction for what his next steps would be, but within a few weeks of being back home, he landed a job with the solar installers.
He says the work has kept him away from the temptation to use and opened his eyes to a new career path in electrical and solar work.
"Boredom is a huge trigger, so it's good to have work to look forward to," Kieffer says. "Five weeks in, I'm exploring and learning about new skills. Every day I enjoy coming to work. It has really helped me with changing the direction my life was going."
He's one of several employees who've been trained to install the solar panels by GRID Alternatives, the largest nonprofit solar installer in the country. GRID works to empower Native American tribes and small communities around the country to be energy independent and eventually become self-sufficient in the high-paying installation jobs.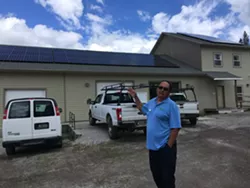 The company calls its training their "classroom on the roof," says Tim Willink, a member of the Navajo Nation and director of tribal programs for GRID. Soon, they'll be handing over the tape measures to the newly trained crew and letting them take the lead, he says.
While COSSI is tied to Avista's grid and doesn't include battery storage, meaning it won't be able to provide power when lines go down — a feature that's important to ensure Avista workers don't get electrocuted while fixing outages, Willink says — it's an important first step in moving toward energy independence, Horan says.
"This is a step," Horan says. "If we can do another project or two and include battery storage, that would get us to maybe a micro-grid and energy sovereignty."