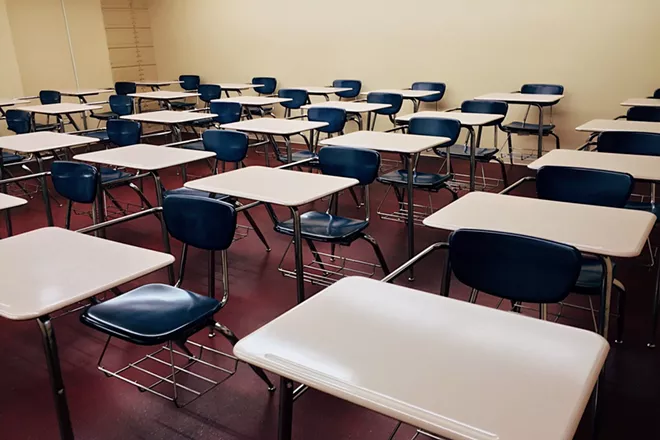 Spokane Valley schools received a rash of apparent school threats within two days, causing classes to be cancelled during an investigation.
Early Friday morning, Nov. 22, resource officers at Central Valley High School found a threat written on the bathroom wall, forcing the school to go on lockdown before students were sent home. School and law enforcement officials have not disclosed what the message said specifically, but Mark Gregory, spokesman for the Spokane County Sheriff's Office, says it included a date and was not directed at a specific person.
A few hours later, another message was found on a bathroom wall at East Valley High School reading "11-25-19 Don't come to school. Don't gotta believe me."
Deputies arrested a 15-year-old the next day for posting a school threat on Snapchat, but that threat does not appear to be connected with the other two, according to the Sheriff's Office. Deputies say the suspect referenced Central Valley and said in a video he was "not playing with you" and that he was "gonna put one of these in your temple" while holding a bullet. The boy told deputies it was supposed to be a joke.
The boy was not a student at Central Valley High School. Gregory says it doesn't matter whether it was a hoax or a joke or not — it is still illegal.
"People may think this is somehow funny or somehow cool," Gregory says. "But to do these types of things, you could very well be held criminally liable, and at a minimum it's spreading fear in our communities."
Marla Nunberg, spokeswoman for Central Valley School District, says there was extra security at both of the district's high schools Monday. She says she did not notice any drop in attendance.
Kelly Shea, superintendent of East Valley School District, wrote in a message to the school community that the district is asking for additional law enforcement for security as the district tries to determine the credibility of the ominous message written on the bathroom wall.
"These events create fear and anxiety for all of us," Shea says. ♦