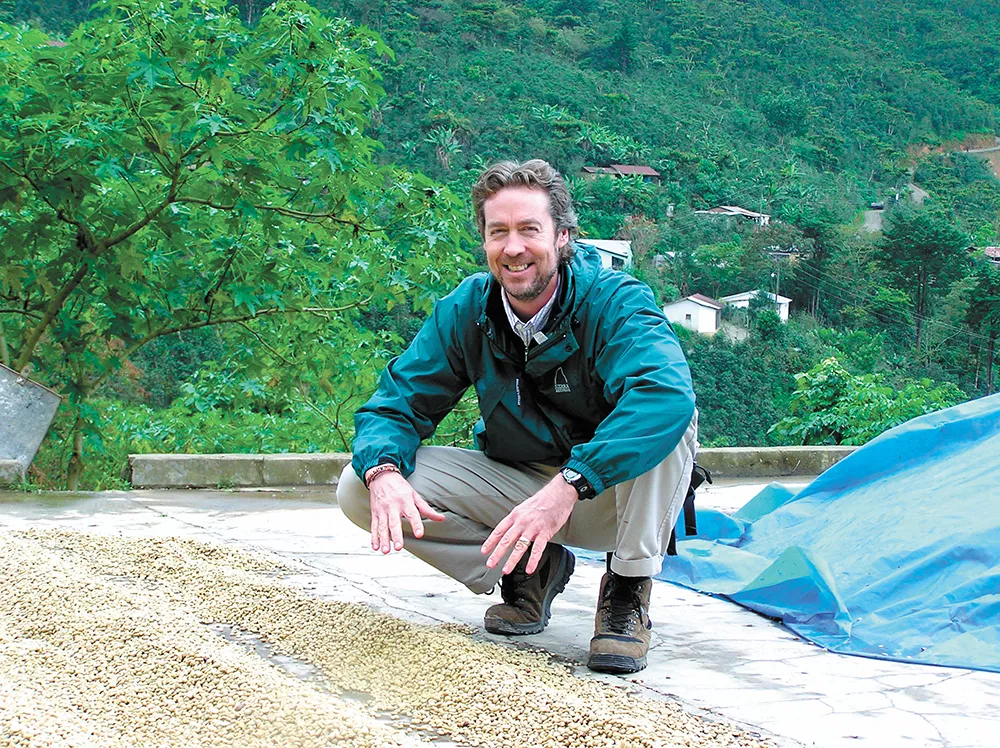 Locally owned coffee shops and roasters are nearly ubiquitous around the Inland Northwest. But it wasn't always that way. The region has seen an explosion of healthy growth in the culture of coffee over the past 10 years, and it's partly thanks to one Spokane-based coffee roaster. This year, Cravens Coffee Company celebrated its 25th anniversary.
Several major moments led to this milestone, starting in the late 1980s when the "third wave" of coffee truly gained momentum in Seattle. Starbucks was emerging as a strong retail presence, and Seattle's Best Coffee was opening new wholesale accounts every day.
"It was really the beginning of that specialty coffee wave," recalls Simon Thompson, owner of Cravens Coffee, who, at the time, was enjoying working in the coffee industry for Seattle's Best.
When Seattle's Best founder Jim Stewart decided to sell, however, Thompson decided he didn't want to work for a large corporation. Instead, he and his wife Becky opened their own coffee roasting company in Spokane.
"We opened on April Fool's Day, 1993, in a little 800-square-foot space on First and Cedar," recalls Thompson. "We were roasting coffee, had an espresso bar, and sold bulk coffee. And off we went from there."
Named after Thompson's second last name (Craven-Thompson), Cravens was initially destined to be a wholesale-only company, so after three years, the couple closed the espresso bar and pursued that vision.
"Every year, we look at opening a café, and we decide not to do it," says Thompson. "We are wholesale, and that's really where we strive to be excellent."
Twenty-five years later, Cravens roasts in a 25,000-square-foot building just east of downtown Spokane and plans are to never move from that spot. The roaster has, however, expanded over the years, with offices and warehouses in Missoula and Grand Junction, Colorado. This fall, Cravens opened a large grocery store account in Sedona, Arizona, although the company's primary wholesale presence is in Washington, Idaho, Montana and Colorado.
Many people visit these states to enjoy outdoor recreation, which has helped increase online orders as well. The roaster also has an office coffee program for businesses that desire to give their employees quality coffee.
When Cravens first arrived in Spokane, there were only two other coffee roasters in town: 4 Seasons Coffee Co. and Uccello's Spokane Coffee, the latter of which is now closed. Thomas Hammer left 4 Seasons in 1993 and launched his own roasting/retail empire that year as well. Today, there are more than 25 regionally based coffee roasters of all sizes for imbibers to choose from. Thompson counts himself fortunate that he was there at the beginning and appreciates the diversity that now exists.
"Everyone's giving it a go," he says. "Just look at the variety of coffee roasters in the Inland Northwest. It is the incubation of opportunity!"
Thompson says when Cravens arrived to the area, there were basically three levels of coffee: "true" specialty coffee served in cafés, bagged coffee sold in grocery stores, and the lowest quality coffee which was rolled into office coffee programs. It was also standard operating practice for roasters to offer as many coffees from as many countries as possible.
"We decided to not do any of those things," says Thompson.
Cravens instead focused on nine countries of origin, never bought filler coffees and crafted every blend offered with beans that could also stand alone as high quality single-origin coffees.
"We have always had one level," Thompson says. "And with only nine countries, I can visit on a regular basis and really establish relationships."
As a "relationship coffee roaster," as the company calls itself, Cravens has made a business of building long-term connections with farmers, cooperatives, importers, exporters, customers and communities. Thompson recently returned from a coffee-scouting trip to Colombia, because the family they'd been working with there from the beginning has since retired from coffee farming.
Another Costa Rican cooperative they work with is set to deliver coffee to Cravens this spring for the 14th consecutive year.
"Coffee roasters are notoriously fickle," says Thompson. "We find a coffee that we love and say we'll buy it forever. Then next year, we find another coffee that is bright, shiny and new."
To keep his coffees consistent and create sustainable partnerships, Thompson travels to each coffee-growing country, identifies the coffees he wants, sets a fair price and commits to buying for years to come.
"The best coffees in the world are sold before they ever leave the country where they're grown," he says.
Over the past quarter century, Cravens Coffee Company has continued to build its three "C"s into a mission of "coffee quality, customer service and community relations."
The roaster has a monthly TV spot on KHQ called "Bring the Coffee" during which Thompson and staff take coffee to a local nonprofit and highlight the work being done there. Cravens also strives to stay true to its early promise of quality and consistency with wholesale customers. And it continues to bring excellence to its pursuit of wholesale "relationship" coffee.
As he looks to the future, Thompson plans to continue focusing on coffee buying and the connections and changes surrounding that.
"We are a one-product company," he says. "We've got to get the coffee right. There is always room to improve in coffee, and I'm challenged by that. After 25 years of sourcing coffee and continuing to learn and get better at it, that will keep me going for another 25 years." ♦
Visit cravenscoffee.com for more information.