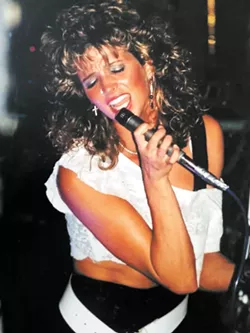 Some might suggest if you remember partying in the '80s, then you weren't really partying in the '80s.
But enough Spokanites remember raging at JJ's Lounge at the old Sheraton Hotel downtown, and even if some of the details are hazy — lost in a cloud of hairspray and foggy "youthful indiscretions" — there's no doubt that something special was going on. And cover band All Fall Down was providing the soundtrack.
"In the '80s, people were ready to party at that point in their lives," says Joe Brasch, All Fall Down guitarist. "We were certainly there to help them do that. And JJ's was kind of the perfect place to do that."
"It was the years of partying," concurs Tracy Kendrick, one of the vocalists of the band that played up to six nights a week at JJ's between 1982 and 1994. "It was the thing to do! You got dressed up and you went down to JJ's. You just did. It was cool. It was a lot of big hair. A lot of Aquanet. I wish I would have appreciated it more then. I so appreciate it now."
Brasch, Kendrick and the rest of the surviving All Fall Down members will spark a few vivid memories when they reunite for a benefit show this weekend. They'll play at Northern Quest Resort & Casino and recreate that old '80s JJ's magic, from playing the same songs to using the same light and sound guys who made the old club "look and sound a lot like a concert," Brasch says. Proceeds will go to the Future Song Foundation, which provides instruments, teachers and mentors to underprivileged kids interested in music.
A band doesn't last more than a decade just by partying with their friends, and both Brasch and Kendrick are quick to note how serious All Fall Down was about honing their craft. Even when they were playing four hours a night, they still practiced three nights a week to add new songs from the radio into their sets — and those rehearsals would typically start at 2 am right after a show.
"The band could play," Brasch says. "Whatever was new, we were learning. We always had new material."
"We'd hear Cyndi Lauper on the radio and say, 'Oh, Cyndi Lauper has a new song!'" Kendrick recalls. "If it was on the radio right now, we were doing it. We were the most current band in town. That included all the lace and hairspray and the colored boots. It was a pleasure to do those songs, and people really responded to it."
Brasch says the reunion show will include songs from all three eras of the band, basically divided up by the three female lead singers All Fall Down had: Kendrick, Brenda Boschee and Jilla Webb. Singers Dave Lee and Danny McCollim also lent their voices at different points and will be part of the reunion.
Given the band's long history, there's a whole generation of Spokane residents who got to see them back in the day (and probably more than once). Expect a lot of them to don their '80s finest alongside the band whose members still get recognized.
"There's not too many places I go that somebody doesn't mention, 'Oh, man, I was at JJ's all the time,' or 'I met my husband at JJ's,' or 'I was there the night you played with Eddie Van Halen,'" Brasch says.
"For me to be able to go up on stage with my best friends on the planet and play some songs and bring back the glory days to make sure kids have the opportunity to play — there's nothing better than that." ♦
All Fall Down Reunion Show • Sat, Oct. 27 at 8 pm • $29/$100 VIP • 21+ • Northern Quest Resort & Casino • 100 N. Hayford Rd., Airway Heights • northernquest.com • 481-2100
All Fall Down's Joe Brasch shared a few of the band's favorite songs from the old days:

"Promises in the Dark" by Pat Benatar

"[All Fall Down's Brenda Boschee] just really killed that song. It has all that Pat Benatar angst that Brenda just happened to capture."

"Talk To Ya Later" by the Tubes
"It's one of those songs the band could really stretch out on and have some fun."

"Middle of the Road" by the Pretenders
"[Tracy Kendrick's] got that rock rasp that just makes it the perfect song for her."
"Rock and Roll" by Led Zeppelin
"Jilla [Webb] would do the Heart version. She's a big fan of Ann Wilson, and she can do all that stuff."
"Baby Got Back" by Sir Mix-A-Lot
"Danny [Lee's] known primarily for his jazz stuff. He's out there doing 'Baby Got Back' and it's freaking awesome!"