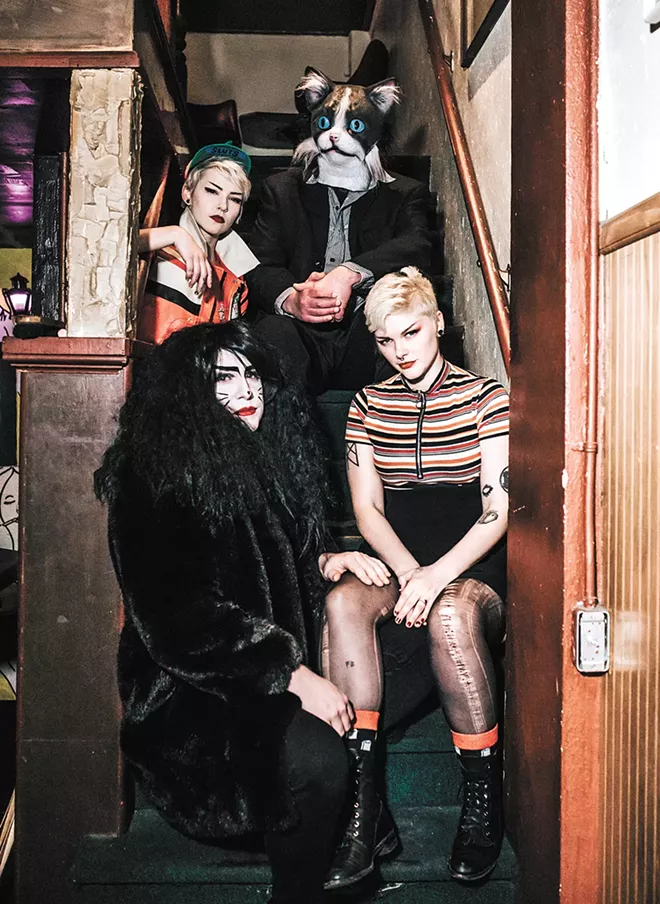 A
mi Elston had
a funny idea roughly five years ago. The goofy thought was to start a punk band centered around cats, kittens and any feline-related subject matter. And with no real long-term vision for the project, no boundaries or expectations were ever considered.
Fast-forward to 2018 and you will find what once was a joke has developed into a prominent punk outfit at the center of Spokane's rapidly growing music arena.
Your eyes are not fooling you. Itchy Kitty absolutely still embraces their "cat-punk" origins (i.e. the guitar player is named "Catman" — try and guess which member it is), but one could argue the cat shtick is now a non-sequitur for the four-piece. Elston (guitar and vocals), her cousin Naomi Eisenbrey (bass and vocals), Mike "Sug" Tschirgi (drums) and Catman (guitars) have grown into a focused, tightly wound unit that holds no agenda.
"I've had people poke fun at the fact that it's gimmicky," says Eisenbrey. "People will be like, 'This thing happened to this cat, you should write a song about it.' I'm over the 'writing about cats' thing. We've moved on."

If nixing the cat shtick is step one in the route to appreciating Itchy Kitty, step two would be resisting a lazy comparison to bands like 7 Year Bitch or Bikini Kill. Not unlike Selene Vigil (7 Year Bitch) or Kathleen Hanna (Bikini Kill), Elston and Eisenbrey both deliver terrorizing and sour vocals containing cynical, satirical and pungent lyrics. However, the assemblage with Catman's unrestrained guitar gusto, Tschirgi's steadfast thwacking and overall diversity in song structures within the band's catalog make Itchy Kitty's musicianship something special.
Their new album, Mr. Universe, is proof. The 14-song raid is a barrage of thick guitar-centered raunchy punk, yet the collection is much too tight and intelligent to be cast as just another tawdry collection of thrash. "Mama Cheese," the second song on the album, is a fire-spitting rollercoaster that feels like the Reatards ripping Sweet's "Ballroom Blitz" to shreds; the two-and-a-half-minute "Size Queen" brilliantly highlights each member's dexterous playing while still yielding a monstrous, anthemic chorus that bleeds the Pagans; and the band revamps one of its staples, "Year of the Slut," by hitting the breaks and drenching it with an ominous, Flipper-meets-Velvet Underground finish.
"The first album [Careless Whisker] was largely a live record," says Catman. "With this one, we definitely wanted to stretch out and see what we could do beyond what we could perform live. There are a couple of things on [Mr. Universe] that have more guitars than we have hands, but it's super fun."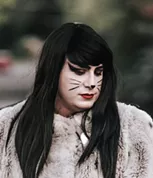 What has not progressed for the band is the attention the combo gets for simply having two female members up front. Not only do Elston and Eisenbrey regularly receive the all-too-familiar sexist, backhanded compliments at shows, but the group as a whole is witnessing a growing sense of exploitation surrounding female empowerment. The gesture may be nice, but the message doesn't sync with Itchy Kitty.
"Promoters try and book you with other female rock bands and it makes [this] really awkward, dumb thing," says Catman.
"I'm not so much for female power as just people power," adds Elston. "It doesn't matter what gender you are. ... We don't need to put this [band] on a pedestal just because there are titties involved. That's not our thing."
As for trying to silence endless misogynistic exchanges, the endeavor seems fruitless. Instead, they have an ever-expanding sense of humor about the whole thing.
"Don't touch my butt," laughs Eisenbrey. "I'm trying to shred!" ♦
Itchy Kitty Album Release with Indian Goat and Bad Motivator • Fri, Nov. 16 at 7:30 pm • $7 • All ages • The Big Dipper • 171 S. Washington • bigdipperevents.com • 863-8101