In some ways, spending half a million dollars to get candidates elected is nothing new for the Washington Realtors Political Action Committee.
The Realtors PAC spent nearly $1.9 million statewide in 2018, a year with both local and state elections. According to Public Disclosure Commission data, that year the PAC spent about $9,000 on radio and social media ads for county candidates Al French, Mary Kuney and Tom Konis, and made contributions to state and local candidates including Vicky Dalton ($250), Mike Volz ($500), Marcus Riccelli ($750), Tom Konis, Al French and Michael Baumgartner ($1,000 each) and Matt Shea ($2,000).
But spending nearly $280,000 for just four candidates in Spokane this year is totally unprecedented.
Not only does that represent more than half the PAC's statewide spending this year (reported as about $488,000 of Monday, Oct. 7), but the spending from just one group represents more than the combined total of all independent expenditures by committees in any previous Spokane election going back to at least 2007. With the November election weeks away, the Realtors PAC is on pace to more than double the amount of independent expenditures that all committees spent on six separate City Council candidates in 2017.
Significantly, the Realtors PAC money has nearly doubled the expenditures for the campaigns of mayoral candidate Nadine Woodward and Spokane City Council president candidate Cindy Wendle, who are running against current City Council President Ben Stuckart and Councilman Breean Beggs.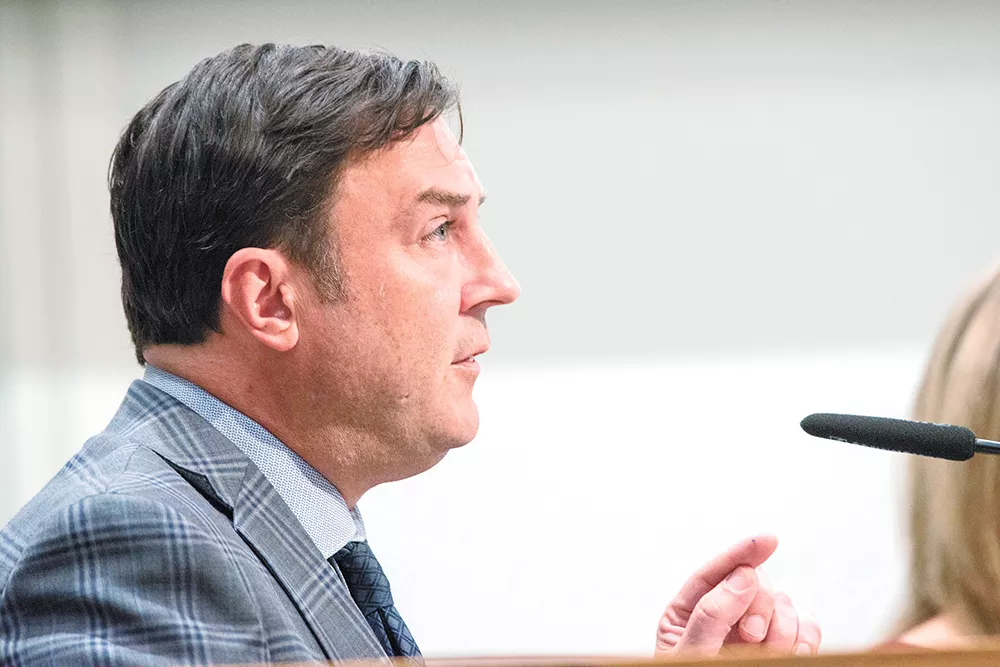 WHY NOW?
The large spend this year is due to an ask from the Spokane Association of Realtors, which interviewed about 90 percent of candidates running for office back in May before deciding to reach out to the state PAC to support their picks, explains Spokane Realtor and Washington Realtors PAC Chair Tom Hormel.
"The Washington Realtors PAC never gets involved in a race they aren't asked to get involved in," Hormel says. "It's a bottom-up approach."
During the interviews, candidates were asked about their stances on property rights, growth, homelessness and other real estate-related topics, he says.
"The main thing right now is we're in a housing crisis," Hormel says. "There's no one single policy that's going to fix that. We were looking for somebody who had ideas and the way they thought that whole issue could be tackled. We've got to build out, we've got to build up."
For Woodward, a former longtime TV news anchor, the Washington Realtors PAC has spent nearly $162,000 to send mailers and advertisements to voters and pay for people to canvass for her campaign. For Wendle, the spend on similar products is almost $85,000 so far.
Woodward was favored for "looking at bringing in all of the stakeholders" and a willingness to make decisions based on the information they provide and not just on an opinion she already holds, Hormel says.
"She wants to build coalitions and talk to everybody involved before she jumps forward with a housing plan," Hormel says.
Hormel wouldn't say that means Stuckart isn't willing to listen to all the voices involved.
"I won't speak negative about any of the candidates, you can infer whatever you want from that," he says.
Realtors in the area want to address a lack of inventory, but that doesn't necessarily mean they just want sprawl either, Hormel says.
"You can't just say you want density in the downtown core and that will fix the issues," Hormel says. "When people talk about unbridled sprawl, that can't happen. We have the Growth Management Act. But within that law, how can we best fix the issues coming at us?"
Not all Realtors and developers invested in Spokane share the vision of Hormel and the PAC. Pete Rayner, a prominent local developer and longtime conservative, is working to build as many as 2,000 housing units in the Beacon Hill area and credits Stuckart for helping to advance that project.
"Ironically, Ben Stuckart and Mike Fagan are the reason Beacon Hill is moving forward," Rayner says, "and they are as opposite politically as you can get."
Rayner says he was the one who pushed the conservative Spokane Home Builders Association to endorse Stuckart in 2015. "Ben and I agree on growth and how you get things done," he says, adding, "My fear is that we have a lot of nice people serving as mayor, and they don't have the experience or skill set."
Stuckart, for his part, says he thinks it's pretty clear the Realtors support his opponent for her willingness to look at building outside the city.
"This election is about whether we build up our neighborhoods or sprawl outside Spokane," Stuckart says, noting that in a July 21 Spokesman-Review story, Woodward was quoted saying she'd support the idea of using city resources to encourage development outside city limits. "That's the definition of sprawl."
Stuckart says he supports a three-pronged approach to address the housing crisis: increase the supply of housing, which he says is achievable within the city's limits and existing urban growth area; provide incentives for work force and senior housing; and strengthen protections for renters with programs such as relocation funds that can help those who get priced out.
So why interview with the Realtors in hopes they might fund his campaign earlier this year?
"I have better policies than her. I'm just not willing to go sell myself and tell them everything they want to hear," Stuckart says. "Where I'm not willing to go is subsidizing housing outside of the city of Spokane, which is shocking. ... There's a land-quantity analysis that shows we have plenty of land both in and out of the city, and we don't need to expand the urban growth area until 2030."
Woodward has not agreed to a phone or in person interview with the Inlander since late June, sending only emailed statements on occasion. In response to an emailed request to talk about election spending as well as climate change — Woodward did not attend a candidate forum on the topic at Gonzaga last week — Woodward's campaign manager responded, "We have no comment" and clarified that applied to both topics.
Aside from the mayoral and council president races, this year represents a chance to change the balance of the council, Hormel says. While council races are nonpartisan, most current members of the council tend to lean progressive.
"It's been a six-one council for quite a while, and we just see an opportunity to change the face of our City Council," Hormel says. "I've been to a few [council] meetings and not everybody feels heard or talked to in a proper fashion."
The PAC has so far spent about $23,000 for Andy Rathbun in his race against incumbent Karen Stratton in District 3, and about $10,000 for Michael Cathcart, who is challenging Tim Benn in the open race for District 1.
"The housing crisis is the largest problem that this city has," Hormel says. "When people tell you that homelessness is caused from rising rents, that's part of the housing crisis. That's the No. 1 issue that should be on the table and that's what we're working to try to fix." ♦