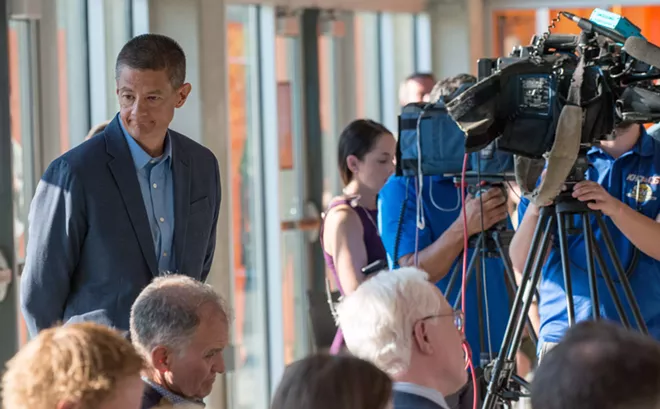 When City of Spokane Human Resources Director Amber Richards suddenly announced she was quitting last month, the city administration portrayed her decision as a mystery — though not necessarily a mystery they were trying to solve.
"Has she provided any sort of explanation to why she decided to resign?" the
Inlander
asked city spokesman Brian Coddington on June 30.
"She hasn't," Coddington told us, "and it's an unfortunate loss for the city."

Similarly, the
Spokesman-Review
wrote that Mayor Nadine Woodward said the same thing: That Richards
did not indicate why she was leaving
.
But behind the scenes, one person in particular has disputed this characterization: Richards herself.
City Councilwoman Karen Stratton says that she spoke with Richards and noted that according to the Woodward administration, Richards hadn't given a reason for leaving.
"And she said, 'No, I did give a reason,'" Stratton recalls Richards responding. "'And it was sent to administration when I decided I was leaving.''"


It left us with two questions: What reason, if any, did Richards give? And did the city administration do anything to understand more about what drove her from City Hall?
Now, a public-records request, recently obtained by the
Inlander
, reveals that Richards
did
allude to a reason, and not with the sort of rote more-time-with-my-family, seek-new-opportunities language that public officials often dress up their resignation letters in.
On June 28, she sent a short resignation email to Coddington, Woodward and City Administrator Johnnie Perkins suggesting her resignation came about because of ethical considerations.
<!—————[if gte mso 10]————> <!————[endif]—————> <!—————StartFragment—————>
"Good afternoon Mayor Woodward and Mr. Perkins, I can no longer perform the functions required of my position in good faith or with good conscience," Richards wrote. "As a matter of principle, I am resigning my position with the City of Spokane."
The rest of the short email explains that she plans to use the rest of her accrued leave until her final day of July 9, but does not elaborate on any specific issues that made performing her job ethically impossible.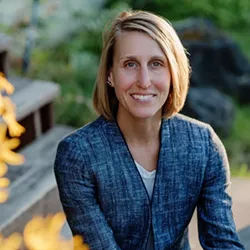 Asked about how the Woodward administration interpreted the claim that she couldn't continue doing the work the city was requiring of her "
in good faith or with good conscience," Coddington says he had no additional information.
"She did not provide any context around that, so I couldn't begin to speculate," he says.
And that lack of clarity, he argues, is why his original denial last month was accurate.

"Your question that you've been asking about what that means, what the context of it is, would suggest there was no explanation given," Coddington says. "There's no context to this. There's no further information about it other than what she's indicated here."


But several city council members see it differently now that they've read her resignation letter.
"I'm looking at the email — 'June 28, 12:58.' As of that time, I believe they had a good understanding of why she was leaving," Beggs says. "I would say she appears to have provided an explanation... It's not detailing incidents or anything like that, [but] if I got an email like this, I would want to have an exit interview and debrief them."
Y
et the Woodward administration didn't do an exit interview with Richards.
"She made her intentions known and had cleaned out her office essentially that day, and intended to utilize her leave through the rest of the time with the city,"
Coddington says.
Coddington confirmed that the Woodward administration didn't reach out to Richards to ask her any follow-up questions or to elaborate on the issues she alluded to in her letter.
"
You know, people make individual decisions and those decisions are respected," Coddington says. "And people are given the space to do the things that they need to do."

<!————StartFragment————>But Beggs says the administration should want to know more.
"I would want to know what the challenge was with 'good conscience and good faith,'" Beggs says. "Is there something going on in your life and you can't do it? Or is there something we're not doing? That's what I would imagine someone would do."
Her resignation didn't happen in a vacuum.
City Hall has over 180 vacancies — 8 percent of the workforce — and the departments handling the mayor's priorities of housing and homelessness have been particularly
hard hit
.

Indeed, just two weeks before Richards' sudden resignation, City Hall had been shaken by the resignation of
Neighborhoods, Housing, and Human Services Director
Cupid Alexander.
Shortly after his resignation, Alexander had forwarded a number of scathing emails to the City Council, accusing Perkins and the city more broadly of mismanagement, stonewalling and racism. It resulted in the mayor announcing an independent investigation into his allegations.

And so when the well-liked lead of the department tasked to handle employee concerns resigns as well, that raises a lot of questions.


"What happened to this employee?" Stratton says. "Was this employee asked to do something that she didn't feel comfortable with? Was this employee treated poorly? I would want to know that if they were one of my highly valued employees."
B
eggs says he and Stratton
did
meet with Richards after her resignation to talk about what drove her to leave.

He says her resignation letter was not suggesting that something in her personal life had made her unable to complete her daily workload. It was that she felt she couldn't ethically continue to work for the city.
"She didn't get into details and she didn't make specific criticisms," says Beggs. "She just said she could not be part of how people were being treated...
She hoped she could do more public service but couldn't — as she says, 'in
good conscience'
—
be part of the operation as it was being operated."
<!—————StartFragment—————>
Beggs says she was particularly critical about the way the administration had dealt with Alexander.

"That was the concern I heard most about from her, was how Cupid Alexander was treated," Beggs says. "But it was broader than that. Much broader than that."

<!—————StartFragment—————>At the crux of it, he says, she was worried about whether city employees were being "supported and well-treated."
<!————StartFragment————>
<!————StartFragment————>Richards is not the first employee of Woodward to cite ethical concerns as the reason for her resignation. Back in 2019, when Woodward was running for mayor against then-City Council President Ben Stuckart, her campaign manager
Abra Belke
resigned and put out a similar statement as Richards.
"If your work is costing you your mental health and putting you in a position where you are asked to act contrary to your values, should you keep going?" she wrote, eventually concluding: "
I didn't want my talents backing
someone I now felt uncomfortable supporting."
Inlander reached out to Richards through multiple intermediaries on Sunday evening, but she did not respond.
<!————EndFragment————>
The council had hoped to do public exit interviews with both Alexander and Richards. But while Alexander initially expressed support, Beggs says that both have since declined the offer.

<!—————StartFragment—————>"I
think both of them have said they're willing to talk with council members, outside the public spotlight,
but don't want to answer any questions in a public televised meeting," Beggs says.
Even with council members, Richards has been circumspect about what specifically drove her to resign.
"You could go a certain point and then you knew she wasn't able to say anything else," Stratton says.
At this time, Coddington says, the administration has not started the process to fill Alexander or Richards roles, focusing instead on trying to fill other vacant positions, such as planning services director. For now, the interim director of the department is
Meghann Steinolfson, one of the HR employees who refused to talk to the independent investigator in 2016 during the fallout from former Spokane Police Chief Frank Straub's resignation.
<!—————StartFragment—————>In the meantime, the list of resignations continues to grow longer. Early last week, Councilwoman Lori Kinnear confirmed that
Paul Warfield, a policy advisor to the mayor, also resigned.


<!—————StartFragment—————>"We can legitimately say things aren't working," Beggs says.


But Beggs is limited in how he can respond. First, Beggs revealed to the Inlander on Sunday that he's
been diagnosed with stage-one throat cancer.

"I just started chemotherapy and radiation therapy last week," Beggs says. "A complete suck."


As a result, he's going on medical leave
for months
.
And more broadly, he says, it's ultimately not the council's job to manage city employees.
"It's really the mayor's administration," Beggs says.
"People just have to judge her on that."

Sure, he says, he could operate in a partisan mode and say, "
I told you, 'Ben would have been a better mayor.'"
"But the thing is, I'm trying to make the city successful. I don't want to beat up on the mayor too much. It's like, '
No, I just want it to get better.' So I'm trying to be supportive,"
Beggs says. "
But also, when someone like Amber Richards calls this out and this is a story, I don't want to ignore it. I want to say, 'yeah, that's a problem.'"
There's a balance Beggs says he has to strike: "How do we not burn down the house when people need a place to stay?"
Richards' full resignation letter follows:


Good afternoon Mayor Woodward and Mr. Perkins,

I can no longer perform the functions required of my position in good faith or with good conscience. As a matter of principle, I am resigning my position with the City of Spokane. My last day with the organization will be July 9th. I will work with my team to ensure a transition plan is in place and will otherwise be using leave time until the 9th.

I am grateful for the opportunity to have served the Spokane community over the past three years

With respect,
Amber