When it comes to rock 'n' roll, sometimes the best approaches are the least complicated.
Take Indian Goat, for instance. They're one of Spokane's newest rock bands, a duo producing down-and-dirty, no-bullshit rock predicated on the kind of heavy-duty riffs that don't sound too complex but will bounce around in your head for days. They're enough to inspire visions of vintage Black Sabbath and early-'70s Led Zeppelin.
But simplicity (at least in this case) isn't necessarily synonymous with "simplistic": Indian Goat has found a distinct musical persona in a short amount of time, and they're heavy and loud enough that you might be surprised to see only two dudes, guitarist/vocalist Garrett Zanol and drummer Travis Tveit, up there on the stage.
"What we agreed on was we just wanna do it to have fun, and just write super-energetic music," Zanol tells the Inlander. "And that's a key thing. It doesn't have to be simplistic, but that makes it a whole lot easier to not have to concentrate on gnarly time signatures and scales and keep it at the fundamental roots of rock 'n' roll."
Zanol was previously a member of the popular Spokane band Blackwater Prophet, a psych-rock trio that formed in 2011 and went on hiatus at the end of last year. During the down time, Zanol started dreaming up a new project, writing material that would suit just him and a drummer. He recorded something of a demo, playing both guitar and drums and presented it to his pal Tveit.
"We've been friends for close to 15 years," Zanol says, "but we never played together until we started Indian Goat. We'd get drunk in high school and jam in the basement, but we never tried to write anything.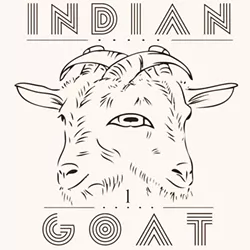 "He came over and listened to the album and was immediately like, 'let's do it now.' It's that chemistry of not trying to force something. We're just hanging out and writing music."
Whereas Blackwater Prophet assembled its last record, As I Watch It Freeze, piecemeal over the course of two years, Indian Goat has cranked out two albums' worth of material in less than a year. Their first release, appropriately titled 1, dropped last August, a 26-minute burst of sludgy, fuzzed-out rock that occasionally dips into the same dreamy psychedelia that influenced Blackwater.
And now its follow-up, the even more appropriately titled 2, has been recorded and is already in the process of being mastered.
"That's the beautiful thing about a two-piece," Zanol says. "It's the easiest thing in the world. What we're trying to write, which is very simple two-man rock 'n' roll. You get a riff, and then you need a verse and a chorus, then you've got a song."
Zanol engineered and recorded both Indian Goat records himself, a similar approach he took with Blackwater Prophet, setting up a makeshift studio in his basement and finding the best possible sound through trial and error.
"I don't know shit about recording," Zanol says with a laugh, but it's pretty clear that Indian Goat's musical aesthetic is very much deliberate. Zanol says the new album, which will likely be out in spring, has a similar feel to its predecessor, which you can listen to on Bandcamp. They're both lo-fi and fuzzy, barreling through a handful of tracks with breathless abandon.
"The first [album] sounds so blown out to me, because I maxed out a bunch of levels because I didn't know what the hell I was doing," Zanol says. "This one has a little more control."
While they've only been performing since the summer of 2017, Indian Goat has already amassed an impressive following: Zanol and Tveit have upcoming concerts in Seattle, Olympia and Portland, and they recently played a sold-out show at The Bartlett with the instrumental rock quartet Deer.
"It was humbling. It was cool to see everyone who's into the music scene come together and say, 'Let's f---in' pack this house,'" Zanol says. "There was a lot of support, and a lot of good people. At so many shows I go to and shows I'm not even a part of, there's so much support in Spokane. I'm happy to be part of it, Travis is ecstatic to be part of it, it's a nice city to play music in." ♦
Indian Goat with Bar Talk and Donna Donna • Sat, March 10, at 9 pm • Red Room Lounge • 521 W. Sprague • $5 • 21+ • 838-7613
---
Indian Goat is filming a music video for a song on their upcoming album, and they want friends and fans to appear in the clip. The shoot will take place at the Senator Music Store (618 N. Monroe) on Sat, March 24. Filming starts at 2 pm, and an after party performance begins at 8 pm.