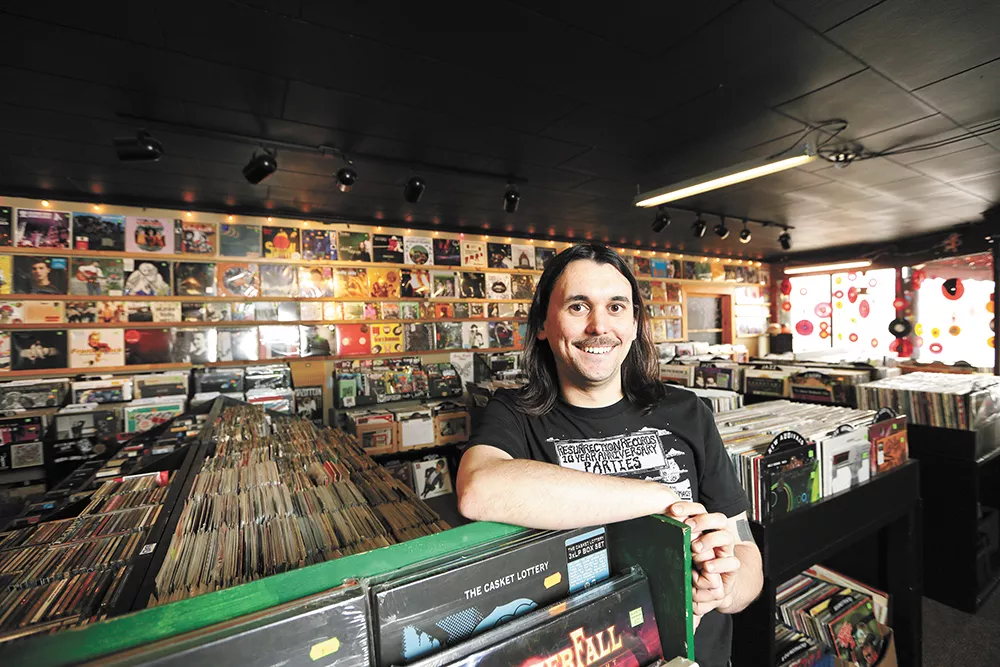 Mike House started selling records when he was still in high school. He always had a box full of 7-inches, LPs and tapes in the back of his car, and at lunchtime he'd do business in the school parking lot.
More than a decade later and he's still slinging vinyl, but through his Spokane-based label Resurrection Records, which has racked up a library of more than 100 individual releases and operates out of a storefront tucked away on Northwest Boulevard.
House says he and a friend came up with the Resurrection moniker, and the idea to use it as a label name, when they were only 15. Nothing came of it at first, but a few years later he started hosting local bands at house shows, which then led to him producing his own music fanzine. He began trading copies of that zine to local record stores in lieu of vinyl they didn't want, which he then sold himself.
And then it came time for him to record and release his own music, and Resurrection's first official release was a 2009 demo tape of House's own band DMK (which, by the way, he still produces copies of). The label still focuses primarily on garage-rock, punk and psychedelic music, and House says most of the artists he presses are either acts he's already familiar with, or who have reached out directly to him and captured his attention.
"I think it's easier to sell it when it's your friends' stuff," House says, noting that he started getting attention from artists right away. "I kind of had the network of record labels and bands and emails and stuff for the magazine. So I had people emailing me within months, you know, and I get emails every day."
The process of releasing an album goes more or less like this: Once House has decided a band is the right fit for his label, he works with the artist to put together a physical release that's going to look appealing on a record store shelf. He usually splits the pressings (and profits) with the artists — half of the physical copies go right to the band, typically for them to sell at live shows, and the other half finds its way to brick-and-mortar stores.
Resurrection's own storefront first opened in 2012 in Santa Ana, California, in a 1,200-square-foot space that House shared with a husband-and-wife label that had been in operation since the '80s. House moved to Spokane in September 2016, and opened another location here, tucked away on Northwest Boulevard, within a week of settling down.
"I just started driving down the street and I saw a for lease sign," he recalls. "I called the guy later that night and I was like, 'Do you think you'd want to have a record store in there?' And I moved in days later."
Within a couple years, Resurrection Records had moved from a closet-sized corner room in that building to the slightly larger space it still occupies a few doors down at 1927 W. Northwest Boulevard.
To ring in the label's first decade, Resurrection has put together a two-night lineup of music that will take over Berserk this weekend. Some of the bands on the lineup have released music through the Resurrection label, including the Portland-based bands Jenny Don't and the Spurs and Dreckig, and Spokane's Maidenhair. Also on the roster are Portland's Dry Wedding, and local acts Pine League, Silver Treason, Runaway Octopus, Ex-Pets and Wool Eyes.
House says that 10 years can catch up with you pretty quickly: Since starting in '09, he has watched as analog music has gone from dusty collector's concern to in-demand medium in the recent rebirth of vinyl and tape.
"I haven't done anything else for that long," he says. "It was a niche thing. But now I feel like it's mainstream, and that everybody wants records." ♦
Resurrection Records 10th Anniversary • Fri-Sat, May 24-25 at 9 pm • $12 per night, $20 for both • 21+ • Berserk • 125 S. Stevens • brownpapertickets.com/event/4233989