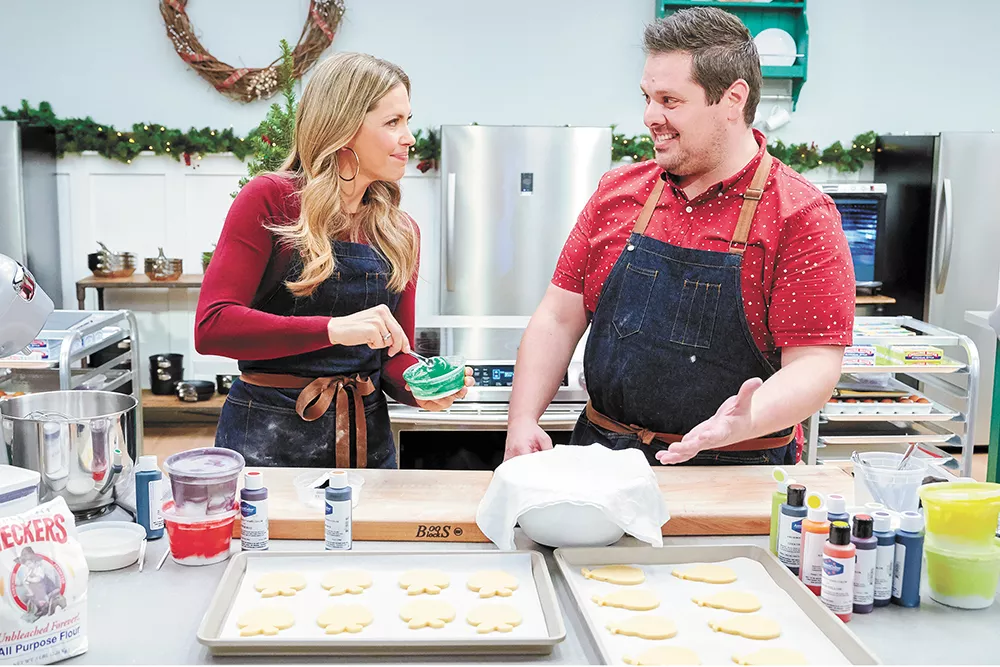 The third time might be the charm (again) for Spokane chef Ricky Webster, who's appearing on Hallmark Drama's new original baking competition, Christmas Cookie Matchup, premiering Wednesday, Nov. 13 at 9 pm.
During last year's holiday season, Webster appeared on two of the Food Network's holiday-themed baking specials, Holiday Gingerbread Showdown and Christmas Cookie Challenge, the latter of which he won, taking home a $10,000 prize.
The five-episode Christmas Cookie Matchup is the Hallmark Drama's first original, unscripted baking show. It features six professional or home bakers, each paired with an actor from the network's top-rated drama When Calls the Heart. Webster is paired up with actress Pascale Hutton, who's also starred in several Hallmark original movies.
At the end of five weekly episodes, one baker will win a $25,000 prize. Judges are food and lifestyle entrepreneur Chadwick Boyd and blogger and recipe creator Emily Hutchinson.
Ahead of the series premiere, Webster tells the Inlander that the new series has a magical and wholesome feel.
"[Hallmark] did a fantastic job of making us feel extremely welcome and secure, and they encouraged us to go back and forth with each other and have fun and talk," he says. "Sure it's a competition, and there is definitely some banter about that, but it's friendly and none of it is envious or mean spirited."
While he can't say how far in the show he advances, a preview video on Hallmark Channel's website has featured actors reflecting about their experiences, and a few mention Webster's serious cookie baking and decorating talents.
"The biggest competition is definitely Pascale and Ricky," says actor Kavan Smith. "I think Ricky is the most experienced of everybody and he and Pascale have a really nice dynamic together." (CHEY SCOTT)
THE HIDDEN MOTHER OPENS TAPROOM
It took a few months longer than owner Mike DeTar expected, but the doors are finally opened at the Hidden Mother Brewery near the Spokane Arena. The 3,700-square-foot building at the corner of Washington and Sharp is the new home of the five-barrel brewhouse and is DeTar's first taproom.
At first look, the place is peppered with unique details. Light fixtures made out of glass growlers and stainless steel kegs hang from the ceiling. More kegs, etched with the Hidden Mother's logo, are split vertically and used as wall lighting. The long wooden bar wraps around a corner with a river-shaped carving from end to end, which will eventually have water running through it.
Behind the bar, 24 taps are split around the two walls, 12 on each side. A few of the taps will be dedicated to Selkirk Abbey, the Post Falls brewery where the Hidden Mother has been brewing during its move to Spokane.
DeTar plans on announcing a grand opening once they've added more seating. For now, the Hidden Mother is open Monday through Thursday from 1-9 pm, Friday from 1-10 pm, Saturday from 11 am-10 pm and Sunday from 1-7 pm.
In other brewery news, Lumberbeard Brewing was recently approved by the state to start production and brewed its first batch this week. The brewery and taproom, located at 25 E. Third, is tentatively set to open on Nov. 22. On the west end of downtown, two changes are underway at the Steel Barrel brewery incubator and taproom. Golden Handle Project has begun brewing and is set to open soon. Meanwhile, state records show Young Buck Brewing is in the process of transferring ownership and changing its name to Hello Brewing Company. (DEREK HARRISON)
KALICO KITCHEN'S NEW HOME
After 15 years at the base of the North Division Street hill, Spokane breakfast house Kalico Kitchen is moving on to new digs. The restaurant recently announced on its Facebook page that it's moving into a building on North Monroe that was most recently home to Monroe Street Grill, which closed recently after two years of business there. Kalico Kitchen, meanwhile, closed for the move last week, on Oct. 31, and plans to reopen in the new space at 1829 N. Monroe sometime soon, though no date has yet been announced. (CHEY SCOTT)

CORRECTION: Hallmark Drama is a separate channel from the Hallmark Channel, which we originally reported as the channel airing Christmas Cookie Matchup.