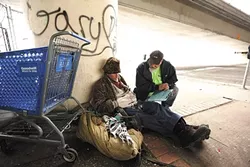 ON INLANDER.COM
COMEDY
: We knew we had a good comedy scene in Spokane. But did you know that we're, in fact,
way funnier than Seattle
?
NATION
: What's not funny?
The death and destruction that climate change will bring to the world
. (
New York Times
)
IN OTHER NEWS...
Sit-lie down
With a lack of shelter beds for the homeless, Spokane City Council has
suspended its controversial sit-lie law
that bans people from sitting or sleeping on sidewalks downtown. (
Spokesman-Review
)
Walton's world
The Zags beat Illinois last night in the Maui Invitational, but more importantly, just
what in the hell was announcer Bill Walton talking about the whole time
? (
Spokesman-Review
)
Coroner confirms death
The Spokane man who went missing after a 49ers game in San Francisco
died of an accidental drowning
, the coroner says. (KXLY)
Shooting in Chicago
Four people were killed in a shooting at a Chicago hospital yesterday,
including a police officer, a doctor, a pharmacy employee and the gunman
. (
New York Times
)
Lock her up too?
After her dad, President Trump, ran a campaign railing against Hillary Clinton for her careless emails sent from a personal account, Ivanka Trump sent
hundreds of emails last year discussing White House business
using her personal account. (
Washington Post
)