There's a tension that has been bubbling up around Water Monster's Max Harnishfeger for a while now, and it's about to reach the surface.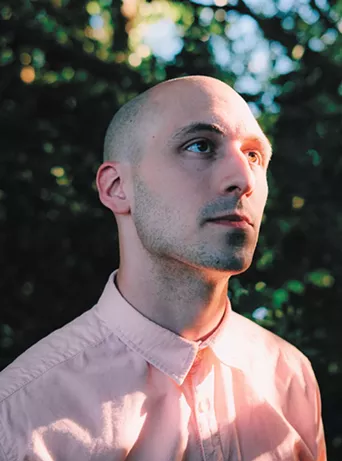 In a good way.
"Something I've dealt with for most of my adult life is learning how to manage tension in one way or another," Harnishfeger says. "There's just something really human and relatable, I think, about feeling like you're being pulled in opposing directions."
Musically, Harnishfeger is no stranger to being pulled in multiple directions. He's the bassist in Cathedral Pearls and plays keyboards and provides vocals for Super Sparkle. But it's in Water Monster, his solo electronic project, that his voice comes through most clearly. We'll get our best chance yet to hear that voice this Saturday with the release of Water Monster's first full-length, Tensus.
"Tension" was the first word spoken on Water Monster's previous release, Survive the Night, a five-song EP from 2014. Four years later on Tensus, that theme is even more evident. The title itself comes from the Latin word for "tension."
"I think where Survive the Night was just acknowledging that tension, I think Tensus is really about embracing it," Harnishfeger says. "Instead of pushing against the tension and the uncomfortable parts of life experiences, learning to lean into them a little bit and letting them propel me into a new place."
It's clear, both audibly and visually, that Water Monster has moved into a new place with Tensus.
Over the past few years, Harnishfeger's performances as Water Monster have been overtly electronic. The music came largely from his array of synthesizers, with Harnishfeger's soaring vocals and guitarist Scott Ingersoll's slick riffs providing the only organic sounds. That's no longer the case, as we will see during Saturday's album release show at the Bartlett.
"With the album and the album release show, one of the goals that I had was to try and make things a little more organic," Harnishfeger says. "With Survive the Night and a lot of the other stuff I worked on previously, it was a lot of, like, programming within the computer. So the first thing I did when I decided to start the album was I tracked live bass guitar and played all the electronic drums live, trying to get more of an organic feel with that."
Saturday's performance will include the usual duo of Harnishfeger and Ingersoll, but they've added Caleb Ingersoll on drums and Branden Cate on synths. Which frees up Harnishfeger to return to his primary instrument — bass guitar.
"I was kinda dissatisfied with feeling like every time we played a show there was not a lot of spontaneity to it," Harnishfeger says. "I wasn't taking as many risks as I felt like I would normally do. When you're playing an instrument live you have the freedom to kind of change things and try new things out."
The first two singles from Tensus have each shown a bit of that desire to try new things.
"Window," the lead single, opens with atmospheric synth sounds — familiar territory for fans of Water Monster. But within a minute it becomes clear that Harnishfeger is heading in a new direction with this album. The beat goes from sparse to defined as local rapper T.S the Solution lays down a feature verse.
"I had seen the hip-hop scene in Spokane really starting to flourish and it seems like there's something special going on there," Harnishfeger says.
The album's second single, "Lavish Life," charges in an entirely different direction. A driving beat, crystal clear keyboard melody and bouncy bass combine to make an '80s pop sound that happily clashes with lyrics about the emptiness of fortune. While it sounds unlike anything Water Monster has released before, its lyrics are contemplative but hidden under lush, beautiful instrumentation. Which is to say, it's not so different after all.
"It's a pretty eclectic mix of songs," Harnishfeger says of Tensus.
The two singles reflect that. But they also show an artist who is expanding his range without losing his voice. There's a tension in finding that balance. Perhaps it was the nearly four-year process of songwriting and recording that has led up to this weekend. Whatever it was, he's found that balance on Tensus.
Even for someone who knows how to embrace tension, it can be nice to have it let up for a bit. And that's what will happen on Saturday. With the album ready to be released, Harnishfeger and company have the chance to show us how they've changed over the four years since Survive the Night.
"It's been such a long process that it feels like you're reaching a mile marker to do an album release show," Harnishfeger says. "It kind of finalizes the work in a way." ♦
Water Monster album release with dee-em and CONFLUX.REDUX • Sat, Aug. 25 at 8 pm • $8-$10 • All ages • The Bartlett • 228 W. Sprague • thebartlettspokane.com • 747-2174