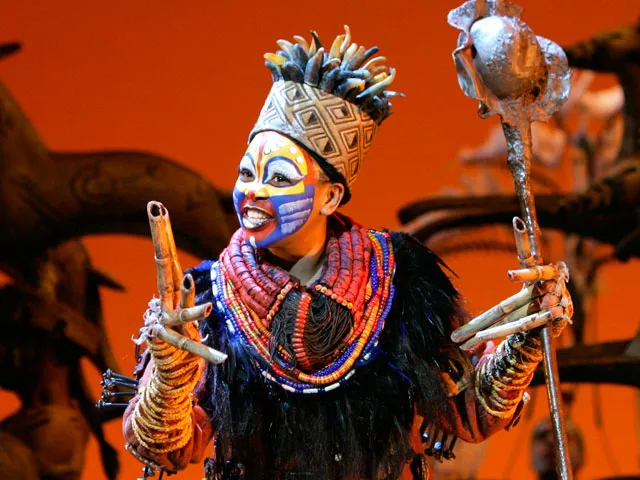 Young and far from home, the South African actors in The Lion King's touring companies reflect Simba's plight.
Since show creator Julie Taymor insisted on maintaining cultural authenticity in the costumes, dances and songs of The Lion King, the contract requires the cast of every production to include six South Africans.
And that's how Sihle Ngema (SEEK-layen-GAY-muh) found himself dressed as a hyena.
In "Circle of Life," the show's opening number, he says, "You have to be down on all fours, walking down the aisle. And it's really hot inside that costume."
Taymor's show exerted an early pull on Ngema. "My uncle was the first antelope in The Lion King on Broadway," he says. "I was 13. I never knew the show, just the music. When they offered me the contract for Australia, right away I told the creators, "I want to go to America" only to be told that it would depend on how well he did his job.
He must do it pretty well, because after performing in the show for 18 months in Australia and for 12 weeks in Shanghai Ngema has been touring North America with the show for three years. "And I have driven all over it," he says. The only thing he knows about Spokane is that it's a 22-hour drive from San Diego (where the Gazelle company played last).
Ngema is "part of the grass and the trees" in The Lion King, and he's one of the antelopes. He also sings and dances in "One by One," the show's anti-apartheid song.
When he started with the show, Ngema was just 19 and "didn't understand why people were crying every night" during "Circle of Life" and its reprise at the end of the show. He would write home to his family, just outside Newcastle, South Africa, and especially to his favorite advisor, his grandmother. "She was a grounded woman — she was a Christian — and like Rafiki, I took my advice from her,"

Ngema says. "When I was home, I would talk to her every day. You know, she was 103, but she walked to church every day. She would always say, 'I know you're gonna make it.'" Over the phone line from San Diego, his voice turns sad. "I had never lost anyone," he says. "When my grandmother died, I wanted to go home and see my family." But he had lost his passport and was stranded in Australia. "I couldn't pay my respects. I would cry every night," he says. Now he dedicates every performance to his grandmother.
Portia Magwaza, who was raised in the townships just outside Durban, joined The Lion King in Australia a year after Ngema, continuing with him on to Shanghai and the U.S. national tour. In "Circle of Life," she plays a "bird lady" with three delicate birds perched on her head and shoulders; she also plays "a grass, a hyena and a lioness" and joins in "One by One."
The song's lyrics are serious:
"They wanted to hold us back / They will not succeed / The color of my skin / That is dark / I am proud of it / I will die for it." Magwaza, however, compares singing "One by One" to "a long time ago in the beer halls, where they went to drink and to drink. And when they are drunk, they start singing. Even today, when we are happy, somebody will go, 'Haiii!' and we will sing. It's like the cheers at a football match."
Lerria Schuh, marketing director for WestCoast Entertainment, has an anecdote about The Lion King cast, upon being welcomed to Honolulu by a choir of Hawaiian children, breaking into spontaneous song. "One of the South Africans jumped forward," Schuh recalls, "and said, 'Thank you for sharing your culture with us. Now let us share ours with you' — and off they went into ['One by One'], and their own dancing as it came naturally in the moment. It was probably the coolest moment in my career ever!" Magwaza responds that "everybody in South Africa can sing — everybody. In our country, we feel that we have to express our emotion through singing. Whenever you're happy, you sing."
Magwaza and Ngema explain how The Lion King reflects Zulu culture in other ways as well: the tradition of the wise woman embodied in Rafiki, for example, and the custom of giving a special name to all first-born sons (inkosana, "the prince").
Yet when asked about Scar's jealous malignity toward his own brother, Mufasa, Mugwaza doesn't relate it to her culture but to her own family. "We used to be well off," she says. "My grandfather had supermarkets. We used to be rich. When my grandfather died, my uncle took over his business. It is too much for him, and it fell apart. We went from everything to nothing.
"When the Lion King opportunity came, I was 21. I was the first person in my family to leave the country — to leave our province, even. At the airport, it was so hard — but my mom wants me to go. I had to be strong for them."
Like Nala, lost in a strange land, she looks forward to her homecomings — two or three weeks' vacation every year, on what has grown for Magwaza into a four-year tour.
But she's proud to be in The Lion King: "This is my culture — this is where I came from," she says. "When we go to different cities, every time when people are in the auditorium, they are not in that city anymore — they are in Africa."