FOR STARTERS
Spokane Indians theme nights
Sunshine, a nice breeze, hot food, cold drinks and tickets starting at $5? Not that you'd ever need an excuse to go to a Spokane Indians baseball game, but Avista Stadium has some stellar theme nights planned this year.
At the always-popular Yoke's $1 Family Feast Night, all hot dogs, ice cream sandwiches and soft drinks are just a buck all night long. You can also play bingo throughout the game for a chance to win prizes. Family Feast Nights are scheduled for June 16, July 7 and 27 and Aug. 19.
Stick around after the game for a fireworks display. Fireworks nights are July 4, 8 and 15, Aug. 4, 5 and 25, and Sept. 3.
For all the future Spokane Indians, the team will host pregame youth clinics on July 10 and 26. Kids ages 5 to 10 can bring their gloves and learn to play the game from actual Indians players on the field before the game. They'll also receive an autograph and a ball.
Help OTTO the Spokanasaurus celebrate his birthday on Aug. 6. After the Indians play, everyone is welcome to stick around and play catch on the field.
The Indians call it quits before any official Octoberfests can take place, but that's not stopping them from hosting their own. "Augtoberfest" kicks off Aug. 7 when the Eugene Emeralds come to Avista Stadium, and features food specials and assorted beers. Prost!
To kick off the last home series of 2017, money will literally be raining from the sky at Avista Stadium. After the game against the Everett AquaSox, a helicopter will drop 2,000 $1 bills as 30 lucky fans scramble to gobble them up.
Can't-Miss Tournaments
From one of the co-founders of Spokane's legendary 3-on-3 basketball tournament, the Spike & Dig outdoor volleyball tournament on Aug. 5 and 6 is working toward similar popularity. Spike & Dig (spikeanddig.com) is a two-day 6-on-6 tournament that continues to grow. Hosted at the Dwight Merkel Sports Complex in North Spokane, more than 300 teams of all skill levels from across the Pacific Northwest, including Montana, Oregon and Idaho, come to compete. Early registration ends July 26 and runs between $190 and $220, depending on the team's size and skill level.
Hoopfest (spokanehoopfest.net) requires no introduction. If you've lived in Spokane for even a short time, then you know about the biggest outdoor 3-on-3 basketball tournament in the world. The tournament on June 24 and 25 takes over downtown Spokane, with 14,000 games played on 45 courts. This year's registration is closed, but if you missed the deadline, don't miss the action. Just come downtown. You can't miss it.
Maybe you're more feet and grass, less hands and concrete. Then go sign up for the Barefoot 3v3 Soccer Tournament in Liberty Lake's Pavillion Park. The event on Aug. 4 and 5 features divisions ranging from 5-year-old boys and girls to adults. Registration costs $120 per team (maximum of four players) and closes July 24. Each team is guaranteed three matches; more info at Facebook: Barefoot 3v3 Soccer Tournament. The soccer tournament is part of the larger Barefoot in the Park festival featuring food, live music and a petting zoo.
Farewell, Coeur d'Alene Skatepark
This is the last summer for Coeur d'Alene's decades-old (and relatively obsolete) skatepark at Memorial Field. In celebration of the old park, and anticipated construction of the new park that will replace it, skaters from the surrounding area are organizing a farewell event on June 24 from 8 am to 6 pm.
The city of Coeur d'Alene is looking to secure funding to build a replacement park as part of other planned improvements to the Four Corners area, but the new park will be a reality regardless of whether extra grant money comes through, says Bill Greenwood, director of the city's Parks and Rec department. The new skatepark could open as soon as spring 2018, he says.
Greenwood says that the city has been talking with the design and construction company Grindline Skateparks to come up with a concept, though they've yet to ink any official deal.
"I've remodeled it a couple times myself," Greenwood says of his tenure with the city. "For the 18 years I've been here, we've always updated it, but it's time to get a brand-new one."
Climb This
Climbing as a sport has grown steadily in the U.S. for the past several years, with 27 new climbing gyms opening up in 2016 alone. In fact, a second gym — the Bloc Yard Bouldering Gym — recently opened in Spokane (bouldering is a type of climbing done on a shorter wall, without a harness). But if you're reluctant to get started, REI's free open climbs are a perfect introduction. On the first Sundays of July (the 2nd) and August (the 6th), the REI on North Monroe is allowing people to climb their indoor wall for free for three hours.
"We supply the harness and climbing shoes," says Tim Plaza, a manager at REI. "All of our techs are belay certified, so all you have to do is show up."
Plaza says the open climb events are great for first-timers because REI staff will walk you through the entire scenario. There's no age restriction, but young children must be able to fit into the harness, he adds.
As part of its Force of Nature campaign to level the playing field for women in the outdoors, REI is also hosting women-only free climbing days ( July 10 and Aug. 14).
THE NEXT LEVEL
Build Your Own Cornhole Set
Where I'm from (St. Louis, Missouri), we call it bags. But for the purposes of this article, we can call it cornhole — the quintessential backyard BBQ game. Here's how to build your own, according to DIY Pete (for a more in-depth explanation, visit diypete.com/cornhole-board-plans):
What you need:
For the surface: Two pieces of 2-foot by 4-foot plywood, one-half-inch thick
For the frame: Four 2-inch by 4-inch by 48-inch pieces of wood
For the legs: Four 2-inch by 4-inch by 21-inch pieces of wood
Miter saw
Jigsaw or 6-inch hole bit
Drill
Measuring tape
Compass
2½-inch screws
1½-inch screws
Carriage bolts
Wing nuts and washers
1. For the long sides of the frame: cut four 48-inch-long pieces.
2. For the short sides of the frame: cut four 21-inch-long pieces.
3. For the legs, cut four 12-inch-long pieces. Then, to make the legs, measure 1¾ inches down from the top (make a mark with a straight edge). Find the center of that line (1¾ inches) and make a mark. Drill a hole through the center point. This is how you'll connect the legs to the box.
4. To build the frame, fasten the 48-inch pieces to the 21-inch pieces using wood screws.
5. Then attach the plywood to the frame using wood screws.
6. Next, attach the legs to the frame using the carriage bolts. First, drill a hole through the frame, where the leg will attach. Line up the hole in the leg that you've already drilled, and stick the carriage bolt through both holes. Throw a washer on the end, and fasten it with a wing nut.
7. Finally, to make the "cornhole," first find the center of the platform at 12 inches. Then measure down 9 inches, which is the spot where you'll place the compass to draw a circle 6 inches in diameter. Then, use the jig saw to cut the hole, and you're ready to play!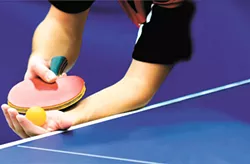 In the Shadow
Did you know that Spokane has a soccer club? Admittedly, I've lived here for just two years, but only heard recently about the Spokane Shadow. That may be due in part to the club's recent addition to the National Premier Soccer League as part of a 22-team expansion this year.
If you're like me, then you've missed the Shadow's two Evergreen Premier League championships in the past three years. Now you'll have a chance to watch them compete for a national title against teams across the country. The winner of the NPSL gets a berth in the U.S. Open Cup, with the opportunity to play Major League Soccer teams.
You can catch the Shadow at their home field, 4,000-seat Spokane Falls Stadium at Spokane Falls Community College. Tickets range from $5 to $7, with discounted season passes available. The 10-game schedule, which runs until July 8, has four games left. Visit spokanesoccerclubshadow.org for a full schedule and ticket information.
Outside, and in
Maybe you're more of an indoor sports type of person. Nothing wrong with that. But you should probably know about Spokane's ping-pong clubs.
First, there's the Spokane Table Tennis Club (3151 E. 27th), which meets every Wednesday evening from 6:30 to 9 pm at the Southside Senior and Community Center.
For $2, players of all ages and skill levels can come learn the game or hone their skills. Donations go directly to the Senior Center, says Laurent Ades, club president.
"We play mostly for fun and exercise," he says. "It's pretty informal."
The club (facebook.com/spokanetabletennisclub) provides ping-pong balls and will have a few extra professional-grade paddles for players to borrow.
"We encourage newcomers, if they don't have their own paddle, to use one of mine," Ades says. "I always have loaners for people who want to try a professional paddle."
The other group, West Central Table Tennis (westcentraltabletennis.com), hosts drop-in sessions Tuesday nights from 6:30 to 9:30 at the Girl Scouts Center (1404 N. Ash). Open play costs $3 per visit. The club also hosts more competitive league play on Sundays from 1 to 4:30 pm, which is still open to all and costs $5. The club also offers individual and group lessons, says owner Nick Dotson. That'll cost you about $10 a session. ♦