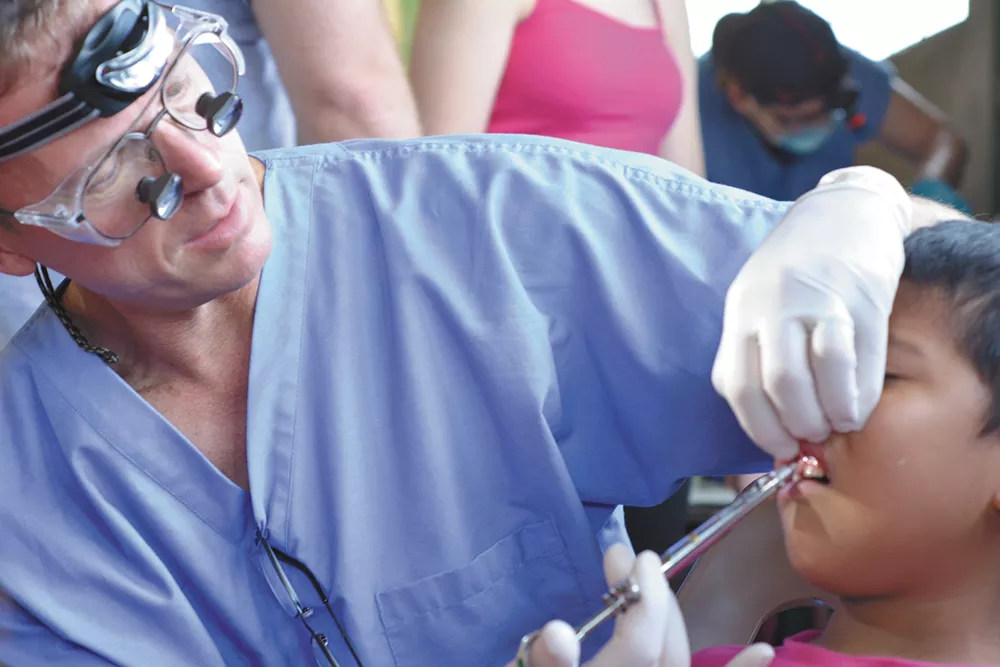 Leaning back in a white, plastic lawn chair, the young Guatemalan girl quivers at the sight of the American man wielding a hypodermic needle. The pain from her top teeth, rotted to stubs, unleases tears that roll down her olive-skinned cheeks.
Her mouth begins to shake as two tall Americans hover around her, but the girl's shaking body relaxes as one of the men smiles and the other holds her hand. She isn't alone.
Chris Woodard, a senior pre-dental major at Washington State University, had grasped Vilma's hand out of instinct, a comforting reaction he learned from his father and mentor, Spokane dentist Steve Woodard.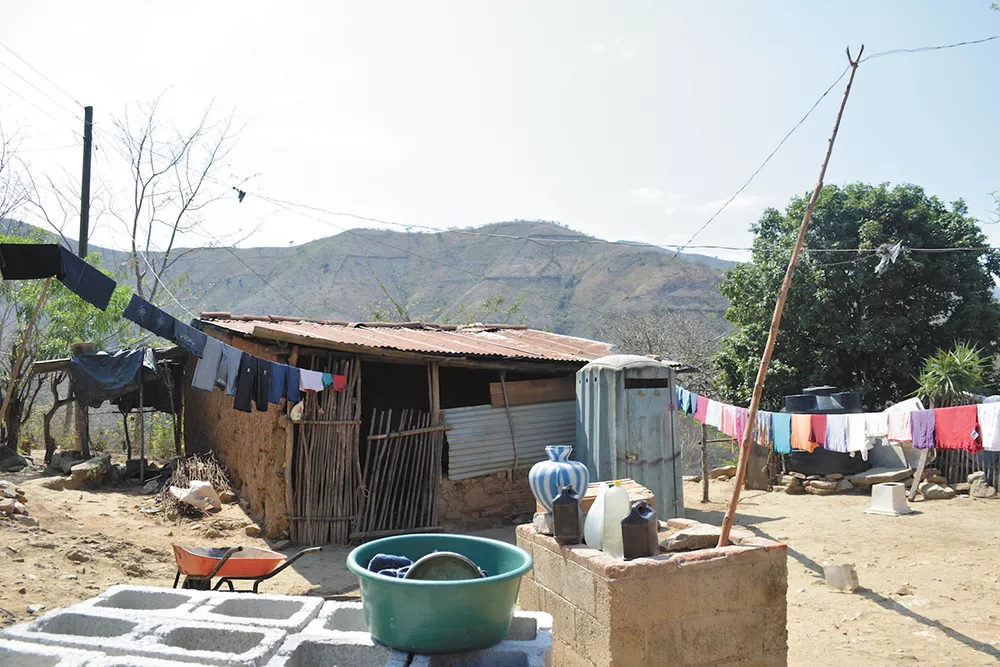 "In this village a lot of these people are indigenous, so they may have never even seen white people," Chris says. "These kids, when a 6-foot-3 white guy comes at them with shiny metal tools, that's pretty intimidating."
In March, the Woodards traveled to Guatemala with the mission group Hearts in Motion, a nonprofit that provides medical aid to low-income people. Vilma, like many Guatemalan people the two have helped on previous trips, lives in a remote mountain village without health services.
Under the metal roof of the village's dirt-floor shed, Steve reaches out a hand to calm Vilma. He then comforts her with the key Spanish words he's learned.
"Muy bien."
Helping people like Vilma not only allows Steve to give back to those in need, it gives him a chance to share his life's work with his son.
The First Trip
Steve, 54, practices dentistry in Spokane and started traveling to Guatemala in 2011 when Chris, then 18, went with a group of pre-med students at WSU. It was the first time either had experienced culture in a developing nation.
"You go into these villages and see 8-year-olds taking care of babies while the parents are out working in the field or gathering firewood," Steve says. "They don't have a lot, but at the same time they do — they have their family."
With Hearts in Motion, groups travel on 10-day trips to provide health care to remote areas. Mark Paxton, an oral surgeon in Spokane, has provided medical care in foreign countries with HIM for 23 years. He performs cleft lip and palate surgeries in places including Guatemala, Honduras and Ecuador.
"The need is very acute in Central America from managing not just cleft lip and cleft palate; they need basic medical care, basic dental care," he says.
Paxton and Steve Woodard have been friends for 18 years, and they share a passion for helping those in Guatemala.
Steve saw the trip as an opportunity to challenge his skills as a dentist. He wanted to share his history as a WSU alum with Chris, a current student at the university, but didn't realize that the experience with HIM would leave the two with indescribable memories together.
Extracting teeth from 80 to 100 patients a day, Steve has taught Chris the art of preparation.
"We had a lady who I had finished taking teeth out on. She was elderly and she blacked out, slumped down in the chair," Steve recalls. "It was a real teaching moment as far as emergency medicine, in the sense that Chris was concerned about if she was going to die."
Chris decided to pursue dentistry as a career when he saw the dire circumstances in Guatemala and watched his father use his skills to offer relief.
"Pulling teeth seems like a simple thing, but can make a huge difference in someone's life, making it so they can eat and talk," Chris says.
Sharing a Life
Through trips to Guatemala, cycling in Spokane and a mutual dream of sharing a dental practice, Chris and Steve agree their father-son relationship thrives on friendship.
"I know what he's thinking, he knows what I'm thinking," Steve says. "There is not much that he can't and doesn't tell me."
Steve's wife, Lisa, is a pharmacist at the WSU-Spokane campus. Seeing the pictures of sweat-drenched scrubs and dirt-covered workstations, Lisa says she can only imagine what her son and husband feel.
"In order to get the most out of life, we can't lock ourselves in our own safe house so nothing bad ever happens," she says.
Steve says that he can't put into words the shock of seeing how some people survive on limited supplies.
"They stand there for hours in 100-degree weather to sit down in an old chair and crank their neck back to have two, three, five, 10, whatever number of teeth taken out," he says. "Then they get up and give you a hug when you're done. It's pretty humbling." ♦
Christine Rushton traveled to Guatemala as part of the backpack journalism program at the Edward R. Murrow College of Communication at Washington State University.