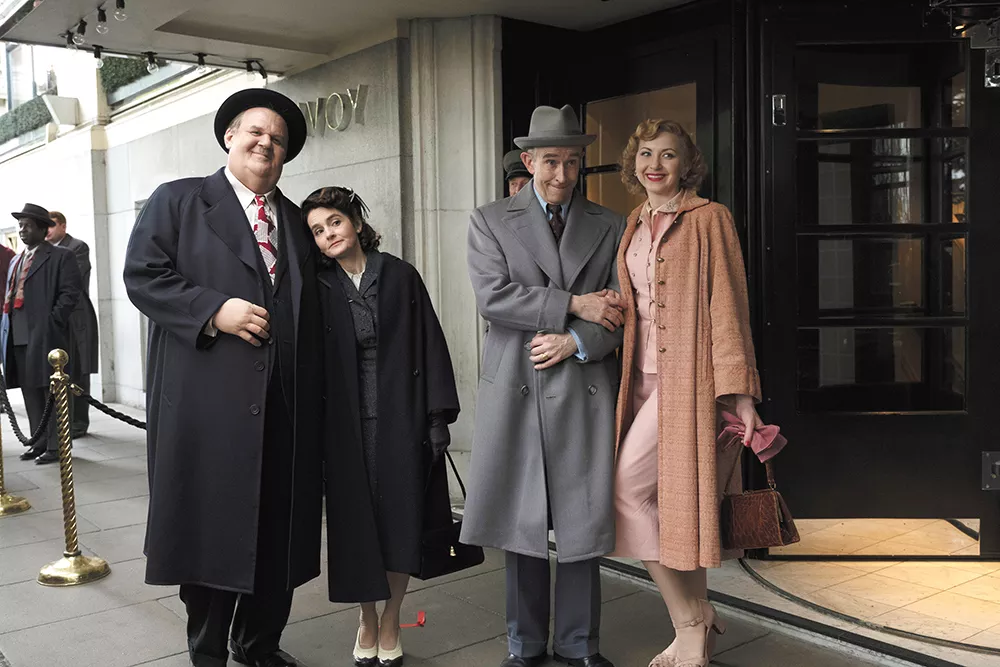 When the title characters of Stan & Ollie check into a shabby motel early in the movie, they entertain the clerk with one of their classic routines, as Oliver Hardy (John C. Reilly) becomes increasingly exasperated with his bumbling partner Stan Laurel (Steve Coogan) dropping luggage and banging on the call bell. The clerk is delighted, in awe of these film legends recreating movie history for her own personal enjoyment.
Later in the film, as Stan waits for a meeting with a movie producer who's been dodging his calls, he attempts the same tactic with the producer's secretary, but she remains stone-faced as he runs through an old vaudeville comedy bit. The contrast between the two scenes encapsulates what director Jon S. Baird and screenwriter Jeff Pope are exploring with Stan & Ollie, a portrait of the iconic comedy duo in their later years, on a hastily arranged 1953 tour of music halls in the U.K.
Far from the height of their 1930s popularity at the box office and with their longtime partnership slightly strained, Stan and Ollie are just aiming to remind audiences that they're still around, running through their greatest hits onstage in the hopes of drumming up interest for a new movie, a parody of the Robin Hood story. Baird and Pope take some liberties with the duo's career timeline (the Robin Hood movie was actually being developed years earlier) in order to generate a bit of conflict, but the pleasures of the film come mainly from its gentler moments, as Coogan and Reilly expertly re-enact the dynamic between the two veteran performers.
The fat suit and layers of prosthetics on Reilly are sometimes distracting, but the two actors have wonderful chemistry, demonstrating the rapport that made Stan and Ollie the most famous comedians in the world for a period of time.
The movie gets an extra boost when Stan's stern Russian wife Ida (Nina Arianda) and Ollie's gentle, encouraging wife Lucille (Shirley Henderson) travel from the U.S. to join their husbands. Ida and Lucille clearly despise each other, but their comic banter is just as amusing as some of their husbands' famous routines. The arguments that crop up between Stan and Ollie later in the movie, mainly related to a long-ago contract dispute that briefly led to Ollie working on a movie without Stan, are less compelling and often feel like they've been contrived for the sake of drama.
Those contrivances really aren't necessary, though, and there's enough dramatic tension in the tour itself, booked by a shady local promoter who initially can barely sell any tickets. The feel-good triumph of Stan and Ollie (along with some bittersweet notes about the toll that showbiz takes on performers) as they slowly rebuild their following may be predictable and a little cheesy, but it's still enjoyable to watch.
That applies to the movie as a whole, which works more as a loving tribute act than an engrossing biopic. Aside from a prologue set during the '30s (depicting that long-ago contract negotiation), the movie remains focused on the tour, in which Stan and Ollie are sort of paying tribute to themselves. It's clear that everyone involved in the movie has great respect and appreciation for the duo's body of work, and even though watching Coogan and Reilly is no substitute for seeing an actual Laurel and Hardy movie, Stan & Ollie can serve as an effective gateway for appreciating the art of classic physical comedy. In that way, it accomplishes the same thing that the actual performers set out to achieve with their tour. ♦