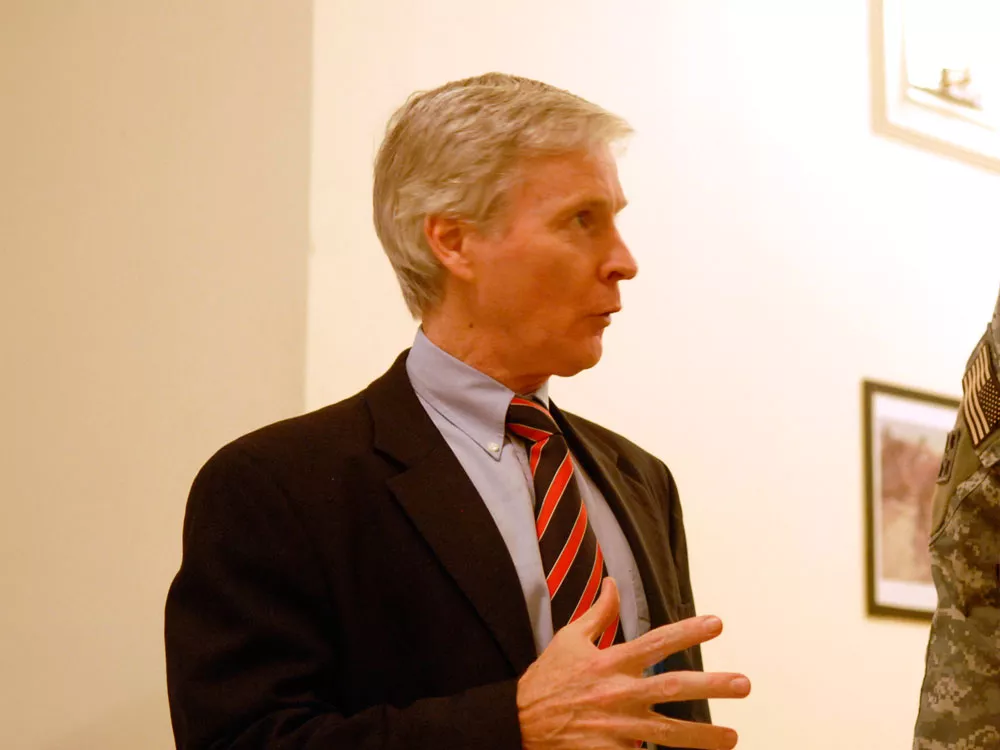 In the fallout of President Obama's recent firing of his commander in Afghanistan, Gen. Stanley McChrystal, attention is being paid to a quiet corner of Spokane Valley and one of its recently returned residents: Ryan Crocker.
Sens. John McCain and Joe Lieberman have persistently been calling for Crocker — a highly regarded career diplomat and Valley native — to come out of his year-old retirement and renew his half of the dynamic duo relationship with Gen. David Petraeus, a partnership largely credited with sharply reducing the insurgency in Iraq.
"Let me just say, I have a full-time day job. I am extremely happy, and already have a challenging commute between College Station, Texas, and Spokane," Crocker says, back in his native Spokane Valley. "I have no desire to make it more challenging."
In January, Crocker was named dean of Texas A&M's George H.W. Bush School of Government and Public Service, where he says he enjoys teaching the next generation of government workers. Meanwhile, Crocker's old partner, Petraeus, is Obama's choice to replace McChrystal. The general formally took command in Afghanistan on Sunday.
On Monday, Petraeus bluntly stated that infighting between the American military leadership and diplomatic personnel in Afghanistan must end. "Cooperation is not optional," he says, addressing the degree of dysfunction that was the other major revelation in the Rolling Stone magazine article (lost among all the jibes) that got McChrystal fired.
"It's a tragedy," Crocker says. He has known McChrystal for some years, as both had been posted to the Middle East pretty much continuously since the Sept. 11 terror attacks. There may be an additional bond in that each is a driven long-distance runner.
Crocker praises McChrystal as "very much a soldier-scholar" who displayed not only "tremendous operational skill" in Iraq and Afghanistan, but "also impressive intellectual grasp of … the political atmosphere in which military operations take place, much same way Petraeus does."
However, Crocker adds, the revelations in the Rolling Stone article left McChrystal no choice but to fall on his sword.
The reckless insults reveal the chasm between Karl Eikenberry, U.S.
ambassador to Afghanistan, who is vigorously opposed to sending more troops into the country, and McChrystal's — now Petraeus' — strategy of needing more troops to smother the insurgency.
McCain, R-Ariz., says he thinks it's dubious that Eikenberry and Petreaus will work well together. The "ideal team," to bring success to Afghanistan, McCain said on one of the Sunday talk shows, is Crocker and Petraeus.
Lieberman, I-Conn., also said on the weekend news shows he finds it telling that during a face-to-face meeting, Petraeus did not specify the makeup of the diplomatic team in Afghanistan.
Crocker was wary about calls for his re-emergence during a telephone interview. There will be no guarantee an Iraq-style "surge" will work in Afghanistan, he warns.
"They are two different countries, different histories, different dynamics," Crocker says. Afghanistan is mountainous, remote and impoverished in ways Iraq isn't, Crocker says. "It is a desperately poor country with no institutions, no infrastructure, no nothing. As hard as Iraq was — and remains — Afghanistan is harder."