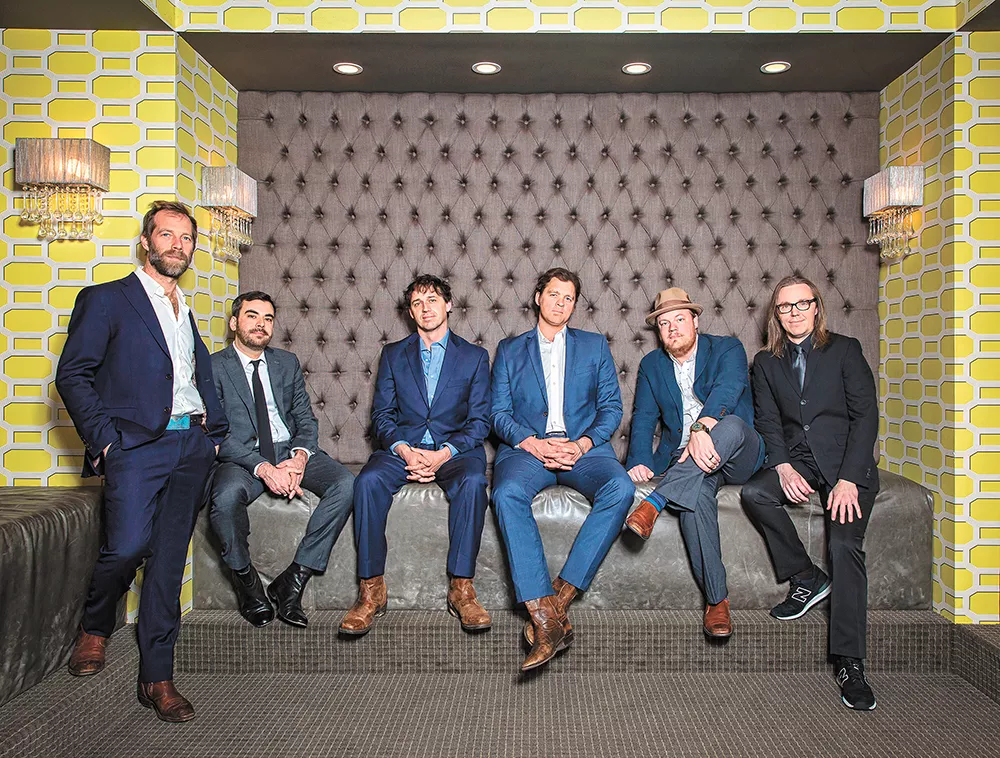 Nearly 20 years into a career that's already given a band ever-increasing popularity, Grammy awards and opportunities for genre-defying collaborations is not exactly the time you'd expect that group to start taking dramatic chances.
There's no other way, though, to look at how bluegrass heroes Steep Canyon Rangers approached recording their latest album, Out in the Open, other than "risky business." Arriving to the studio to work with roots music-focused producer Joe Henry — a Grammy winner for records he made with Solomon Burke, Ramblin' Jack Elliott and Carolina Chocolate Drops — the Rangers quickly realized they were in for an altogether different process than they were used to.
Rather than playing and recording piecemeal, putting the guitars, banjos, fiddles and rhythm section parts together layer by layer, then adding vocals and making a "perfect" record, Henry intended to take advantage of the band's tight musical cohesion forged over years of live shows. His plan was to record every single aspect live with the whole band playing together at once.
Every instrumental note. Every lyric sung. Every mistake, too. The result is a killer set of 12 songs recorded in a lightning-fast three-and-a-half days.
"The aesthetic of this record is all due to the beautiful mind of our producer," says Rangers drummer Mike Ashworth via phone before the band launches a tour, stopping in Spokane for a show with the Spokane Symphony on Saturday. "It was almost a spiritual experience. Joe, the things he brought to the table were hard to quantify. He brought a mood, or he would bring an idea about humanity. It was such an intense recording session. ... He wanted to capture us in our most true form, and I feel like he did.
"This recording style he brought to us has really impacted the way we approach music. It's really changed everything because he caught us at such a candid moment. We're now working to make every moment as humble and as real and as approachable as they can be."
The high-wire recording stunt might sound scary for long-time fans who already love the North Carolina crew's music, and there are a lot of those people. The Rangers first formed in 2000 and in 2006 won the Emerging Artist of the Year award from the International Bluegrass Music Association. A couple years later they started touring and recording with comedian Steve Martin, blending his jokes with serious bluegrass throwdowns in memorable shows from coast to coast.
While the Martin collaboration earned the band plenty of new fans, their own music kept earning accolades as well, including a Best Bluegrass Album Grammy in 2013 for Nobody Knows You.
It's easy to predict that the new set of songs on Out in the Open will garner similar attention. Guitarist and vocalist Woody Platt, banjoist Graham Sharp, mandolinist Mike Guggino, fiddler Nicky Sanders, bassist Barrett Smith and Ashworth have crafted an album that pushes beyond bluegrass into folk, country and blues.
Ashworth says the band's evolution has come naturally through the years as the members pushed themselves to try new things. Ashworth joined the band full time about five years ago after decades of collaborating with the Rangers because the band's sound increasingly needed the drive of a drum kit, an instrument that is anathema to some bluegrass traditionalists.
The decision to join a band he was friends with and a fan of — and one already successful without him, playing a more traditional style — was both "seamless, and completely daunting," Ashworth says.
"I've been making music with all the guys in different capacities for over a decade, so I knew in that sense it wouldn't be a big deal joining," Ashworth says. "At the same time, I was a big fan of the band, and at that point I didn't really know that adding percussion was such a great idea. ... It became clear that the songwriting was already going that way, and it just made artistic sense."
The Rangers' expanded sonic palette has made them comfortable playing everywhere from traditional bluegrass festivals to rock clubs to staid performing arts centers. While they were working with Martin, they had a few songs worked up for shows with symphony orchestras. The Rangers liked the results enough to start working with composer Jonathan Sacks on more of their catalog so they could do more symphony shows.
"[The symphony shows] are pretty special to us," Ashworth says. "We don't get to do it a lot because it's a big thing to wrangle a symphony in a town. It's just a huge rush to have all that power behind you and all these different interpretations of the things you're trying to do." ♦
Steep Canyon Rangers with the Spokane Symphony • Sat, March 3, at 8 pm • $39-$86 • Martin Woldson Theater at The Fox • 1001 W. Sprague • spokanesymphony.org • 624-1200