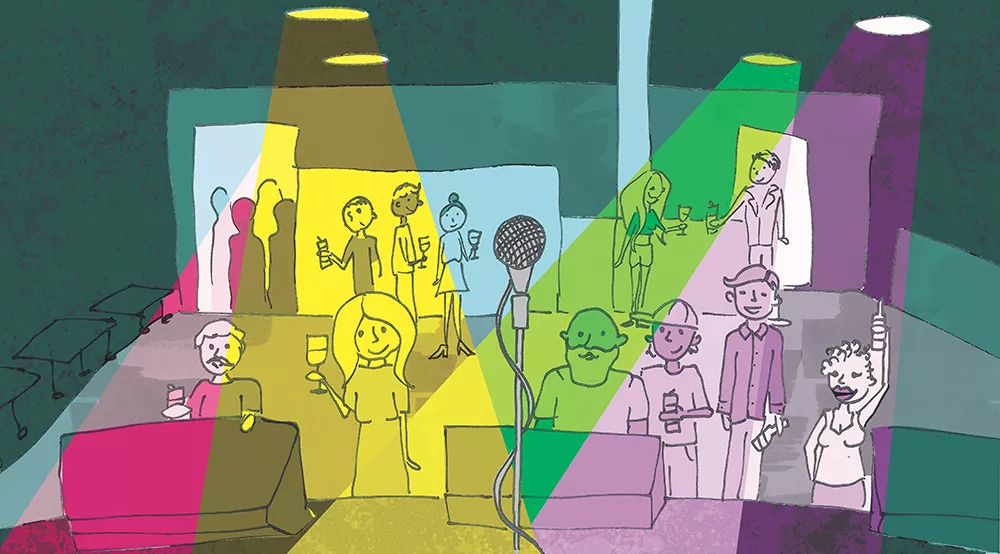 Kevin takes the stage, no guitar in hand, a departure from most other performers here for the Bartlett's open mic night. His song may be a little off key, but it's honestly sincere and intriguing, with thoughtful, complex lyrics. A songwriter perhaps more than on-stage performer, a Bob Dylan more than a John Lennon. But he is confident. He knows his space, and his audience, and he's known to the crowd. A regular.
"I've seen shooting stars but only felt the dust they're made of," Kevin sings.
It's a song — his original song — about Nashville dreams, and opportunity lost. Driven by the lyrics, not any deep musicality or instrumentation.
"And I'll remember Nashville with the mic as cold as stone, where you could sing your heart out as if you were alone."
No one is forced to be here tonight, but many seem to be forcing themselves here, pushing past their inhibitions and self-doubt. They've taken a first step. Or a second step. Or for some, a very regular weekly step. Some are repeat customers; old faces, if you will, at the bar on Tuesdays.
And there's a bar, all right. What better to cure — or temporarily numb — inhibitions than a little booze? Glass of wine. Yeah, helps with the butterflies. Tallboy can of Olympia. Hell yeah. It's something about the water in there that makes you sing well.
There's a list of drinks in the front, and a list of names in the back. A set list. But only first names. At open mic night, everybody knows your name, but nobody needs to know your full name. Or your real name.
It's comforting, actually. A separation between your doubts and the harsh reality of critical ears. So just write your first name on the list — or, hell, maybe your best friend's — then go on stage.
As Kevin continues his song, a guy walks in carrying two Olympia tallboys and cracks them open in the brief, silent space between words as if they're part of Kevin's set.
It reminds Kevin that he's not alone. There's a room full of people listening to him. Intently listening. And now they're clapping. Loudly. They recognize him from before.
Those who come back will recognize him again.
And they'll be back. In a place where everybody knows your name — real or not — you're bound to come back. ♦