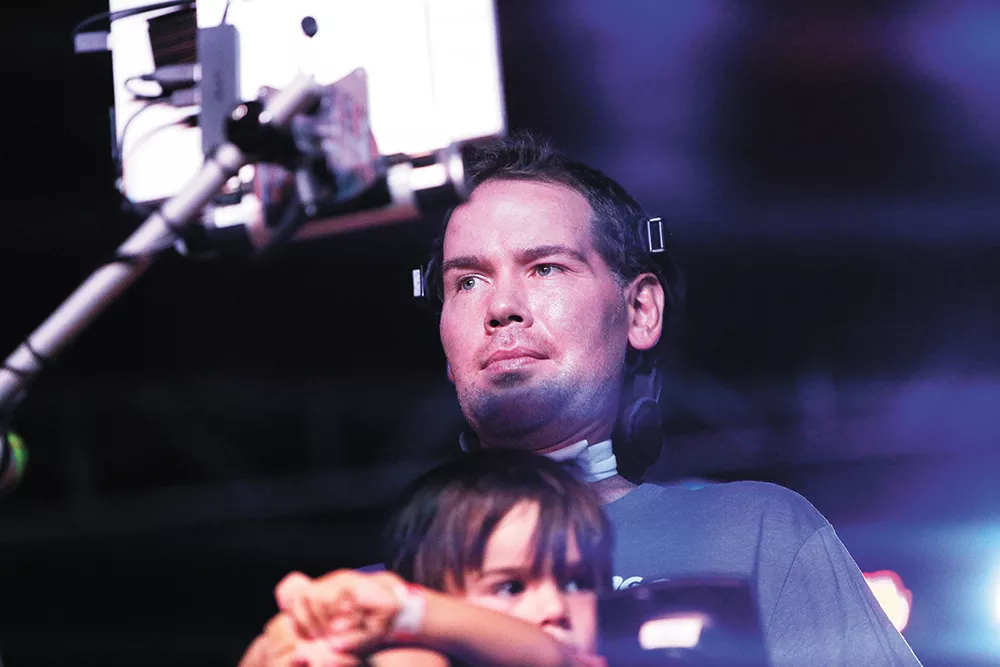 Steve Gleason doesn't need much of an introduction these days.
The Spokane native and former NFL star was diagnosed with amyotrophic lateral sclerosis, or ALS, in 2011, and has since become a tireless advocate for those living with the disease. Amongst the charities that Gleason has founded is his very own music festival/fundraiser, appropriately called Gleason Fest, which brings a lineup of well-known regional bands — including Portland's the Dandy Warhols and Seattle's the Grizzled Mighty — to Riverfront Park this weekend.
Gleason spoke to the Inlander via email in the week leading up to his namesake festival, reflecting on the history of the event, some recent advancements in ALS research, and what this year's music lineup means to him. Responses have been edited for clarity.
INLANDER: In what significant ways has Gleason Fest evolved since 2012, and what separates it from other music festivals?
GLEASON: What started as a small grassroots event, thrown together eight years ago by my brother Kyle and some friends, has grown a lot. We have changed locations twice since the inception of Gleason Fest, as our growth has demanded a larger space. What I love about Gleason Fest is that the community support has been astonishing — not just in attendance, but from our local sponsors, as well. We couldn't do any of this without their unwavering support. I feel that what sets the festival apart is that we're bringing this region together to have a great time, but we're also really showcasing the fight that is central to Team Gleason's mission. Gleason Fest has always been about community. I love that my family and I get to attend this event every year, coming back to the Pacific Northwest, catching up with old and new friends and enjoying some great music.
Since the festival began, have there been any advancements in ALS research that mean the most to you?
ALS research has begun to more rapidly advance. One of those advancements is an effort Team Gleason helped start: Answer ALS. It's the single largest coordinated and collaborative ALS research project in history. The goal is to gather an enormous amount of samples and data from 1,000 people living with the disease to discern what specific type of ALS each has. In doing so, researchers can then better develop personalized treatments versus failed attempts to treat all ALS as one disease. Everything Team Gleason does focuses on helping and empowering people living with ALS to continue with their purpose. Our most recent accomplishment, Independence Drive, allows people to drive their power wheelchairs with their eyes. For me, this technology has been incredibly liberating. It's almost ridiculous to think that there were simply zero options for people like me to drive wheelchairs, and starting this year, we will help deploy this powerful program to anyone who needs it.
What kind of personal connections do you have with the bands performing at Gleason Fest this year?
I've always loved the Dandy Warhols, and I think they embody the indie-rock genre that seems to fit so nicely with the character of Gleason Fest. I'm stoked that they're this year's headliner. In terms of personal connection, I went to high school with the guys in Delbert. I was a few years younger, and they lived in my hood in North Spokane. So growing up, long before Delbert was a band, I looked up to those guys. Then in college, the golden years of Delbert, they would play at our fraternity. I really love those guys. They're so happy and creative, and their music plasters the walls of my memories.
Is there a particular artist that you'd most love to have play the festival?
Do you mean besides Pearl Jam, Queen and Led Zeppelin?! I'm really, really into Manchester Orchestra right now, so I'd love to see them play. Either way, we intend to keep things fresh, meaningful and fun for years to come.
See you Saturday, Spokane! ♦

Gleason Fest with the Dandy Warhols, the Grizzled Mighty, Delbert and Left Hand Smoke • Sat, Aug. 10 at 3 pm • $30 • All ages • Lilac Bowl Amphitheatre in Riverfront Park • 507 N. Howard • gleasonfest.org

WHO'S PLAYING?

The Dandy Warhols
One of Portland's most beloved institutions, the Dandy Warhols went international with their breakout album, 2000's Thirteen Tales from Urban Bohemia. The band struck a chord with its tongue-in-cheek lyrics satirizing Gen X malaise, scoring alt-rock hits with "Bohemian Like You" and "We Used to Be Friends," the theme song to the recently resurrected Veronica Mars. And if you haven't seen Dig!, the 2004 documentary about the Warhols' improbable rise to fame and their strange relationship with fellow up-and-comers the Brian Jonestown Massacre, add it to your to-watch queue. The band is back on the road celebrating both its 25th anniversary and a new studio album titled Why You So Crazy, and lest you think the Dandys are still falling back on their familiar sound, this is one of their most experimental collections yet. That anti-corporate snark is still there, though.

The Grizzled Mighty
The Seattle-based duo of guitarist Ryan Granger and drummer Faustine Hudson has become a favorite of Spokane audiences, following performances at the dearly departed Elkfest and the Inlander's own Volume festival. With a crunching, grungy and, yes, grizzled kind of sound, their razor-sharp riffs and thundering, insistent beats are what the guitar-and-drums combo was made for. The Mighty recently announced on social media that they've finished recording a new album, which will be their first release since 2017's Crooked Little Finger.

Delbert
Delbert has become something of a Gleason Fest institution, having reunited multiple times for past festivals. It's a group of guys who started playing together in college, and they've known Gleason from their early days. Their fusion of jammy rock, blues and reggae is perfect for a party setting, and they've even penned a song called "No White Flags" in honor of Gleason and his contributions to ALS advocacy.

Left Hand Smoke
Also from Seattle, Left Hand Smoke has produced an unlikely combination of '60s pop, blues-rock and neo-soul. In fact, their sound varies so much from song to song that they could probably be a festival unto themselves. The quartet's most recent album is Drugstore Love, which the band produced and recorded themselves.