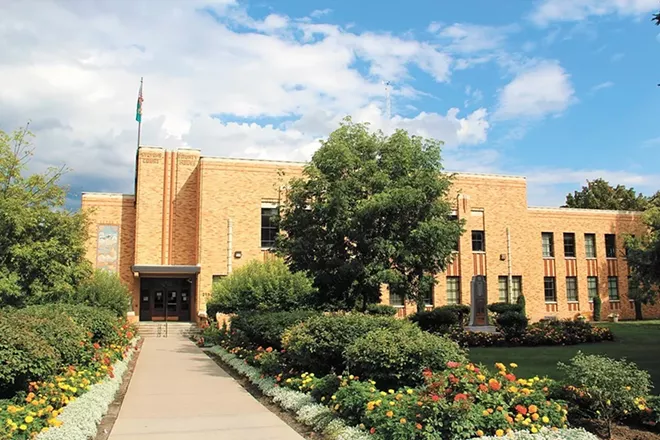 S
tevens County District Court
Judge Gina Tveit is asking to be excused from a federal lawsuit brought by a
woman who says she was sexually harassed
by another employee while doing court-ordered community service.
The lawsuit accuses Tveit of retaliating against the woman, Rachel Benjamin, for reporting the alleged harassment. Tveit claims judicial immunity, meaning she cannot be sued for performing her judicial duties. In separate court records, Tveit disputes the lawsuit's description of events.
Benjamin pleaded guilty to a DUI in 2015 and was ultimately sentenced to 75 days on Stevens County's "work crew," of which she served 45 days, according to court documents. (The DUI was her third in seven years, court records show.)
During that time, Benjamin's lawsuit claims the work crew supervisor, Pat Walsh, repeatedly and continually sexually harassed her by making "boorish and highly inflammatory and offensive statements," including comments on Benjamin's breasts, her intimate relationship with her husband and her "sex appeal."
Upon hearing of the alleged harassment, Stevens County Prosecutor Tim Rasmussen,
who is facing sexual discrimination accusations of his own
, attempted to dismiss the remaining days on Benjamin's sentence. However, the order doing so was signed by Superior Court Judge Jessica Reeves, not Tveit.
Tveit responded with her own order, accusing Rasmussen and Reeves of violating ethical rules, including the fact that Reeves was a prosecutor on Benjamin's case before becoming a judge. Reeves has said she was not aware of the conflict of interest at the time.
The lawsuit also alleged that Tveit organized a meeting with Stevens County director of public works and two county commissioners to discuss the "Benjamin case."
During the meeting, Judge Tveit condemned Rasmussen's handling of the case and expressed how she would have preferred it be resolved, the lawsuit says. Those actions show that Judge Tveit retaliated against Benjamin for reporting the harassment, the lawsuit says
In her motion to be excused from the lawsuit, Tveit claims that those actions were done within her role as a judge, and she is therefore protected by judicial immunity.
"Any actions a judge takes that is in any way judicially related to a case is covered by the immunity umbrella," says Jerry Moberg, the attorney representing Tveit. "You can't have a judicial system that allows litigants to sue a judge."
In a separate motion recusing herself from Benjamin's DUI case, Tveit denies the lawsuit's description of events.
First, Tveit denies that she organized the meeting with county commissioners and the public works director. She also denies that she discussed the "Benjamin case" and writes in court documents that at the time of that meeting she was not aware of Benjamin's sexual harassment allegations.
The lawsuit also names Stevens County, Walsh and Stevens County District Court Administrator Nadine Borders. Moberg is also representing Borders and the county. The motion to dismiss only pertains to Tveit.