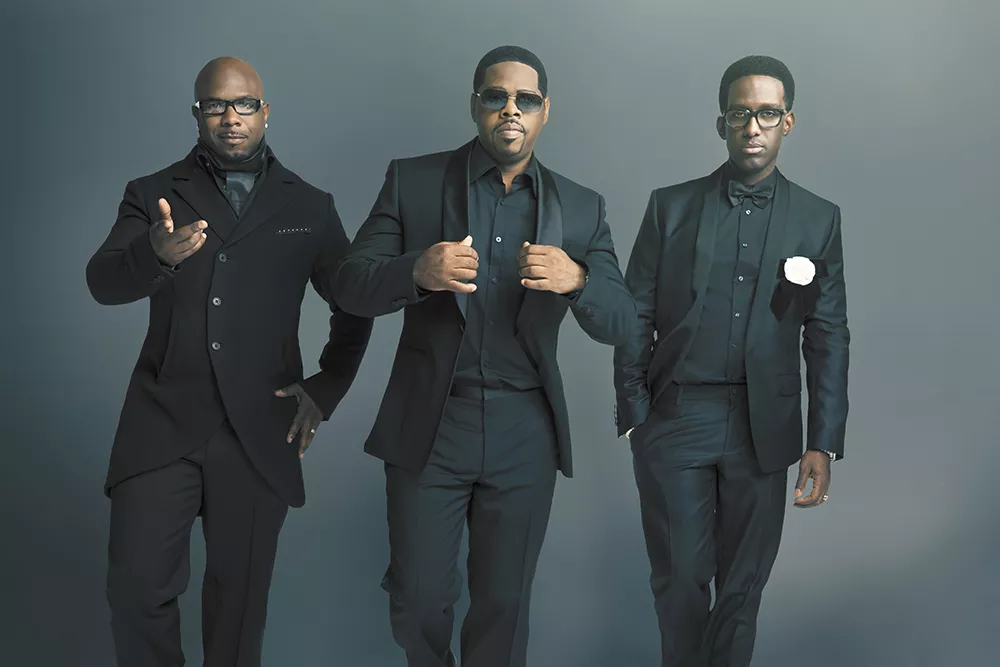 Anyone dealing with the fallout of One Direction's Zayn Malik suddenly leaving the group last week might take some solace in the long-running success of another "boy band" that lost a member at the height of its powers.
Five albums into a career that took Boyz II Men from high school choir to massive global popularity on the strength of soulful vocal harmonies and a long string of R&B hits, the tight-knit quartet became a trio when bass singer Michael McCary quit.
Rather than parting ways for solo careers, Nathan Morris, Shawn Stockman and Wanyá Morris forged on. Years later, they still bring their "Motown-Philly" sound to audiences the world over, including Spokane on Wednesday.
In an email interview, Stockman attributed Boyz II Men's staying power to the group's "brotherhood," and their dedicated fans.
"We have been committed to creating timeless music and working hard to give our fans what they are asking for," Stockman says. "We all have the same focus, which is what makes Boyz II Men successful and long-lasting."
They don't sell albums at the same frenzied pace as during their breakthrough years, but you won't find a group in any genre that does. And while the audiences at the concerts aren't the same size, either, they're still full of rabid fans singing every word of "I'll Make Love to You" or "End of the Road."
"Seeing the way fans react really makes us come alive on stage, because they have such high energy and we can feel it!" Stockman says.
Boyz II Men began in Philadelphia at the High School for the Creative and Performing Arts, inspired by their love of New Edition. While they initially dabbled in hip-hop, they eventually settled into a straightforward, ballad-heavy style.
That approach worked and set them apart from the other "new jack swing" crews filling MTV and radio at the time. Boyz II Men still hold records for the longest-running single to sit at No. 1 on Billboard's Hot 100 chart ("One Sweet Day," performed with Mariah Carey, 16 weeks in 1995) and became just the third act to replace themselves at the top of that same chart — after Elvis Presley and the Beatles — when "On Bended Knee" replaced "I'll Make Love to You" at No. 1 in 1994.
Those days might be long gone, and their dance routines might not be quite as acrobatic, but you can bet when the people filling Northern Quest's concert hall close their eyes and hear the old songs, time and missing members won't matter a bit.
One Direction's fans will be lucky if they can say the same in 2035. ♦
Boyz II Men • Wed, April 8, at 7:30 pm • $45/$65/$85 • Northern Quest Resort & Casino • 100 N. Hayford Rd., Airway Heights • northernquest.com • 481-6700