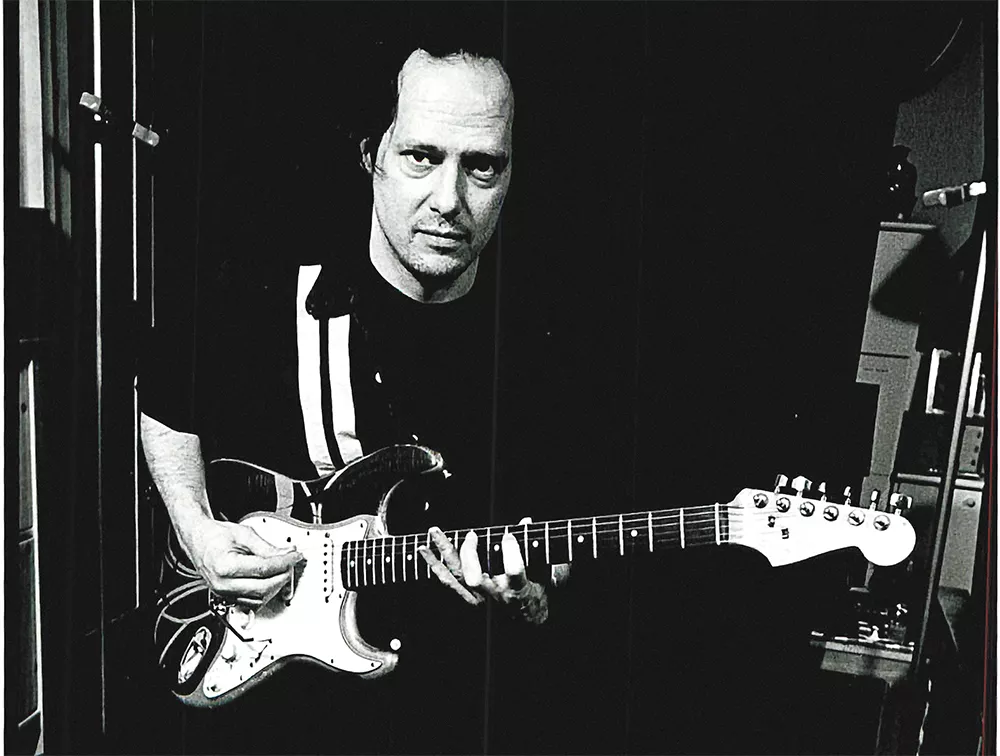 Richard Lloyd still lives in New York City. He's tried living in other cities, even ones in exotic locales, but nothing else but the bustle of NYC feels like home. It's the place where most of his music was imagined. the magical city where the now-closed CBGB came alive with Lloyd's former band Television and other seminal punk and new-wave acts like the Ramones, Talking Heads, Patti Smith and Blondie.
But this month he'll leave his cramped (he admits to saving everything) two-bedroom apartment and head west with his band — starting in Vancouver, B.C., with stops along the way to Yellowstone National Park, including one at the Bartlett next week.
He hasn't performed much this year. He's found a new art form.
"I've been painting since late February. I've sold quite a few. I've already outsold Van Gogh," Lloyd says with a laugh. "I sometimes finish three paintings in a day. They're stacked floor to ceiling in my office."
But the music won't leave him. He writes songs every day; he just never writes anything down. It's saved up there in his episodic memory. His guitar? That never lays idle for too long.
"You have to practice. You can't slack off at all," Lloyd says. "Otherwise, like a razor blade, you don't sharpen, you'll lose the edge. When I was younger, there were people who could play better, but I was hungrier. I would play and play in my closet, and then eventually, I woke up and I was good."
Speaking from his apartment last week, Lloyd is as quick to quote a Bible verse as something from the Quran. He's a source of poetry, highbrow literature and Eastern philosophy. He constantly flips between answering questions and talking about things like the time he walked from San Francisco to L.A. He explains his bipolar disorder; he's able to keep working with the help of a psychiatrist and medication.
At 63, Lloyd has experienced much strife in his life. Though he left the band in 2007, Television tours on without him after years of trying to keep the group together.
"The band was like a bad girlfriend," he explains. "My loyalty was with them for 35 years and no record ... no new record [since 1992]. I finally said, 'I've had it, I'll make my own records and I'll be fine.' I am fine. Although financially, not really. It's simply not true that all rock stars are rich."
The band's 1977 debut Marquee Moon, one of the finest releases of the punk era, and its 1978 follow-up Adventure solidified Television as a rock institution, but by then egos were clashing and the band took a 13-year hiatus. At the time Lloyd was also battling drug addiction. He tried everything there was back then, he says. But hitting rock bottom caused him to clean up.
"There are two types of people who play rock 'n' roll: those who don't want to grow up, and then those who haven't grown up," Lloyd explains. "It's the second group I wouldn't touch. They haven't matured, they wear bandanas and are out looking for sex. That's amateur stuff."
The current tour includes a four-piece pro outfit. They won't be too rehearsed, Lloyd insists; there has to be room for spontaneity, after all. He plans to play through everything, from the Television era, his work with Matthew Sweet and Jimi Hendrix covers, up to his latest solo album Lodestones: Nuggets From the Vault (2010).
"What I can't stand is when a performance is perfect," Lloyd says. "Otherwise there's no danger. The bands that I saw when I was growing up in New York, you didn't know if they would get through the songs. There were times I'd come off the stage with Television just breathing hard, thinking 'How can we do it?' Playing music is sometimes impossible."
Slowly, Lloyd is working on his memoirs; he says he has a "zillion stories" to tell, including the demise of the legendary CBGB. Lloyd says he's not sad about the 2006 closure. He played on stage with Patti Smith at the venue's final show. He said his goodbyes.
"It's beyond OK; the place is closed," Lloyd says. "It had outlived its lifespan; after hardcore, after '87, it was nothing. It was eight bands a night and none of them were good. All of my memories of the place are still intact. Nothing can be undone, everything is in eternity." ♦
Richard Lloyd (formerly of Television) • Thu, Sept. 10, at 8 pm • $15/$18 day of • All-ages • The Bartlett • 228 W. Sprague • thebartlettspokane.com • 747-2174