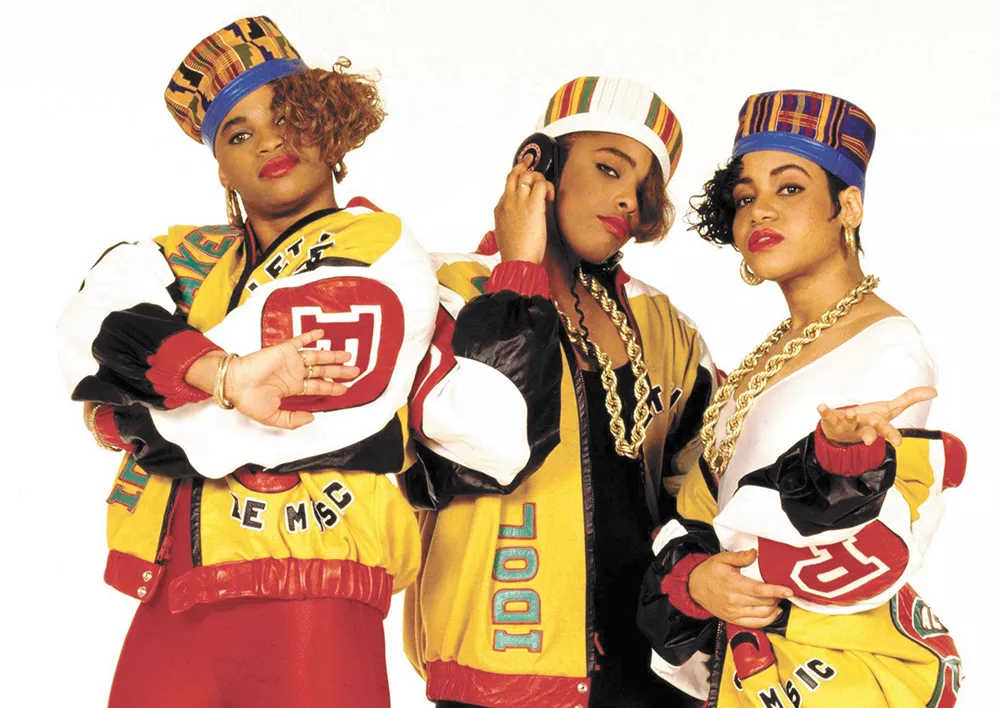 The song was supposed to be a joke. Rappers Cheryl "Salt" James and Sandra "Pepa" Denton were so unimpressed when former producer Hurby "Luv Bug" Azor banged out the now-famous melody on the keys during rehearsal, they followed the line with "Oooh baby baby" as a cheesy response. Nearly 30 years later, "Push It" (one of the first rap records nominated for a Grammy) is making a comeback. Salt-N-Pepa, including DJ Deidra "Spinderella" Roper (just a teenager when she replaced Latoya Hanson in 1986), were featured rapping it on a Geico Super Bowl commercial and on American Idol, one of the more exciting performances on the reality show's recent season. This week, the rappers just announced they're releasing a sporting apparel line named, of course, Push It.
Next Thursday, Salt-N-Pepa comes to Coeur d'Alene Casino Resort to perform their most well-known hit and many others, including "Shoop," "Let's Talk About Sex" and "Whatta Man." All those great 1980s dance moves will be there too — like the cabbage patch, the lawn mower and the sprinkler — as the ladies are joined by male backup dancers on stage. That's why you'd want to see them, to drink up that nostalgia.
They came out of Queens like firecrackers. Leaving their jobs at Sears, the all-female act stood up in an male-dominated landscape and proved they could make hip-hop just as well. They streaked to the top of the charts, and seemed unstoppable from 1986 to 1994. Female rappers like Queen Latifah and later Missy Elliott were there too, but it was Salt-N-Pepa who helped prove hip-hop was a lasting medium that could transcend the pop charts.
James, 49, and Denton, 45, are back together now, stronger than ever. But after their 1997 album Brand New didn't do nearly as well as others, they officially broke up in 2002, James leaving the group. There was a memoir written, an appearance on The Surreal Life, various solo side projects and eventually a VH1 reality show chronicling their lives getting back together. These days, on stages across the country, they're still pushing. ♦
Salt-N-Pepa • Thu, May 21, at 7 pm • $45-$55 • Coeur d'Alene Casino Resort • 37914 S. Nukwalqw, Worley, Idaho • TicketsWest.com • 800-523-2464
---
Things To Push
In anticipation of Salt-N-Pepa gracing the Inland Northwest next week (and the launch of their forthcoming Push It clothing line), we present the following list of items to consider pushing.
• Shopping cart
• Buttons
• Boulders
• Stalled car
• Wheelbarrow
• Pencils
• Pins
• Doors
• Windows
• Boundaries
• Sanity
• Freedom
• Ideas
• The issue
• Your luck
• Lawnmowers
• People on swings
• The envelope
• A person down the stairs
• A baby (in a stroller, not down the stairs)
• Daisies
• It... real good
— CHRIS BOVEY