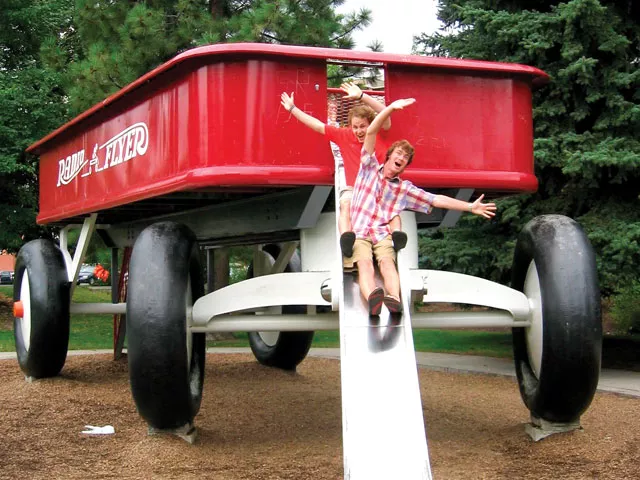 TINCAN KICKS IT UP
More than a year after President Obama signed the 2009 American Recovery and Reinvestment Act into law, remnants of its $787 billion are still trickling into Spokane. Local technology nonprofit Tincan moved into a new office space last week and will begin offering expanded community training and broadband access thanks to a $2.2 million grant from the U.S. Department of Commerce's Broadband Technology Opportunities Program, which was created and funded by the stimulus package.
Tincan offers technological education and training programs for local students and teachers on topics including web design, reporting, filmmaking, videogame development and integrating technology into the classroom. The organization is renting the new facility, located at 1317 W. Second Ave., which includes a professional film production studio and a 32-computer media lab that will be available for public use when not booked for training programs.
Tincan will also use the grant to upgrade connectivity at all Spokane public libraries and provide or upgrade computers to Spokane's four community centers and selected nonprofits in the city.
"This really brings Spokane into the 21st century in terms of connectivity and access to resources," Executive Director Karen Michaelson says. (Heidi Groover)
THE HITS KEEP COMING
Just weeks after Spokane was honored with a "Wastewater Treatment Plant Outstanding Performance" award, the city has notched two more dubious honorifics.
First, Parenting.com enhanced Spokane's rosy glow by ranking it No. 7 among its Best Cities for Families for 2010. The site, run by the publishers of Parenting and Babytalk magazines, cited the Lilac City's cleanliness, children's hospitals, Blue Ribbon Schools, children's museum and, of course, the giant red wagon.
Then Spokane was named the recipient of the Innovation: Arts and Culture Award from Sister Cities International for a photo project it embarked on last year. The exhibit collected 17 pictures representing various themes from each of its four sister cities — Limerick, Ireland; Nishinomiya, Japan; Jilin City, China; and Jecheon, Korea — and sent copies to the other cities, encouraging them to display the photos (though we don't know if they actually did).
Great. Just 5,409 more honorifics like this, and people will forget all about our pipe bombers, powder mailers and doormat thieves. (Joel Smith)
DROPOUT DISCUSSIONS
Lately, it seems, everybody's trying to reduce the Spokane Public Schools' 1-in-3 dropout rate. It's the subject of district programs, local ballot initiatives, grants, state efforts, city efforts and national efforts.
The one problem, says Joanne Benham, director of the Spokane Regional Youth Department, is that so many of initiatives are going in separate directions.
"We have so much going on, but it isn't necessarily interconnected," Benham says. "Maybe we need more targeted approaches?"
So at 7:30 am this Friday at the Spokane Regional Health building, city and community leaders will try to connect all the efforts at the "Future of Education of Spokane" roundtable discussion. All sorts of community leaders will be discussing efforts to reduce dropout rates and prepare students for college and careers.
You're invited. It's early, but there will be coffee. (Daniel Walters)
CHICAGO-STYLE?
At Monday's city council meeting, cantankerous exchanges about the balance of protecting shorelines versus the "taking" of private property were batted back and forth.
John Pilcher, the top aide to former Mayor Dennis Hession, argued that 200-foot setbacks on his property along Latah Creek — double the present buffer — were inconsistent with similar nearby properties and would prevent him from developing the property. He suggested he was the target of some City Hall skullduggery.
Citing a purported conversation between Department of Ecology staffer Doug Pineo and an unnamed city staffer, Pilcher testified that the long delay in Ecology's final version of setback rules was designed to wait out last fall's elections until conservation-friendly candidates Jon Snyder and Amber Waldref were elected to the council. "The council's changed here, and the votes may have changed … That smacks to me of Chicago politics," Pilcher said.
"Oh, Mr. Pilcher," Council President Joe Shogan cut in. "It's very interesting that you should bring up some unnamed city official made some kind of statement when I believe that perhaps you have utilized your connections at the city to emphasize the importance of who you are. I am offended, Mr. Pilcher."
And this was just the opener to 90 minutes of often crackling back-and-forth on the sometimes arcane arenas of what's allowed in a shoreline zone. In the end, the council adopted (with Bob Apple and Nancy McLaughlin opposed) a package of regulations that allowed, over Ecology's objection, the construction of a missing link of Centennial Trail along the Spokane River in West Central and the tougher 200-foot setbacks along Latah Creek. Pilcher, the council noted, has the ability to appeal. (Kevin Taylor)