It's tough to find decent movies about stoners, let alone good movies that are more fun to watch if you are a stoner. Deliberately avoiding some of the more obvious choices — do Cheech and Chong, Harold and Kumar or Jay and Silent Bob need any more publicity? — here are a handful of the best (and weirdest) films for and about pot enthusiasts that might not be on the tip of everyone's tongue. Hopefully you weren't planning on getting off your couch for the next few hours.
Dazed and Confused (1993): One of the best films ever made about the '70s, Richard Linklater's free-floating ode to cheap beer, free weed and Led Zeppelin sometimes seems as drunk and stoned as its characters. Linklater is more concerned with capturing a mood than following a traditional plot arc, but that's part of the film's charm, and he assembled a great ensemble cast featuring future Oscar winners Ben Affleck, Renée Zellweger and Matthew "Alright, alright, alright" McConaughey.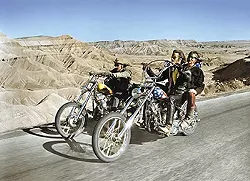 Easy Rider (1969): Peter Fonda and Dennis Hopper were at the center of several major anti-establishment films during the Vietnam Era (see also: The Trip, The Wild Angels, The Last Movie), and this road trip odyssey is the best of the lot. It jumpstarted the American independent film industry, it made Jack Nicholson a star and it pioneered a laissez-faire depiction of casual drug use in mainstream movies. It's both psychedelic (dig that freakout during Mardi Gras, man!) and sobering, and its groundbreaking soundtrack features "If 6 Was 9" by Jimi Hendrix, the Band's "The Weight" and of course, Steppenwolf's "Born to Be Wild."
Fast Times at Ridgemont High (1982): You might have forgotten just how much happens in Amy Heckerling's teen comedy classic; the film is almost episodic in structure, weaving in and out of occasionally intersecting plotlines. But certainly everyone remembers Sean Penn's brilliant comic turn as Jeff Spicoli, the tanned, blond surfer dude who skulks about in the margins of the film. His ordering-a-pizza-in-history-class bit is one of the great stoner wish fulfillment moments in modern cinema.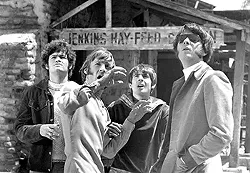 Head (1968): The Monkees are best known as a squeaky-clean '60s pop band thrown together for a short-lived TV show, but their only feature film vehicle is a crazed, trippy comic fantasia satirizing their own manufactured status. The deliberately disjoined screenplay was apparently written by the band, director Bob Rafelson and Jack Nicholson (yes, that Jack Nicholson) during a drug-fueled weekend retreat, so Head would no doubt play best when you're out of your own.
Pineapple Express (2008): Arguably the best stoner comedy of the 2000s, director David Gordon Green explores the tantalizing what-if scenario of two perma-baked dudes (Seth Rogen and James Franco, only one of them a regular pot user in real life) stumbling headlong into a violent action-movie plot they're hilariously ill-equipped to handle. And unlike a lot of similar movies, it's even funny when you're completely sober.
Reefer Madness (1936): A classic of bad cinema, this anti-marijuana propaganda film depicts pot in the most alarmist ways imaginable: After just one puff of that devil weed, you're transformed into a maniac junkie with a taste for crime. Made with terrible seriousness by a church group and screened around the country under various titles, it was repackaged as an exploitation film and developed a cult reputation among mostly stoned audiences in the '70s. And it's now in the public domain, so light one up and head over to YouTube.
Tommy (1975): Pretty much anything directed by Ken Russell would be louder and more lurid while you're under the influence, and his big-screen adaptation of the Who's 1969 rock opera about a deaf and blind pinball prodigy is no exception. This movie is totally bonkers from beginning to end, and its cast follows suit — cameos include Elton John, Tina Turner, Jack Nicholson (he popped up a lot on this list, didn't he?) and Eric Clapton as a rock 'n' roll preacher whose congregation worships a giant statue of Marilyn Monroe. Far out. ♦