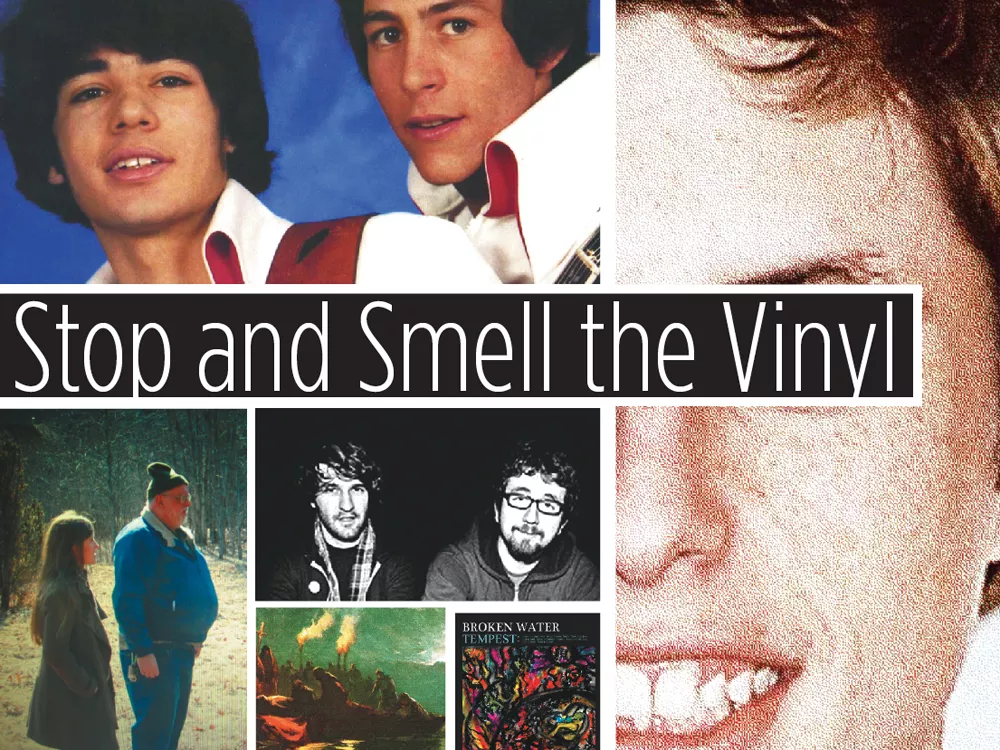 BROKEN WATER

Tempest
Everything's out of tune. From the way the vocals on the first track, "Drown" ring a little discordant, to the way guitars build into big sonic hairballs - Olympia's Broken Water peddles an aesthetic that is off-kilter, a little strange and, yet, completely familiar. When the vocals start on Tempest's second track, "Coming Down," it starts to make sense why Broken Water sounds like a band you've loved before: the male singer sounds an awful lot like Thurston Moore, and suddenly this band sounds a hell of a lot like Sonic Youth.
Those are big shoes for a band to try to walk in - let alone one as young as the four-year-old Broken Water. But the band proves it is up to the challenge with Tempest, an album of sustained droning, skin-tingling swells and tasteful bending of the modern rock sound. For the band's best work, skip to the last track "When You Said." It's a song that will make you believe in rock 'n' roll again. (LEAH SOTTILE)
ODD FUTURE
The OF Tape Vol. 2
The most polarizing rap group in years, Odd Future has been accused of being nothing more than a collection of bratty, misogynistic, homophobic shock MCs. But these claims are just shortsighted potshots; Tyler the Creator and his visionary gang have far more bubbling under the surface than their critics are willing to admit, and The OF Tape Vol. 2 - their most inspired set of songs yet - offers ample evidence. The rhymes weaving their way throughout this record are alternately twisted and comical, mind numbing and scathingly witty. As over-the-top offensive as the group can be, it's unwise to take all its lyrical violence and profanity at face value - this serves more as a pot-stirring parody of how bloated, predictable and downright dumb mainstream hip-hop has become in the last decade than a reflection of Odd Future's own convictions. As if made by the ol' dirty bastard children of the Wu-Tang Clan, OF Tape Vol. 2 is whimsical, fresh and challenging - a savage, revealing journey into the warped but brilliant minds of its creators. (STEVE LABATE)
DONNIE & JOE EMERSON
Dreamin' Wild
Dreamin' Wild may just be the ultimate "album you might have missed." Originally released in 1979, the 40-minute LP was recorded and produced in its entirety by the teenaged Donnie and Joe Emerson at their home recording studio in rural Eastern Washington. With around 100 copies pressed, it went largely unheard until it was rediscovered nearly 30 years later.
Perhaps shockingly, the album has aged magnificently well. Its gentle, naive sense of rock n' roll is touching and earnest, juvenile yet brilliantly confident. Their fuzzy brand of AM-radio pop-rock has seen something of a resurgence in recent years among artists like Ariel Pink, whose cover of the Emerson's "Baby" brought Dreamin' Wild into the internet spotlight. Nearly every track on this forgotten collection feels like a classic that almost was. Maybe now, with a loving 180-gram vinyl reissue some 33 years later, the brothers Emerson can finally get the recognition they deserved. (JORDAN SATTERFIELD)
DIRTY PROJECTORS
Swing Lo Magellan
The first rule of Dirty Projectors is don't read about Dirty Projectors. Never has there been a man less able to describe his own music than front man Dave Longstreth, whose interviews veer from wildly pretentious (he reads the Bible for inspiration) to plain inarticulate ("sick beats and stuff.") It's enough to turn anyone with a brain off the band. Instead of reading about their new album, pick up a copy (or fire up Spotify), grab a pair of headphones, and settle in for an open-minded listen. From the first a cappella notes of kinky opener "Offspring Are Blank," you'll find that Dirty Projectors make music like no other group. Based on Longstreth and collaborator Amber Coffman's constantly shifting but perfectly-executed vocals, Swing Lo demonstrates a talent for blending top 40 pop and hip-hop with Sonic Youth-inspired art rock and mellow finger-picking. For a first-time listener, it's their most accessible album yet. For longtime fans, it shows a band that's only growing in its creative powers. (JULIA MULLEN GORDON)

JAPANDROIDS
Celebration Rock
If scientists were to distill the best parts of everyone's favorite anthemic rock songs, cutting out any of the fluff or filler along the way, the result would be Celebration Rock. Japandroids has no right to sound this massive as a two-piece, but front man Brian King has perfected the art of splitting his guitar signal through many amps to achieve a full wall of sound as David Prowse's drums thunder along. This collection of huge riffs, "woah-oh-oh-oh-oh" choruses, and propulsive beats blisters along with a primal urgency, as if Japandriods notices summer fading on the horizon, but aren't willing to mention it aloud. Celebration Rock is an album that's meant to be blared out of car speakers on hot summer nights in abandoned parking lots by kids basking in the seeming invincibility of youth. Join the beautiful, blissful ignorance and "Scream like hell to the heavens!" (SETH SOMMERFELD)
RIGHT AWAY, GREAT CAPTAIN!
The Church of the Good Thief
Manchester Orchestra front man Andy Hull started telling the story of a 17th century sailor through his solo project Right Away, Great Captain! six years ago, and with The Church of the Good Thief, the trilogy of albums comes to an end. The sailor is dead. The final installment begins with the sailor contemplating the murder of his adulterous wife, but instead strangling her lover - who is also his brother. From there, the central character reflects on his past while awaiting execution, tries to make amends with his family and even talks to the ghost of the captain who saved his life at sea. The songs are carved out of dark acoustic guitar and piano perfectly soldered with Hull's delicate voice. Gut wrenching and rich in metaphor, Good Thief shrewdly concludes Hull's poetic opus. (ETHAN MAFFEY)