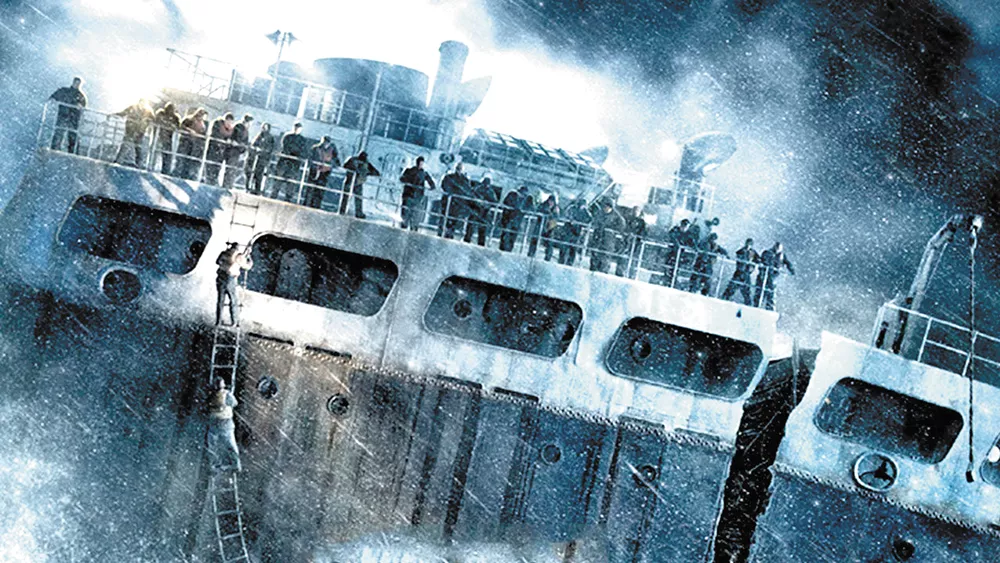 It may not be the finest seagoing adventure/rescue film ever made, but director Craig Gillespie (Lars and the Real Girl, Million Dollar Arm) and a crack team of digital artisans — working in pitch-and-yaw-perfect 3-D — have made a crackerjack action movie. Dramamine is recommended prior to viewing.
Based on the true story of the oil tanker Pendleton that broke in two off the coast of Massachusetts during a particularly disastrous storm in 1952, The Finest Hours ends up being not terribly memorable but considerably more exciting than you might expect. Future audiences will no doubt confuse this particular seafaring disaster with 2000's The Perfect Storm (the two films certainly have a lot in common outside of their casts), but for a rousing adventure story, you could certainly do a lot worse.
Chris Pine (off the USS Enterprise's bridge for a moment) leads a rough-hewn ensemble cast as a rookie Coast Guard sailor, who along with three others is sent from Chatham, Massachusetts, into the freezing, hurling maw of the dead-of-night ocean in search of the stricken vessel. On board the Pendleton is Casey Affleck's chief engineer Ray Sybert, who finds himself suddenly upgraded to captain after the massive tanker is literally torn in two by a rogue wave. Assisting him in the courageous, albeit seemingly doomed, task of keeping their part of the ship afloat are the naval genre's standard crew archetypes: the hulking, song-singing cook (Abraham Benrubi); the doomsayer (Michael Raymond-James); and, well, you can probably fill in the blanks yourself.
A romantic subplot between Pine and Grainger isn't necessary but adds a touch of Fifties-era sweetness to what otherwise would be a grim movie indeed. Gillespie and editor Tatiana S. Riegel do a pulse-pounding job of keeping up the suspense by crosscutting between the tiny Coast Guard vessel and the Pendleton's crew as they work to shore up their sinking craft. Carter Burwell's score is particularly thunderous, mirroring the on-screen action, and the 3-D really is — for once — superb, making for a breathtaking two hours. Well done.♦