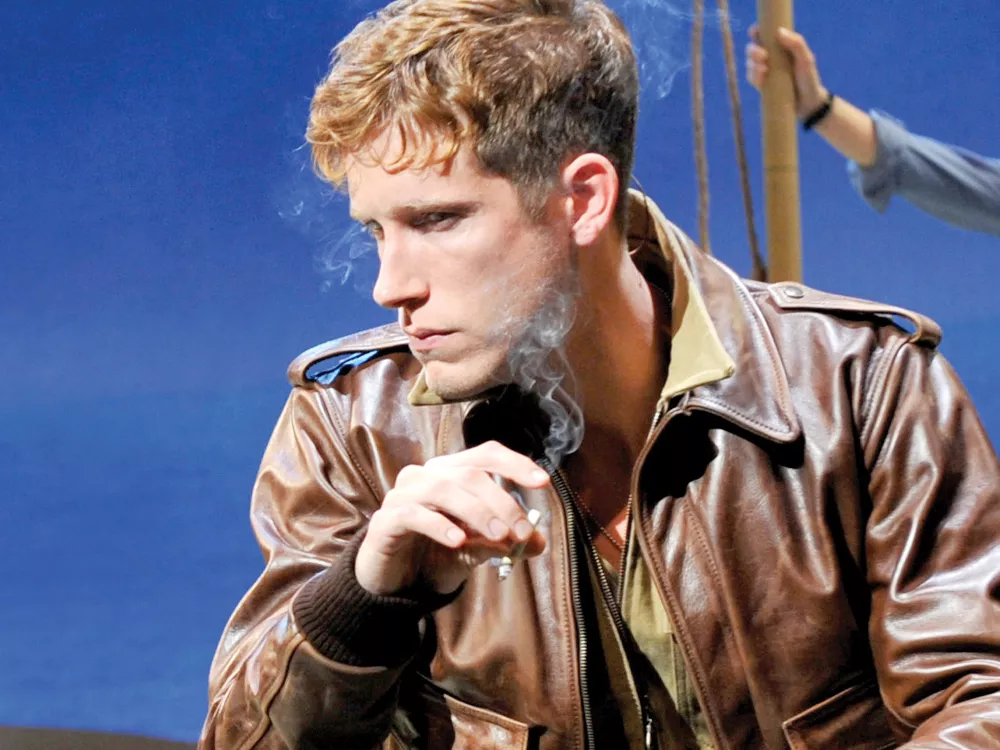 South Pacific
Oct. 6-8
INB Center
Grandma had it, like, on vinyl. You could hear her singing all over the house: "A Cockeyed Optimist" when she was doing the dishes, "I'm Gonna Wash That Man Right Out of My Hair" when she was in the shower, "Younger Than Springtime" when she made goo-goo eyes at Grandpa. (Gross.)
Grandma wants you to take her to South Pacific. Seven reasons why:
7. Matthew Morrison (Glee) played the young male lead, Lt. Joe Cable, on Broadway. In Spokane, in the same role, we'll get Anderson Davis — who will spend most of the night with his shirt off. (After 380 performances as Cable, Davis says, "you tend to kind of slack off" from going to the gym all the time. "But it can't be: Cable takes his shirt off, and everybody in the audience goes, 'Yecchh.'")
6. America's still fighting a far-off war, and prejudice is still a problem. Nurse Nellie's not the only racist in town.
5. A 26-piece orchestra. That's a lot of musicians. Reportedly, lots of old people start weeping during the overture. They remember what Golden Era musicals sounded like.
4. "Is that an actual sand dune?" The show's sets and lights won Tonys — and all that stuff travels well.
3. Paying respect. The show's final scrim curtain quotes the closing lines of James Michener's novel, about never forgetting the sacrifices that men and women make in wartime: "Longer and longer shadows will obscure them…." Davis says that the show's accuracy (saluting correctly, wearing the right color of shoes) is "a form of respect to all the [men and women] who actually lived through World War II."
2. Sexual tension. They're all in a tropical paradise, thousands of miles from home, the war could kill any of them tomorrow — and the enlisted men can't even talk to the women.
1. Romance. Emile meets Nellie ("Some Enchanted Evening"), thinks he has lost her ("This Nearly Was Mine"), she then thinks he's probably dead, and he unexpectedly returns. After all that romance and restrained passion, the finale involves the two lovers … holding hands. That's romance. That's what makes Grandma cry.
South Pacific • Wed-Thu, Oct 6-7, at 7:30 pm; Fri, Oct 8, at 8 pm; Sat, Oct 9, at 2 pm and 8 pm • Tickets: $33-$68 • INB Center • http://www.bestofbroadwayspokane.com • (800) 325-SEAT