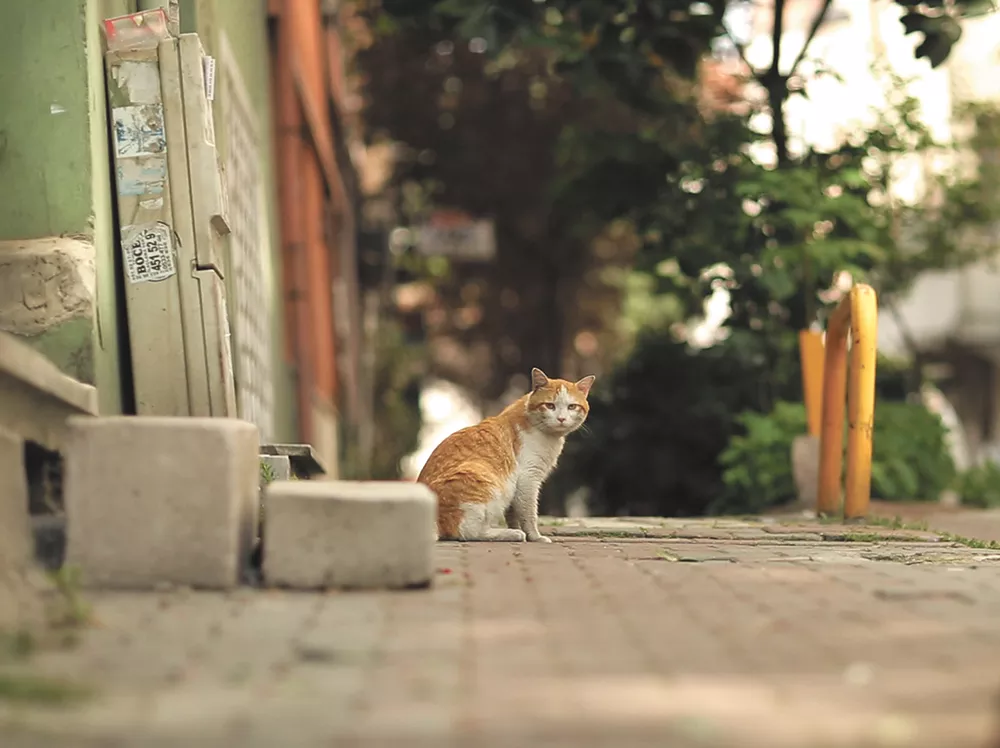 "In Istanbul, the cat is more than just a cat." So begins the leisurely documentary Kedi, an affectionate tribute to the tens of thousands of felines who freely roam the streets and sidewalks of Turkey's largest city, a four-legged omnipresence tempering the chaos of everyday life in a teeming metropolis of more than 14 million people. Charlie Wuppermann's fluid cinematography glides along the city's thoroughfares, following these creatures as if on cat feet.
Neither domestic nor feral, these stray animals belong to no one and to everyone. The luckier ones depend upon the kindness of passing strangers who randomly pet them, and the compassion of devoted caretakers who provide sustenance and shelter on a daily basis. Kedi (the Turkish word for "cat") is told exclusively from the point of view of some of the inhabitants of this modern-day Cat-stantinople, who have formed relationships with many of the tamed beasts featured here.
These narrators introduce a cast of cats as fascinating as anything T.S. Eliot imagined in Old Possum's fanciful book of poetry. There's Bengü, an affectionate female tabby who loves to be brushed when she's not fiercely protecting her litter from a nosy interloper; Gamsiz, a scrappy, happy-go-lucky black-and-white tom who always lands on his feet, whether he's scaling a balcony or scuffling with a furry trespasser; Duman, an aristocratic and well-mannered smoky male who never begs for food, but politely demands meals of smoked turkey and Manchego cheese from a high-end delicatessen by pawing at its storefront window each day; and Psikopat, an aggressive, monochrome alpha female who doesn't take shit from anybody or anything.
As the raconteurs frequently attest, the street cats profiled in the film possess distinctive personalities and character traits that endear them to the people they adopt. Maybe it's anthropomorphic wishful thinking, but if you're a cat person, you'll understand. If you aren't, why in the world are you watching this movie?
About halfway through the film, something begins to slowly dawn on you, a realization as gradual as the appearance of the Cheshire Cat. This movie is just as much (if not more) about the kindness and open-heartedness of the human beings who recount their unconditional love for Bengü, Gamsiz and the others, grateful for the therapeutic connection those animals provide when nothing else will heal the soul.
Director Ceyda Torun was born in Istanbul and lived there as a young girl, leaving the city with her family at age 11 for Jordan and later New York City, but it's abundantly clear that her heart has never left her birthplace. Kedi is a valentine to her childhood home, a work of unconditional love that celebrates a spot on Earth where an odd symbiosis between humanity and a purring segment of nature has flourished for centuries. Cats: now and forever.♦