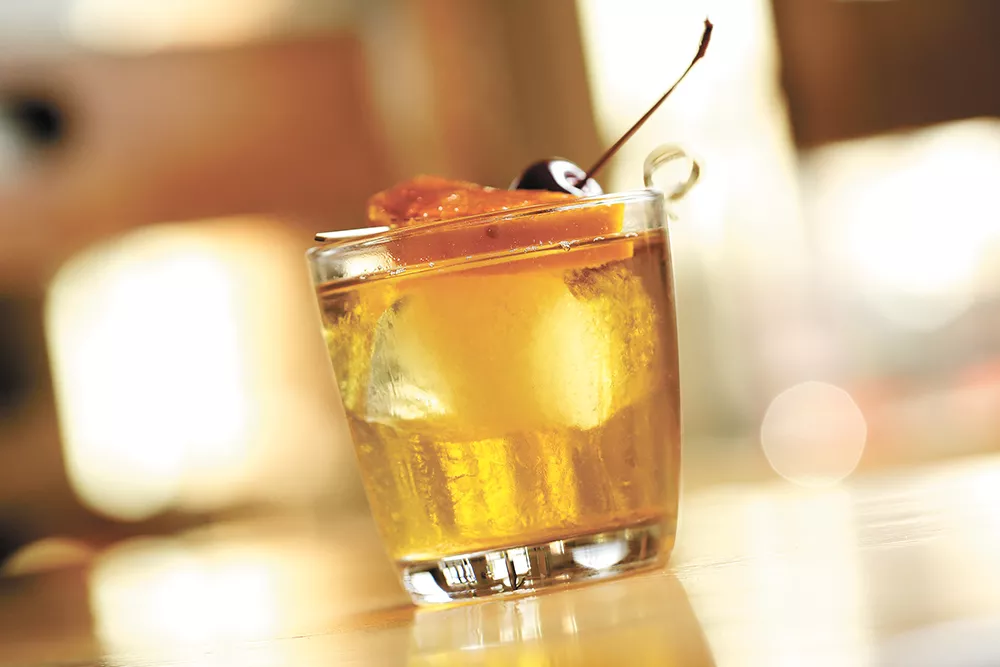 MEZCAL BLOOD & SAND, $11
Mizuna, 214 N. Howard St., Spokane (no Instagram account)
What's in it: Xicaru mezcal, Luxardo cherry liqueur, blood orange juice, sweet vermouth, garnished with three Luxardo maraschino cherries
What it looks like: You saw the name, right? Pinkish red and served straight up in a chilled martini glass.
What it tastes like: This is a bold drink that somehow manages to blend the sweetness of the blood orange juice with a sour cherry liqueur and smoky mescal to delicious effect. While you might think the flavors would clash, they instead work in perfect harmony.
Drink it with: The Mezcal Blood & Sand can certainly stand on its own either before or after dinner, but the citrus and mezcal (like tequila, made from agave plants, but definitely not the same thing) are fine matches for seafood and fish dotting the Mizuna menu, from the seared sea scallops ($34) to the sesame-crusted, seared ahi salad ($18.75 or $11.75). One of my favorite treats in Spokane is Mizuna's house smoked trout bruschetta ($15.50) and sharing an order over one of these drinks makes for a delicious night out. (DAN NAILEN)
SPOKANE 75, $10
Wild Sage Bistro, 916 W. Second Ave., Spokane
Instagram: @wildsagebistro
What's in it: House-infused rosemary gin, fresh grapefruit and lemon, sparkling wine, crème de violette
What it looks like: A celebration in a glass, thanks in no small part to the champagne flute and the presence of the effervescent sparkling wine. The citrus juices blend into a pleasing yellow, while the crème de violette seemingly sinks to the bottom of the glass, creating a subtle purple-ish base layer.
What it tastes like: It's surprisingly complex considering its relatively simple makeup. The sparkling wine floats on top of the other ingredients and its sweetness is the first note to register. The gin and citrus are a natural blend and certainly dominate the proceedings until the crème de violette arrives with the last couple sips.
Drink it with: Given that gin is the star of the Spokane 75, with solid assists from the bright sparkling wine and citrus, you'll want to lean on seafood options for the best results. Wild Sage Bistro has some excellent options, including the Northwest seafood louie ($29), loaded with poached shrimp, Dungeness crab and smoked salmon along with the crunchy romaine lettuce. The fresh Alaskan halibut ($34) is another good bet (isn't it always?), its pesto and white balsamic reduction intermingling nicely with the flavors in the Spokane 75. (DAN NAILEN)
BLOODY MARY, $6 (WITH SHRIMP, +$1)
Cricket's Restaurant & Oyster Bar, 424 E. Sherman Ave., Coeur d'Alene
Instagram: @cricketscda
What's in it: House-made mary mix, salt (rim), garnish: celery, cocktail onion, pickled bean, lemon, lime, choice of vodka, shrimp (optional)
What it looks like: Like a tall glass of tomato juice dressed in its Sunday going-to-town hat, which is appropriate because on Sundays, this beverage is only $4.
What it tastes like: Spicy, zesty and bright, just the way a bloody mary should taste, yet with the added bonus of plenty to nibble on as you drink it, or — we've seen it done — after you've let the pickled and preserved items pickle a little more in the bottom of your glass.
Drink it with: Tomato products and seafood are a natural pairing so try the pan-fried oysters ($15) or fish tacos ($11). Knowing that the tomato cuts the heaviness of some dishes, it's a good balance to the rich "big kid" mac n' cheese with prime rib, bacon and Gorgonzola gratinée ($19). (CARRIE SCOZZARO)
WATER LILY, $10
Clover, 913 E. Sharp Ave., Spokane
Instagram: @cloverspokane
What's in it: Gin, crème de violette, triple sec, lemon juice
What it looks like: This beautiful lavender-hued drink looks like something out of a fairy tale story, like if Alice in Wonderland's cast of characters gathered for cocktail hour instead of a tea party. The distinct purple color comes from crème de violette, a sweet, floral liqueur flavored from violets. Shaken with equal parts gin, lemon juice and triple sec, the normally deep purple liqueur is diluted into a soft, opaque tone.
What it tastes like: This delightful blend of botanical, citrus and sweet floral notes is, as expected, simultaneously tart, sweet and crisp without being overbearing. If you like other classic gin-based cocktails with a citrusy tang — like the Aviation (nearly identical in its ingredients list, but here swapping triple sec for maraschino liqueur) or the Corpse Reviver No. 2 — the Water Lily is definitely another to add to your list.
Drink it with: The Water Lily's sweet and tart palette pairs well with many different dishes, but we think especially so as both a complement and contrast to seafood and fresh greens. Sip it alongside a first course of Dungeness crab, arugula and artichoke dip ($14), the shrimp and polenta ($14) or the Clover house salad ($9), a blend of mixed greens with pecorino romano cheese, spiced candied pecans and a citrus vinaigrette. (CHEY SCOTT)
OLD FASHIONED, $12
Wandering Table, 1242 W. Summit Pkwy., Spokane
Instagram: @thewanderingtable
What's in it: Four Roses bourbon, maraschino cherry and blood orange liqueurs, bruleed orange
What it looks like: What you might expect. A warm, light amber drink with a skewer of candied orange and dark maraschino cherry served over a gentleman's cube in (what else?) an old fashioned glass.
What it tastes like: Not all old fashioneds are treated equally, of course, and Wandering Table's is on the sweeter side of things, but not cloyingly so. And it goes down easier the longer you sip it. The orange slice — which is toasted with a brulee torch before it's served to you — has a browned, candied texture, and though it might seem like just a garnish, it adds a welcome acidic bite to the drink. Drop that maraschino cherry (which is marinated in-house) into the glass, too, for another pop of flavor.
Drink it with: Wandering Table's manager Nicole Seaman says the old fashioned pairs well with the popcorn cauliflower ($11), which offers a nice, spicy contrast to the sweetness of the cocktail. The duck carnitas ($16), with the tang of watermelon kimchi and pickled onion, are also a match made in heaven. (NATHAN WEINBENDER)
BEEZ KNEES FIZZ, $9
Honey Eatery & Social Club, 317 E. Sherman Ave., Coeur d'Alene
Instagram: @honeyeatery
What's in it: Gin, lemon, honey, egg white, orange bitters and soda, garnished with Bordeaux-soaked cherries
What it looks like: Matching the restaurant's theme, this shaken drink is a light honey color, topped with a head of frothy egg white.
What it tastes like: If you're someone who normally shies away from gin, consider this a good introduction back into that flavor profile. The sometimes polarizing liquor is beautifully paired with just enough sweetness from the honey and a slight citrus bite from the lemon to make for a perfect light and refreshing drink, with no pine tree aftertaste to be found.
Drink it with: This light, citrusy drink can pair well with many of the sweet and spicy items on the menu, from the crispy fried garbanzo beans, tossed in sweet and spicy seasonings and topped with honey ($4) to the cedar roasted steelhead, brined in honey-soy and served with apple slaw, curry aioli and potato cake ($14). (SAMANTHA WOHLFEIL) ♦