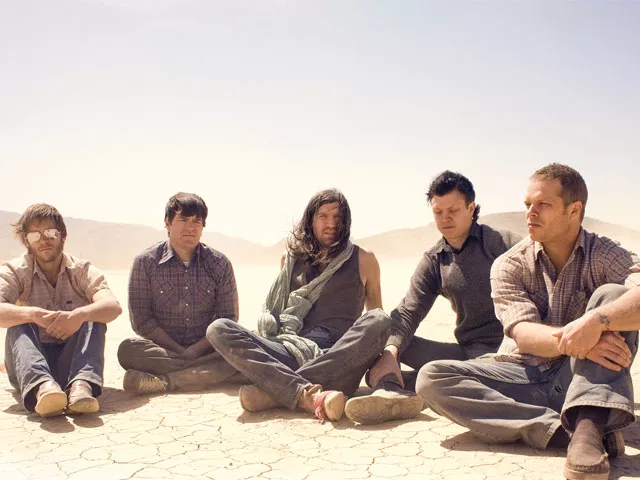 Josh Head has a standing-still problem. As the keyboardist for Emery, his stage performance is akin to what it would be like if you gave a 5-year-old boy 50 Pixie sticks and demanded he down them all in 10 minutes. It's an absurd display of jittering, bounding off drum kits and trashing about that screams sugar rush. Head even ventures into the crowd and literally stands on them while he belts out raspy bellowed lines of lyrics. Emery's bassist and vocalist Toby Morren speculated to BlogCritics.org his thoughts on why his bandmate is such a wild man on — and off — stage.
"[Josh] actually had never played keys before [joining Emery], so on stage he is actually mad at how hard it is to play the piano and takes his frustrations out by smashing the keyboard," he said.
Emery's live show is an exercise in blissful brutality. Mixing the raw frantic heaviness of hardcore with the bravado of arena rockers, the Seattle-via-South Carolina rock outfit can do what few bands can: put on a concert set that grabs the attention of non-fans and keeps them wanting more. And as punishing as it can seem to the onlookers, live shows take a toll on the band just as much.
"Our live show is pretty crazy, so I will just list injuries: I threw my guitar in the air. It landed on my head gashing me and giving me a concussion," Morren told AbsolutePunk.net. "Matt sliced Devin's ear in two with the head stock of his guitar. I smashed Matt's hand while swinging my mic, and it hit him so hard he could barely feel the guitar…" He goes on and on.
Perhaps the reason the band is able to truck on through the injuries is a result of their thick skin from dealing with their critics. After bursting onto the scene with 2005's The Question, the band's follow-up, 2007's I'm Only A Man, received a stiff round of criticism from many fans and publications. The band thinks part of this was due to the way the music industry has changed for the worse.
"We get so tired of people smashing bands after downloading one song for free from a record or listening to a bad-sounding MySpace page," Morren told AbsolutePunk.net. "Come on. If people don't buy records — then they have nothing, zero, invested in the band, so it's so easy just to say ignorant things because it means nothing to you.
"It's not about illegal downloading. It's about actually having a real scene instead of Internet posers who could or would never take a chance and put their soul out for everyone to see."
Many consider Emery's latest LP, …In The Shallow Seas We Sail, to be a "return to form," but for the band it's just the next step. Either way, the band has never veered away from the live intensity that defines them. Somewhere out there, Josh Head is fidgeting and waiting to explode for the next group of fans.
Emery plays with Queens Club, Sent By Ravens and Kiros on Friday, May 28, at 7 pm at the Service Station. Tickets: $12-$15. Visit www.brownpapertickets.com or call 466-1696.