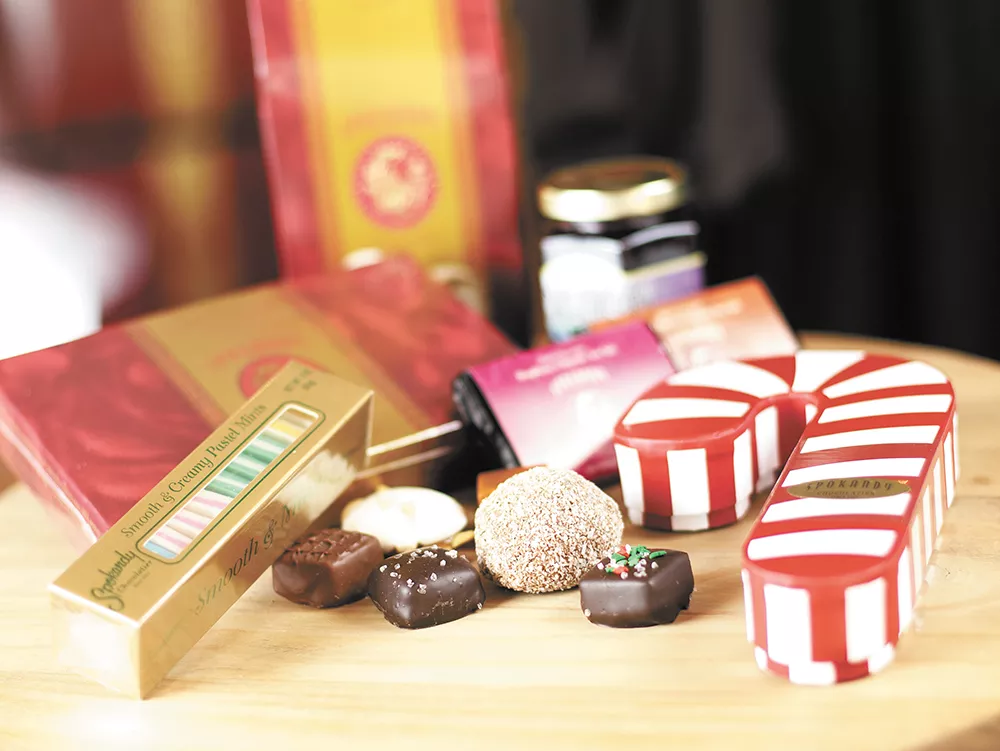 Decades of sweets-making at Spokandy's downtown factory have left their mark. Around its many melting kettles, dried drizzles of chocolate stain the 75-year-old building's hardwood floor. Though most of the equipment is modern, remnants of the past remain, like a caramel cooker estimated to be 85 years old. The massive steel-and-copper contraption is still used almost daily to cook Spokandy's proprietary caramels.
From November through Christmas Day, 12-hour days aren't unusual for its chocolatiers. While it may be assumed other holidays outdo Christmas time for peak candy consumption, Spokandy president and owner Todd Davis says the end-of-year giving season is by far his company's busiest. Christmas time means a 25 percent jump in Spokandy's production, and the fourth quarter alone makes up about 40 percent of the company's annual profit.
"During the holiday time, you have everyone giving — corporate [clients], wholesale and personal giving," Davis says. "All those facets are coming together, and that's what's making this time really busy. It's the time of giving, and what better to give than chocolate?"
On a recent Thursday morning as the sidewalks along west Third Avenue are lightly dusted with snow, classic holiday songs play in Spokandy's otherwise quiet storefront, adjacent to its factory headquarters. The rich aroma of fresh chocolate and mint wafts through the store.
Two female employees in black aprons and white fabric gloves box up chocolates behind a long counter of cases filled with all kinds of treats: foil-wrapped cherry cordials, chewy caramel cubes, melt-in-your-mouth mints, candy bars and truffles of every flavor.
In all, Spokandy produces more than 140 products, the majority of which are still made mostly by hand using old-fashioned recipes from the early days of the company's 101 years.
All of this sweet, sugary magic is orchestrated just beyond a red "employees only" door separating the calm setting of the retail area from Spokandy's cramped, bustling factory.
To expedite the 10-to-12 hour chocolate melting process, candymakers use a hammer to pulverize solid 10-pound bricks of chocolate. The sweet shards are then dumped into one of many automated machines throughout the factory floor that constantly heat and stir the viscous, molten substance.
Because it's a small-scale manufacturer, Spokandy orders — by the short ton — various blends of chocolate from large-scale producers who process the raw cocoa beans into finished chocolate.
Across from a kettle of silky, liquid milk chocolate, an employee wearing a hair net loads squares of caramel onto a conveyor belt that pushes the candies under a waterfall of liquid chocolate. Opposite her, another worker dips a brush in dark chocolate and adds a streaked pattern to the freshly coated treats. At the end of the conveyor, on the far end of the room, a third employee inspects and boxes up the finished chocolates to ship one of Spokandy's many wholesale clients across the West Coast.
Wholesale accounts are the company's most rapidly growing business sector. Davis spends the slower part of the year traveling to trade shows around the country to recruit new wholesalers of Spokandy's old-fashioned products. Because of these accounts, Christmas season preparations begin as early as June. Certain candies with a longer shelf life — most chocolates have about a six-month window — can be produced earlier and shipped out to Spokandy's wholesale accounts. There's also Christmas-themed packaging to order, he adds.
Activity in the Spokane chocolate factory picks up noticeably in mid-November when large-batch custom orders from Spokandy's corporate customers also start rolling in, often for specially molded chocolates showing a company's logo.
Though Spokandy was originally founded by early Spokanite Terrence J. Riley in 1913, the chocolatier didn't take its current name until 1965. It's been headquartered on West Third since then, in a former grocery store building erected in 1940. But in nearly 50 years there, Spokandy has more than outgrown the spot.
Davis is now considering an expanded, modernized facility, but hasn't made any firm decisions regarding a move.
Spokandy's recent growth is due both to its longtime name recognition and Davis' purchase and merging of two other Northwest candy makers — Helen's Huckleberries and Michele's Truffles — into the company's overall identity. He decided to keep both ventures' former names as sub-brands of the founding company.
Davis bought Spokandy in 1991, with big visions for its future. Today, reflecting on the company's consistency since its inception and since he took over, he says, "We have survived wars, crashes, downturns. You survive by doing what you do, and doing it well. I think the founders would be proud." ♦
Spokandy • 1412 W. Third • Open Mon-Fri, 9 am-6 pm; Sat, 10 am-5 pm; Sun, 11 am-5 pm • spokandy.com • 624-1969
More than Chocolate
No stranger to the end-of-year order rush is White Box Café & Bakery, which recently relocated, in the same building but around the corner from its former space at Ruby and Sharp.
Owner Shirley Glodt says just for Thanksgiving, the small, non-commercial bakery filled thousands of orders for pie. White Box is currently accepting orders for desserts of all kinds — pies, cakes, pastries, cookies and other goodies — to be filled in time for Christmas. Glodt's bakery staff are already busy prepping pie crusts and other baked goods so the team can manage the massive influx in special orders over the coming weeks.
— CHEY SCOTT
White Box Café & Bakery • 1215 N. Ruby • whiteboxpies.com • 927-8850