Spokane in Bloom Garden Tour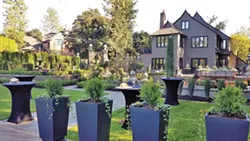 Get inspired to garden, landscape and spend more time in your own backyard this summer while touring the stunning local gardens featured this year during the Inland Empire Gardeners' annual garden tour. This year's theme for the self-guided tour is "Adventure Awaits!," featuring 10 gardens at private residences across Spokane's South Hill. Tickets can be purchased in advance at several garden-related retailers, or the day of at designated gardens. Sat, June 15 from 10 am-5 pm. $15. Locations throughout South Spokane. Details and map at tieg.org.
Summer Parkways
This annual summer season kickoff invites families and residents of all ages to head out for an evening walk or ride along a designated four-mile, car-free route that passes by both Manito and Comstock parks. In 2019, Summer Parkways turns 10, celebrating a decade of encouraging locals to get outside and bike, walk, skate or otherwise move through the neighborhood. Making stops along the way is encouraged, as both parks are hosting plenty of physical activities such as pilates, yoga, tai chi, martial arts and more. Thu, June 20 from 6-9 pm. Free; all-ages. Spokane's South Hill; Manito and Comstock Parks. Details and event map at summerparkways.com.
Camp Dart-Lo Kids' Off-Road Triathlon
Aspiring triathletes of any age can get their first taste of a three-part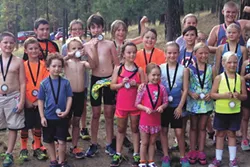 race at this annual event hosted by Camp Fire's Camp Dart-Lo in North Spokane. The fifth annual event challenges kids to complete a lap swim in the outdoor pool — flotation devices are welcome, and kids can pick how far they want to swim based on their swimming skill level — followed by a one-mile bike ride on a gravel road and a 3/4-mile trail run. Register by July 10 to make sure your kids get a finisher T-shirt and medal, and a spot on the race roster.
Thu, July 18 from 6-8 pm. $25-$30. Camp Dart-Lo, 14000 N. Dartford Dr. campfireinc.org (747-6191)
Crave! Northwest
One of the region's biggest summer food festivals is returning for its third year. Crave! is a three-day celebration of the region's ever-expanding culinary prowess, featuring some of the area's best chefs, as well as notable guest chefs from around the U.S. and Pacific Northwest, along with craft beer, wine and cocktails. Daily highlights of the 2019 event include the Seafood Bash (July 11), Fire 'n' Smoke tasting (July 12), Foods from Around the World (July 13) and the Grand Tasting (July 13) to close things out. Find ticket packages for one, more or all events online. July 11-13, times vary. $35-$530. CenterPlace Regional Event Center, 2426 N. Discovery Place Dr., Spokane Valley. cravenw.com (621-0125)