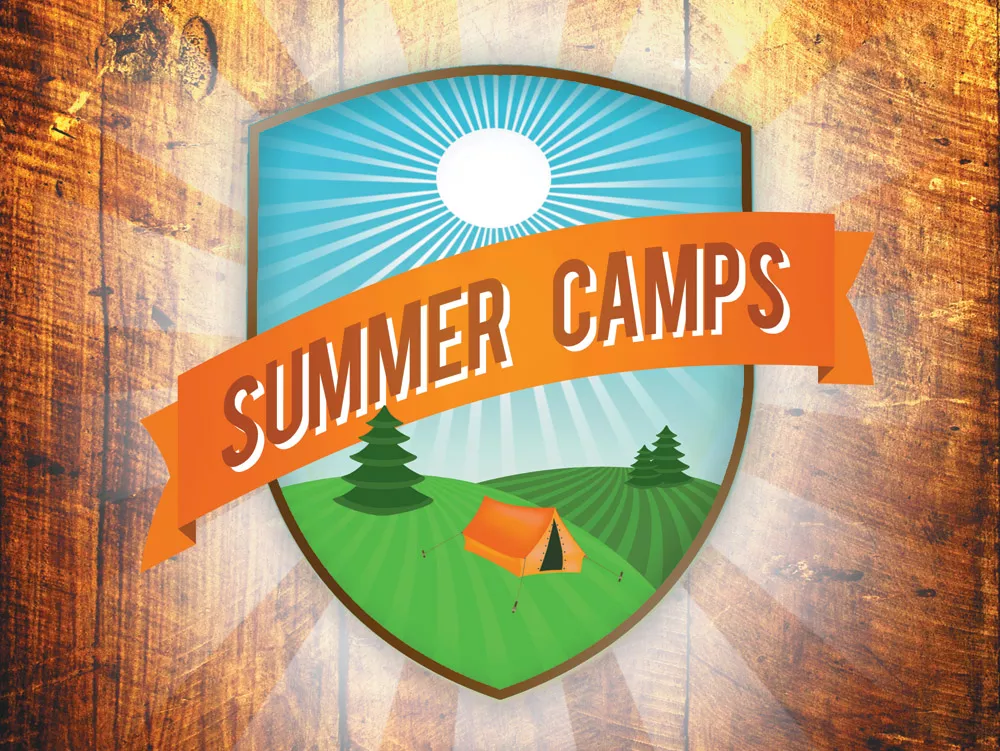 Music Camps
Basic Guitar, Summer Arts For Youth, 4200 Huntercrest Dr., Coeur d'Alene. Campers (ages 711-15) will learn the basics of fingering, drumming, chords and more June 19-21 and June 26-28 from 9:30-11:30 am. $20-$30. Call: (208) 676-9132
Sensational Summer Festival, Eastern Washington University, Cheney, Wash. Campers will learn to perform with the Spokane Youth Symphony Orchestra and Spokane Youth Philharmonic Aug. 13-16 from 9:30 am-5 pm. Visit: spokaneyouthsymphony.org Call: 448-4446
Spokane Youth Symphony, Holy Names Music Center, 3910 W. Custer Dr. Members of Spokane Youth Strings and Spokane Youth Sinfonietta will practice Aug. 17 from 9 am-5 pm. Visit: spokaneyouthsymphony.org Call: 448-4446
Viva Viola, Eastern Washington University, Cheney, Wash. Violinists of all ages will practice Aug. 19 from 12:30-8 pm. Visit: spokaneyouthsymphony.org Call: 448-4446
Band Camp, River Day School, 116 W. Indiana Ave. Campers (grades 4-6) will learn to read music and be introduced to multiple instruments June 25-29 from 9 am-3 pm. $145. Visit: riverdayschool.org Call: 326-6595
World Music, River Day School, 116 W. Indiana Ave. Campers (grades K-6) will learn dances and songs from around the world Aug. 13-17 from 9 am-3 pm. $140. Visit: riverdayschool.org Call: 326-6595
American Idol, River Day School, 116 W. Indiana Ave. Campers (grades K-2) will learn to use microphones, sing, write songs and more July 9-13 from 9 am-3 pm. $10. Visit: riverdayschool.org Call: 326-6595
Cougar String Camp, Washington State University, Pullman, Wash. Student violinists, violists, cellists and bassists (grades 7-12) are invited to participate in orchestra, jazz improvisation, fiddling, string techniques class, music theory class, master class and chamber music from June 24-29. $425 residential, $300 commuter. Visit: libarts.wsu.edu/music/camp/csc/ Call: (509) 335-3961
WSU Horn Camp, Washington State University, Pullman, Wash. Oboe and English horn players (grades 7-12) will focus on group technique classes, private lessons, and chamber music playing and coaching June 24-29. $425 residential, $300 commuter. Visit: libarts.wsu.edu/music/camp/csc/ Call: (509) 335-3898
WSU Music Camp, Washington State University, Pullman, Wash. Oboe and bassoon players (grades 7-12) will focus on group techniques and reed-making classes, private lessons, and chamber music playing and coaching June 24-29. $425 residential, $300 commuter. Visit: libarts.wsu.edu/music/camp/csc/ Call: (509) 335-7966
Keyboard Explorations, Washington State University, Pullman, Wash. Campers (grades 7-12) will study classical piano, jazz piano/improvisation, and organ June 24-29. $480 residential, $140 camp activities. Visit: libarts.wsu.edu/music/camp/csc/ Call: (509) 335-3991
EWU Music Camp, Eastern Washington University, Cheney, Wash. Campers (ages 12-18) will take part in drum major and leadership workshops June 20-23. $28. Visit: outreach.ewu.edu/summer Call: 359-2241
EWU Music Camp, Eastern Washington University, Cheney, Wash. Campers (ages 12-18) will take part in drum major and leadership workshops June 20-23. $28. Visit: outreach.ewu.edu/summer Call: 359-2241
Jazz Dialogue, Eastern Washington University, Cheney, Wash. Middle school students are invited to learn jazz theory and improvisation, master class, big band and more from July 21-26. Cost: $465. Visit: outreach.ewu.edu/summer Call: 359-2241
Choir Camp, Camp Lutherhaven, 3258 W. Lutherhaven Rd. Campers (grades 3-9) will learn faith-based songs, dances and more June 24-29. $261-$356. Visit: lutherhaven.com Call: 667-3459
Jazz Dialogue, Eastern Washington University, Cheney, Wash. High school students are invited to learn jazz theory and improvisation, master class, big band and more from July 21-26. Cost: $560. Visit: outreach.ewu.edu/summer Call: 359-2241
World Music, Corbin Art Center, 507 W. Seventh Ave. Campers (ages 5-11) will learn songs and dances from around the world Aug. 6-10 from 9 am-3 pm. $125. Visit: spokaneparks.org Call: 625-6200
Rhythm and Songs, Corbin Art Center, 507 W. Seventh Ave. Campers (ages 3-5) will learn about percussion instruments and learn songs June 11-15 from 9:30-10:30 am. $29. Visit: spokaneparks.org Call: 625-6200
Theater Camps
Improv & Drama, Summer Arts For Youth, 4200 Huntercrest Dr., Coeur d'Alene. Campers (ages 10-15) will play theater games, use props, physical exercises and more July 10-12 from 9:30-11:30 am. $20-$30. Call: (208) 676-9132
Tell Me A Tale, Lake City Playhouse, 1320 E. Garden Ave., Coeur d'Alene. Campers (ages 4-7) will learn about storytelling, movement, singing, acting, dancing and more June 11-15 from 10 am-1 pm. $117-$130. Visit: lakecityplayhouse.org Call: (208) 667-1323
The Twits, Lake City Playhouse, 1320 E. Garden Ave., Coeur d'Alene. Campers (ages 8-15) will learn and perform the play-in-a-day July 2 from 1-4 pm. Donations accepted. Visit: lakecityplayhouse.org Call: (208) 667-1323
School for Nerds, Lake City Playhouse, 1320 E. Garden Ave., Coeur d'Alene. Campers (ages 8-15) will learn and perform the play July 9-13 from 9 am-4 pm. $180-$200. Visit: lakecityplayhouse.org Call: (208) 667-1323
Musical Theatre, Lake City Playhouse, 1320 E. Garden Ave., Coeur d'Alene. Campers (ages 8-15) will learn choreography and learn to tell stories Aug. 13-17 from 9 am-4 pm. TBA. Visit: lakecityplayhouse.org Call: (208) 667-1323
Camp Glee, Lake City Playhouse, 1320 E. Garden Ave., Coeur d'Alene. Campers (ages 8-15) will learn acting, music theory, dance and more Aug. 20-24 from 9 am-4 pm. TBA. Visit: lakecityplayhouse.org Call: (208) 667-1323
Don't Stop Believin', Lake City Playhouse, 1320 E. Garden Ave., Coeur d'Alene. Campers (ages 8-15) will learn and perform rock and pop chorus numbers Aug. 27-31 from 9 am-4 pm. $180-$500. Visit: lakecityplayhouse.org Call: (208) 667-1323
Thespian Workshop, St. Stephen's Episcopal Church, 5720 S. Perry St. Campers (ages 7-17) will play theater games, perform skits, dance, sing and more Aug. 15-17 and Aug. 20-24 from 10 am-3 pm. $110. Call: 448-0854
Talent Camp, Spokane Club, 1002 W. Riverside Ave. Campers (ages 7-12) will make sets, learn to use props, learn to act and more Aug. 6-10 and Aug. 13-17 from 9 am-3 pm. $150-$180. Visit: spokaneclub.org Call: 459-4571
Musical Theatre, Saint George's School, 2929 W. Waikiki Rd. Campers (grades 7-12) will learn solo and ensemble singing, musical theater, dance and more June 18-29 from 9 am-3 pm. $395. Visit: sgs.org/summer Call: 466-1636
Charlotte's Web, University of Idaho, 709 Deakin Ave., Moscow, Idaho. Campers (ages 6-18) will create the one-hour musical with the Idaho Repertory Theatre June 18-July 12. Rehearsal June 16 from 1-5 pm. $175. Visit: uidaho.edu Call: (208) 885-6465)
Design Workshop, University of Idaho, 709 Deakin Ave., Moscow, Idaho. Campers will learn about scenery, costumes, lighting, make-up, scenic rendering and more with the Idaho Repertory Theatre June 25-29 from 9 am-12:30 pm. $115-$125. Visit: uidaho.edu Call: (208) 885-6465)
Improv Workshop, University of Idaho, 709 Deakin Ave., Moscow, Idaho. Campers (grades 7-9) will practice improvisation through theatre games, skits, team-building exercise and more with the Idaho Repertory Theatre June 11-15 from 9 am-12:30 pm. $115-$125. Visit: uidaho.edu Call: (208) 885-6465
Devising Workshop, University of Idaho, 709 Deakin Ave., Moscow, Idaho. Campers will play theater games, improvisation and more with the Idaho Repertory Theatre June 25-29 from 9 am-12:30 pm. $115-$125. Visit: uidaho.edu Call: (208) 885-6465
Drama Discovery, University of Idaho, 709 Deakin Ave., Moscow, Idaho. Campers (ages 2-5) will play theatre games, sing, dance, dress up and more with a family member July 10, July 17, July 24 and July 31 from 10-11 am. $25 per class. Visit: uidaho.edu Call: (208) 885-6465
Acting The Story, University of Idaho, 709 Deakin Ave., Moscow, Idaho. Campers (grades K-3) will learn about different myths from cultures around the world through theater games, songs, dance, masks, costumes and more with the Idaho Repertory Theatre June 11-15, June 18-22, June 25-29 from 9 am-12:30 pm. $115-$125. Visit: uidaho.edu Call: (208) 885-6465
Comic Characters, University of Idaho, 709 Deakin Ave., Moscow, Idaho. Campers (grades 4-6) will learn to create comic characters with theater games, practice movement, voice, improv and more with masks, costumes and props with the Idaho Repertory Theatre June 11-15 and June 18-22 from 9 am-12:30 pm. $115-$125. Visit: uidaho.edu Call: (208) 885-6465
Create a Play Workshop, University of Idaho, 709 Deakin Ave., Moscow, Idaho. Campers (grades 4-6) will learn to write, stage, design and rehearse a play with the Idaho Repertory Theatre June 18-22 from 9 am-12:30 pm. $115-$125. Visit: uidaho.edu Call: (208) 885-6465
Play In A Day, River Day School, 116 W. Indiana Ave. Campers (graces K-6) will learn warm-ups, acting, blocking, costuming and perform at the end of each day Aug. 6-10 from 9 am-3 pm. $145. Visit: riverdayschool.org Call: 326-6595
Film Production Camp, 1765 W. Golf Course Rd., Coeur d'Alene. Campers (ages 11-13) will have the chance to write, act out and direct a movie June 18-29. Times vary. $290. Visit: kroccda.org Call: (208) 763-0618
The Chronicles of Narnia, The Lion's Share, 1627 N. Atlantic St. Campers (ages 8-11) will create sets, learn about literature, learn to act and perform scenes from The Silver Chair June 25-29 from 9 am-12:30 pm. $100. Visit: lionaround.org Call: 327-1113
Harry Potter, The Lion's Share, 1627 N. Atlantic St. Campers (ages 10-15) will create sets, learn about literature, learn to act and perform scenes from The Chamber of Secrets July 9-13 from 9 am-12:30 pm. $100. Visit: lionaround.org Call: 327-1113
Drama Camp, Coeur d'Alene High School, 5530 N. Fourth St., Coeur d'Alene, Idaho. Campers (ages 6-18) will learn basic acting skills while focusing on play production of The Spell of Sleeping Beauty and competition from June 18-22. Cost: $140. Visit: northidahotheatre.org Call: (208) 769-2999
Drama Camp, Coeur d'Alene High School, 5530 N. Fourth St., Coeur d'Alene, Idaho. Campers (ages 6-18) will learn basic acting skills while focusing on play production of the musical Charleston! from June 25-29. Cost: $140. Visit: northidahotheatre.org Call: (208) 769-2999
Kids on Broadway, Lake City Community Church, 600 N. Ramsey Rd., Coeur d'Alene, Idaho. Campers (grades 1-7) will do workshops with Christian Youth Theater North Idaho in theater, voice, dance, drama, games, set painting, rehearsals and more from July 16-20. $400-$300 resident camp; $225-$175 day camp. Visit: cytnorthidaho.org Call: (208) 765-8600
Broadway Next Generation, Lake City Community Church, 600 N. Ramsey Rd., Coeur d'Alene, Idaho. Campers (grades 8-12) will do workshops with Christian Youth Theater North Idaho in theater, voice, dance, drama, games, set painting, rehearsals and more from July 30-Aug. 4. $400-$300; resident camp only. Visit: cytnorthidaho.org Call: (208) 765-8600
Musical Revue, Theater Arts for Children, 2114 N. Pines St., Spokane Valley. Campers (ages 7-12) will rehearse songs from musical productions and perform June 25-29 from 9 am-noon. $65. Visit: theaterartsforchildren.com Call: 995-6718
Behind the Scenes, Theater Arts for Children, 2114 N. Pines St., Spokane Valley. Campers will learn about set construction, props, makeup and costuming Aug. 13-17 from 6-8 pm. $25. Visit: theaterartsforchildren.com Call: 995-6718
Camp Enchanted, Christian Youth Theater, 6205 E. Mansfield Ave., Suite A., Spokane Valley. Campers (ages 7-12) will sing, dance and act our adventures from Shrek, Tangled, Princess & The Frog, Beauty & The Beast, Cinderella and Peter Pan from June 18-22 from 9 am-4 pm. Ages 7-12: from July 23-27 from 9 am-4 pm. $185. Visit: cytspokane.com Call: 487-6540
Munchkin Camp, Christian Youth Theater, 6205 E. Mansfield Ave., Suite A., Spokane Valley. Campers (ages 5-7) will sing, dance, hoot and holler to classical country tunes from June 25-29 and Aug. 6-10 from 9 am-noon. $90. Visit: cytspokane.com Call: 487-6540
Wild Western Adventures, Christian Youth Theater, 6205 E. Mansfield Ave., Suite A., Spokane Valley. Campers (ages 7-12) will have wild Western adventures, and sing songs from Annie Get Your Gun, Oklahoma, Toy Story and more from July 9-13 from 9 am-4 pm. $185. Visit: cytspokane.com Call: 487-6540
Roaring 20's, Christian Youth Theater, 6205 E. Mansfield Ave., Suite A., Spokane Valley. Campers (ages 13-18) will learn and perform pieces from Thoroughly Modern Millie, Singin' in the Rain, No, No, Nanette and more from July 16-20 from 9 am-5 pm. $195. Visit: cytspokane.com Call: 487-6540
D
ream of being a stage mom (or dad
)
, but junior has a tough time with competition? Does he/she get the whole pre-audition vomit jitters thing (which is totally normal) but then can't stop?
No big deal. Performance anxiety is more common than you'd think, says Lydia Kinne of Christian Youth Theater. CYT's Livin' The Legends of Pop camp is actually tailor-made for teens (13 to 18) who want to "experience theater and the stage in a completely non-competitive way." This is a musical-revue camp, so there's a small drama component, but it's mostly singing and dancing.
The idea is to give teens exposure to concepts in theater and stagecraft without the pressure of auditioning and memorizing a million lines and spending hours on the stair machine to squeeze into those knickers for the revival of HMS Pinafore.
"For our shows," Kinne says, "the kids have to audition. But for our camps, everybody gets a part. They all get a solo. They all get a chance to perform."
And this particular camp will have a special poignancy for you parents (and certain grandparents, at this point) who spent your childhood/adolescence/young adult years reading Rolling Stone and/or Tiger Beat.
The "legends of pop" the camp refers to aren't, at this point, the Justin Biebers or the Justin Timberlakes or even the Aces of Base that became legendary in the '90s and the oughts.
They're the Michael Jacksons and the Elton Johns and the Cyndi Laupers that paved the way for everyone that came after them.
Kinne says those more recent acts aren't off the table. There's planning still to be done, and he says it would be fun to discuss, "all the ground [that] pop covers. So we can ask, 'What does [pop performance] mean to you today? What did it mean in the '90s? The '80s?"
The answer to that, of course, is that the secret of pop, from Sir Elton to Lady Gaga, has remained the same since the beginning of time: flamboyant costumage and projecting to the back of the house.
What a perfect lesson to learn as part of an introduction to the theat-ah.
Legends of Pop, Christian Youth Theater, 6205 E. Mansfield Ave., Suite A., Spokane Valley. Campers (ages 13-17) will sing and dance to music from Michael Jackson, Cindy Lauper, Elton John and more from Aug. 13-17 from 9 am-5 pm. $195. Visit: cytspokane.com Call: 487-6540
Legends, Heroes & Damsels, Christian Youth Theater, 6205 E. Mansfield Ave., Suite A., Spokane Valley. Campers (ages 7-12) will sing dance and act to Robin Hood, Aladdin, Pocahontas, and Hercules from Aug. 20-24 from 9 am-4 pm. $185. Visit: cytspokane.com Call: 487-6540
Musical Theatre Camps, North Idaho College, Coeur d'Alene, Idaho. Campers will perform original pieces written by Christopher Moll. Sleeping Princess (ages 8-16) from June 25-July 2. Pied Piper (ages 8-16) from Aug. 6-13. Cost: $195. Visit: cdasummertheatre.com Call: (208) 769-7780
Coeur d'Alene Summer Theater, North Idaho College, Coeur d'Alene, Idaho. Campers (ages 8-16) will learn and perform the musical Seven White & The Seven Doo-Wops June 16-22 from 9 am-3 pm. $195. Visit: cdasummertheatre.com Call: (208) 769-7780
Coeur d'Alene Summer Theater, North Idaho College, Coeur d'Alene, Idaho. Campers (ages 13-19) will perform in a musical review GLEE-style from July 21-28 from 9 am-3 pm. $195. Visit: cdasummertheatre.com Call: (208) 769-7780
Coeur d'Alene Summer Theater, North Idaho College, Coeur d'Alene, Idaho. Campers (ages 13-19) will perform the musical The Ragamuffin & The Flapper from Aug. 18-25 from 9 am-3 pm. $195. Visit: cdasummertheatre.com Call: (208) 769-7780
EWU Theater Camp, Eastern Washington University, Cheney, Wash. During this intensive four-week camp, actors (ages 16 and older) will train the voice and body with a series of exercises, dialect work and more from June 25-July 20 from 5-10 pm. $1,000. Visit: outreach.ewu.edu/summer Call: 359-2459
Fairytale Theatre Camp, Corbin Art Center, 507 W. Seventh Ave. Campers (ages 3-5) will learn fairytales, dress up in costumes, and learn the basics of performing July 30-Aug. 8 from 9-11:30 am and Aug. 13-17 from 12:30-3 pm. $52. Visit: spokaneparks.org Call: 625-6200
Jungle Theater, Corbin Art Center, 507 W. Seventh Ave. Campers (ages 3-5) will learn about exotic animals, reptiles and birds through songs, skits, dance, and stores June 4-8 from 9-11:30 am. $52. Visit: spokaneparks.org Call: 625-6200
Mastering Disguises, Corbin Art Center, 507 W. Seventh Ave. Campers (ages 6-11) will learn to make costumes, masks, props and more June 25-29 from 12:30-3 pm. $52. Visit: spokaneparks.org Call: 625-6200
Storytelling Camp, Corbin Art Center, 507 W. Seventh Ave. Campers (ages 6-11) will learn roleplaying and interactive storytelling, use props, act out literature, play games and more July 9-13 from 9 am-3 pm. $107. Visit: spokaneparks.org Call: 625-6200
Stage Drama Camp, Corbin Art Center, 507 W. Seventh Ave. Campers (ages 6-11) will make sets, design costumes and props, and learn to act out folktales, fables and popular children's books July 30-Aug. 8 from 9 am-3 pm. $107. Visit: spokaneparks.org Call: 625-6200
Children's Summer Theater, St. Stephen's Episcopal Church, 5720 S. Perry St. Campers (ages 7-14) will play theater games, learn to move onstage, interact with other actors, use a microphone, memorize lines and more from Aug. 15-18 from 10 am-3 pm. Performance on Friday at 7 pm. $110. Visit: ststephens-sppokane.com Call: 448-0854
Pend Oreille Playhouse Community Theatre, 240 N. Union Ave., Newport, Wash. Campers (grades 1-3) will have fun learning the fundamentals of acting from July 16-19 from 9:30 am-1:30 pm. Grades 4-6: July 30-Aug. 3 from 9:30 am-2:30 pm. Grades 7-12: Aug. 13-17 and Aug. 20-24 from 9 am-3:30 pm. Public performances: Aug. 24-25 at 7 pm and Aug. 26 at 3 pm. $75. Visit: www.pendoreilleplayers.org Call: (509) 671-3389
Spokane Civic Theatre, 1020 N. Howard St. Campers (grades 1-2) will learn to act and perform scenes from The Wizard of Oz or tales from Dr. Seuss June 18-22 from 9-11 am or 1-3 pm. $115 per session. Visit: spokanecivictheatre.com Call: 326-6311
Spokane Civic Theatre, 1020 N. Howard St. Campers (grades 3-6) will learn to act and perform scenes from The Adventures of Harry Potter and Friends, Peter Pan, James and the Giant Peach, The Hobbit, Robin Hood, The Chronicles of Narnia: The Voyage of the Dawn Treader, Hermione Granger and the Hogwarts Home June 25-29 from 9-11 am or 1-3 pm. $115 per session. Visit: spokanecivictheatre.com Call: 326-6311
Set Making, 1020 N. Howard St. Campers (grades 1-6) will learn elementary set making with the Spokane Civic Theatre June 18-29 from 11 am-12:30 pm. $65 per session. Visit: spokanecivictheatre.com Call: 326-6311
Musical Theatre Camp, 1020 N. Howard St. Campers (grades 7-12) will learn audition techniques, stage movement, diction and presence and solo and group singing with the Spokane Civic Theatre June 18-29 from 9 am-noon or 1-4 pm. $195 per session. Visit: spokanecivictheatre.com Call: 326-6311
Happy Days, 1020 N. Howard St. Campers (ages 13-18) will audition for the summer camp and play May 26 from 10 am-1 pm; callbacks May 29 from 6:30-9:30 pm. Selected actors will practice and perform the musical July 23-Aug. 17 from 9 am-5 pm. Performances Aug. 10-12 and Aug. 15-17. Visit: spokanecivictheatre.com Call: 326-6311
Drama Camp, 1020 N. Howard St. Campers (grades 7-12) will learn characterization, script analysis, voice, acting styles and improvisation July 9-20 from 9 am-noon or 1-4 pm. $195 per session. Visit: spokanecivictheatre.com Call: 326-6311
Neverland Adventure Camp, Corbin Art Center, 507 W. Seventh Ave. Campers (ages 3-5) will act like pirate, pixies and search for hidden treasure in Peter Pan's adventurous land Aug. 6-10 from 9-11:30 am. $52. Visit: spokaneparks.org Call: 625-6200
Children's Puppet Theater, Corbin Art Center, 507 W. Seventh Ave. Campers (ages 6-11) will make finger, hand, stick and marionette puppets while rehearsing and performing plays June 25-29 from 9 am-3 pm. $107. Visit: spokaneparks.org Call: 625-6200
Christian Youth Theater of North Idaho, Camp Sweyolakan, Lake Coeur d'Alene. Campers will learn to act, sing and dance while exploring the outdoors (junior camp) July 16-20 night and day sessions. $175-$225 (teen camp) July 30-Aug. 3 resident camp. $300-$400. Visit: campfireinc.org Call: 747-6191
Drama Camp, Gonzaga Prep, 1224 E. Euclid Ave. Campers will learn to act and embody characters July 30-Aug. 3 and Aug. 6-10 from 9 am-3 pm. $240. Visit: gprep.com Call: 483-8511
Dance/Cheer Camps
CheerTots various locations throughout Spokane and Spokane Valley. Campers (4-8) will learn to cheer, dance and more. Dates and times vary. $96. Visit: kidssportsspokane.com Call: 534-5437
Dance/Hip Hop, Gonzaga Preparatory School, 1224 E. Euclid Ave. Campers (grades K-8) will learn to dance on Aug. 21 from 9 am-2 pm. $45. Visit: gprep.com Call: 483-8511
Princess/Prince Camp, Julie's Competitive Edge, 47 E. Queen Ave. Campers (ages 3-5) will learn tap, ballet and musical theater dance June 4-7 and June 11-14 from 10 am-1 pm. $75. Visit: jceda.com Call: 483-4145
Hip Hop/Jazz, Julie's Competitive Edge, 47 E. Queen Ave. Campers (ages 11+) will learn to dance June 18-21 from 1-4 pm or 5-8 pm. $75. Visit: jceda.com Call: 483-4145
Summer Dance, Julie's Competitive Edge, 47 E. Queen Ave. Campers (ages 4-7) will learn tap, jazz and musical theater dance June 18-21 from 10 am-2 pm. $90. Visit: jceda.com Call: 483-4145
Cheer/Dance, Julie's Competitive Edge, 47 E. Queen Ave. Campers (ages 7-11) will learn cheer dance, hip-hop and jazz June 25-28 from 4-8 pm. $90. Visit: jceda.com Call: 483-4145
Dance Camp, Julie's Competitive Edge, 47 E. Queen Ave. Campers (ages 12+) will learn hip-hop and jazz dances June 25-28 from 11 am-3 pm. $90. Visit: jceda.com Call: 483-4145
Technique Camp, Julie's Competitive Edge, 47 E. Queen Ave. Campers (ages 7+) will improve their agility and form June 25-28 from 9 am-1 pm or 1:30 -5:30 pm. $90. Visit: jceda.com Call: 483-4145
Variety Dance Camp, Julie's Competitive Edge, 47 E. Queen Ave. Campers (ages 6-9) will learn tap, jazz, lyrical and cheer-style dances July 9-12 from 10 am-2 pm. $90. Visit: jceda.com Call: 483-4145
Cheer/Dance, Julie's Competitive Edge, 47 E. Queen Ave. Campers (ages 10-13) will learn cheer, hip-hop and jazz-style dances July 9-12 from 3-7 pm. $90. Visit: jceda.com Call: 483-4145
Dance Camp, Mountain View Gymnastics, 1100 S. Garfield, Airway Heights, Wash. Campers (ages 3+) will learn ballet, jazz, hip hop, cheer dance, choreography and more July 23-27. $75-$175. Visit: mountainviewgymnastics.com Call: 244-7061
Cheerleading Camp, Mountain View Gymnastics, 1100 S. Garfield, Airway Heights, Wash. Campers (ages 3+) will learn cheers, dance moves and more Aug. 6-10. $75-$125. Visit: mountainviewgymnastics.com Call: 244-7061
Fantasy Dance Camp, Isabelle's Dance Time, 4120 S. Sullivan Rd. Veradale, Wash. Campers (ages 3-10) will have tea parties with Fancy Nancy, dress like princesses, go on adventures with Dora the Explorer and more July 12, July 18, July 24 and July 30 from 10 am-noon. $30 per day. Visit: isabellesdancetime.com Call: 927-0972
Summer Dance Workshop, Isabelle's Dance Time, 4120 S. Sullivan Rd. Veradale, Wash. Campers (ages 3-10) will learn ballet, street, mod hop, jazz, tap, tap aerobics, contemporary, lyrical, partnership, musical theater, improvisation and more Mon-Thu July 9-Aug. 2. $125. Visit: isabellesdancetime.com Call: 927-0972
Let's Dance, Theater Arts for Children, 2114 N. Pines St., Spokane Valley. Campers will learn the basic dance steps used in theater July 16-20 from 9 am-noon. $65. Visit: theaterartsforchildren.com Call: 995-6718
Dancing Divas, 3004 E. Queen Ave. Campers (ages 7-13) will learn choreographed dance and cheer routines, do crafts, play games, decorate T-shirts and more July 16-20 from 9 am-4:30 pm. $134. Visit: spokaneneyc.org Call: 482-0708
Beginner Intensive, Academy of Dance, 14214 E. Sprague Ave. Campers (ages 7-11) will learn classical ballet techniques, Pilates-based conditioning, pre-pointe, character dance, receive daily lectures and more July 5-14 from 10 am-1:30 pm. $265. Visit: spokaneacademyofdance.com Call: 922-3023
Advanced Beginner, Academy of Dance, 14214 E. Sprague Ave. Campers (ages 9+) will learn classical ballet techniques, Pilates-based conditioning, pre-pointe, character dance, receive daily lectures and more July 11-21 from 10 am-3:15 pm. $265. Visit: spokaneacademyofdance.com Call: 922-3023
High Intermediate, Academy of Dance, 14214 E. Sprague Ave. Campers (ages 12+) will learn classical ballet techniques, Pilates-based conditioning, pre-pointe, character dance, receive daily lectures and more July 18-28 from 10 am-3:15 pm. $265. Visit: spokaneacademyofdance.com Call: 922-3023
Under the Sea, Dance Center of Spokane, 1407 E. Seventh Ave. Campers will learn themed ballet and tap dances June 18-21 or Aug. 13-16. Ages 3-7: from 11-12:30 pm. Ages 8-12: from 12:30-2 pm. $85 per week, $212 for three weeks. Visit: dancecenterofspokane.com. Call: 448-2464
Dazzling Disney, Dance Center of Spokane, 1407 E. Seventh Ave. Campers will learn themed ballet and jazz dances June 25-28 or Aug. 20-23. Ages 3-7: from 11-12:30 pm. Ages 8-12: from 12:30-2 pm. $85 per week, $212 for three weeks. Visit: dancecenterofspokane.com Call: 448-2464
Advanced Dance, Dance Center of Spokane, 1407 E. Seventh Ave. Campers (ages 7-11) will learn ballet, jazz, tap and lyrical dance Aug. 13-16 or Aug. 20-23 from 1:30-3:30 pm. Students need director's permission to participate. $85 per week, $212 for three weeks. Visit: dancecenterofspokane.com Call: 448-2464
Jazz Technique, Dance Center of Spokane, 1407 E. Seventh Ave. Campers (ages 6-9) will learn jazz moves Aug. 6-9 from 11 am-noon. $90. Visit: dancecenterofspokane.com Call: 448-2464
Variety Dance Classes, Dance Center of Spokane, 1407 E. Seventh Ave. Campers (ages 6-9) will learn lyrical dances, jazz turns and musical theater Aug. 6-9 from noon-12:30 pm. $90. Visit: dancecenterofspokane.com Call: 448-2464
Dance Party, Dance Center of Spokane, 1407 E. Seventh Ave. Campers (ages 5-12) will learn jazz and hip-hop dance to popular music July 9-12 from 5:30-7 pm. TBA. Visit: dancecenterofspokane.com Call: 448-2464
Shake It, Dance Center of Spokane, 1407 E. Seventh Ave. Campers (ages 5-12) will learn hip-hop and cheer dance moves July 16-19 from 5:30-7 pm. TBA. Visit: dancecenterofspokane.com Call: 448-2464
Pirates and Mermaids, Dance Center of Spokane, 1407 E. Seventh Ave. Campers (ages 3-10) will learned themed ballet and jazz dances July 23-26 from 5:30-7 pm. TBA. Visit: dancecenterofspokane.com Call: 448-2464
Dance and Cheer Technique, Dance Center of Spokane, 1407 E. Seventh Ave. Campers (ages 12+) will learn team jazz and ballet July 9-12 from 7-9 pm. $90; $225 for three weeks. Visit: dancecenterofspokane.com Call: 448-2464
Off Broadway, Dance Center of Spokane, 1407 E. Seventh Ave. Campers (ages 12+) will learn theater-style dance July 23-26 from 7-9 pm. $90; $225 for three weeks. Visit: dancecenterofspokane.com Call: 448-2464
Stomp it Up, Dance Center of Spokane, 1407 E. Seventh Ave. Campers (ages 12+) will learn step and hip-hop dance moves July 30-Aug. 2 from 7-9 pm. $90; $225 for three weeks. Visit: dancecenterofspokane.com Call: 448-2464
Simply Ballet, Dance Center of Spokane, 1407 E. Seventh Ave. Experienced campers (ages 12+) will focus on foundation and techniques June 18-21. TBA. Visit: dancecenterofspokane.com Call: 448-2464
Simply Tap, Dance Center of Spokane, 1407 E. Seventh Ave. Experienced campers (ages 12+) will focus on foundation and techniques June 25-28. TBA. Visit: dancecenterofspokane.com Call: 448-2464
Step and Hip-Hop, Dance Center of Spokane, 1407 E. Seventh Ave. Campers (ages 12+) will learn step on Tuesdays and hip-hop on Thursdays from 8-9 pm. Classes Aug. 14, Aug. 16, Aug. 21 and Aug. 23. $15 per class. Visit: dancecenterofspokane.com Call: 448-2464
Simply Jazz, Dance Center of Spokane, 1407 E. Seventh Ave. Experienced campers (ages 12+) will focus on foundation and techniques June 30-Aug. 2. TBA. Visit: dancecenterofspokane.com Call: 448-2464
Jazz Intensive, Dance Center of Spokane, 1407 E. Seventh Ave. Campers (ages 6+) will learn technique, musical theater, jumps, turns, and more Aug. 6-9. Classes from 11 am-6 pm. $250. Visit: dancecenterofspokane.com Call: 448-2464
Dance Intensive, Dance Center of Spokane, 1407 E. Seventh Ave. Campers (ages 11+) will develop strength, stamina and flexibility in ballet, pointe, jazz, lyrical, tap, tumbling, musical theater, step and hip-hop Aug. 13-16 or Aug. 20-23 from 3:30-9 pm. $150 per week, $275 for two weeks. Visit: dancecenterofspokane.com Call: 448-2464
Dance Camp, Mountain View Gymnastics, 1100 S. Garfield Suite B, Airway Heights, Wash. Campers (3+) will learn ballet, jazz, hip-hop, choreography and cheer dance with crafts and movies from July 23-27 from 9 am-3:30 pm (ages 5+) from 9 am-12:30 pm (ages 3+). $75-$125. Visit: mountainviewgymnastics.com Call: 244-7061
Cheerleading Camp, Mountain View Gymnastics, 1100 S. Garfield Suite B, Airway Heights, Wash. Campers (ages 3+) will learn to tumble, stunt and cheer with crafts and movies from Aug. 6-10 9 am-3:30 pm (ages 5+) from 9 am-12:30 pm (ages 3+). $75-$125. Visit: mountainviewgymnastics.com Call: 244-7061
Summer Dance Camp, Maressa's Spokane Dance School, 9411 E. First Ave., Spokane Valley. Campers (ages 2+) will do fun activities, creative movement, arts and crafts and more through dance on Mondays, Wednesdays and Fridays from 9 am-noon. $125 per week, $450 per month. Visit: maressasdance.com Call: 599-4048
Summer Workshops, Maressa's Spokane Dance School, 9411 E. First Ave., Spokane Valley. Campers (ages 2+) will learn ballet from 10-10:45 am and creative movement from 11:15-noon Mondays, Wednesdays and Fridays July 2-27. $10 per class. Visit: maressasdance.com Call: 599-4048
Summer Dance Intensive, Maressa's Spokane Dance School, 9411 E. First Ave., Spokane Valley. Campers (ages 5+) will learn tap, jazz, creative movement, ballet and more Mondays, Tuesdays and Wednesdays July 30-Aug. 9. Ages 2-3: 9-9:30 am. Ages 4-6: 9:30-10:15 am. Ages 7-8: 10:15-11:15 am. Ages 9-12: 11:15 am-12:15 pm. Ages 13+: 12:15-1:15 pm. $70-$80. Visit: maressasdance.com Call: 599-4048
Cheer Camp, Spokane Gymnastics, 5615 E. Broadway Ave. Campers (ages 3-12) will learn tumbling, stunts, dances, cheers and more July 16-20 and Aug. 6-10 from 8:15 am-12:15 pm or 12:30-4:30 pm. $119-$125. Visit: spokanegymnastics.com Call: 533-9646
Cheerleading Camp, Hub Sports Center, 19619 E. Cataldo Ave., Liberty Lake. Campers (grades K-6) will learn cheers, technique, formations and more June 25-29 from 9 am-noon. $85. Visit: hubsportscenter.org Call: 927-0602
Basketball
Vandal Junior Girls Camp, University of Idaho, Moscow, Idaho. Campers (grades 2-6) will learn dribbling, passing, shooting and defensive skills June 13-15 from 9 am-noon. $70. Visit: vandalwomensbasketballcamp.com Call: (208) 885-0243
Vandal Girls Camp, University of Idaho, Moscow, Idaho. Campers (grades 7-12) will learn drills, game situations and more July 13-15 from 1-4 pm. $70. Visit: vandalwomensbasketballcamp.com Call: (208) 885-0243
Vandal Boys Basketball, University of Idaho, Moscow, Idaho. Campers will learn the fundamentals of the game. June 18-21. $120-$155. Visit: vandalhoopscamp.com Call: (208) 885-0243
Vandal Boys Team Camp, University of Idaho, Moscow, Idaho. Campers (grades K-9) will learn the fundamentals of the game June 22-24 from 9 am-4 pm. $650. Visit: vandalhoopscamp.com Call: (208) 885-0243
Advantage Basketball, The Warehouse, 800 N. Hamilton St., Campers will improve their ball handling and shooting skills Aug. 13-17 from 9 am-5 pm. $265. Visit: advantagebasketball.com Call: (425) 670-8877
Little Dribblers, The Warehouse, 800 N. Hamilton St., Campers (ages 6-9) will play games, have contests and learn the fundamentals of the games. July. TBA. $110. Visit: warehouseathletics.com Call: 484-2670
Sharpshooters, The Warehouse, 800 N. Hamilton St., Campers (ages 10-14) will improve their shooting with intensive instruction and games. July. TBA. $130. Visit: warehouseathletics.com Call: 484-2670
Gonzaga Boys Fundamentals Camp, Gonzaga University, 502 E. Boone Ave. Campers (grades 1-7) will learn the fundamentals of the game July 30-Aug. 1 from 9 am-5 pm. $100-$220. Visit: gonzagabasketballcamps.com Call: 313-4218
Gonzaga Boys Individual Camp, Gonzaga University, 502 E. Boone Ave. Campers (grades 1-7) will learn the fundamentals of basketball July 30-Aug. 1 from 9 am-5 pm. $295-$375. Visit: gonzagabasketballcamps.com Call: 313-4218
Gonzaga Boys Team Camp, Gonzaga University, 502 E. Boone Ave. Teams will improve their game and play eight tournament games. June 20-23, June 26-29 and July 26-29. $300 per player. Visit: gonzagabasketballcamps.com Call: 313-4218
Gonzaga Girls Team Camp, Gonzaga University, 502 E. Boone Ave. Campers will learn the fundamentals of the game June 8-10, June 15-18, July 1-3, July 5-8, and July 16-17. $295-$550. Visit: gonzags.com Call: 313-4219
Gonzaga Girls Skills Camp, Gonzaga University, 502 E. Boone Ave. Campers will learn the fundamentals of the game June 23-26. $145-$330. Visit: gonzags.com Call: 313-4219
Eastern Boys Elite Camp, Eastern Washington University, Cheney, Wash. Campers (grades 11-12) will learn intensive drills, offense, defense, film breakdown and more June 24-25. $80. Visit: ewubasketballcamps.com Call: 359-2463
Eastern Boys Individual Camp, Eastern Washington University, Cheney, Wash. Campers (ages 7-14) will work on skills, have competitions, contests and more July 2-5 and July 30-Aug. 2 from 9 am-11:30 am or 9 am-3 pm. $75-$125. Visit: ewubasketballcamps.com Call: 359-2463
Men's Team Camp, Eastern Washington University, Cheney, Wash. Campers will play seven games, work on offensive and defensive strategies and more June 21-July 15. $400-$550 per team. Visit: ewubasketballcamps.com Call: 359-2463
Girls Little Eagles Camp, Eastern Washington University, Cheney, Wash. Campers (grades K-5) will practice skills, drills, passing, ball handling and more July 23-27 from 8 am-noon. $80. Visit: ewuwomensbasketballcamps.com Call: 359-2463
Girls Soaring Eagles Camp, Eastern Washington University, Cheney, Wash. Campers (grades 6-8) will learn to improve their skills and overall game July 23-27 from 1:30-5:30 pm. $80. Visit: ewuwomensbasketballcamps.com Call: 359-2463
Girls Team Camp, Eastern Washington University, Cheney, Wash. Campers on varsity or junior varsity teams will improve their team skills and play seven games June 27-29. $175-$450. Visit: ewuwomensbasketballcamps.com Call: 359-6539
HoopsterTots, various locations throughout Spokane and Spokane Valley. Campers (grades 2-6) will learn basic basketball curriculum, motor skills and more. Dates and times vary. $108. Visit: kidssportsspokane.com Call: 534-5437
Basketball Camp, Upper Columbia Academy, 3025 E. Spangle-Waverly Rd., Spangle, Wash. Campers (grades 9-18) will learn the fundamentals of the game June 20-24. $450. Visit: nbccamps.com Call: 466-4690
Position Camp, Upper Columbia Academy, 3025 E. Spangle-Waverly Rd., Spangle, Wash. Campers (ages 11-18) will learn to play specific positions June 27-July 1. $450. Visit: nbccamps.com Call: 466-4690
Attack Camp, Upper Columbia Academy, 3025 E. Spangle-Waverly Rd., Spangle, Wash. Campers will learn to improve their shooting. Girls ages 9-18: July 17-21. Boys ages 9-18: Aug. 1-5. $450. Visit: nbccamps.com Call: 466-4690
All-Star Basketball Camp, Upper Columbia Academy, 3025 E. Spangle-Waverly Rd., Spangle, Wash. Campers (ages 11-18) will improve their game play Aug. 7-11. $450. Visit: nbccamps.com Call: 466-4690
Skills Camp, North Idaho College, 1000 W. Garden Ave., Coeur d'Alene. Campers will learn the fundamentals of the game. Girls ages 9-18: July 11-15. Boys ages 9-18: July 18-22. $490. Visit: nbccamps.com Call: 466-4690
Advantage Basketball Camp, Hub Sports Center, 19619 E. Cataldo Ave., Liberty Lake. Campers (ages 7-18) will learn one-handed ball handling skills, ball control drills, passes and more Aug. 6-8 from 9 am-5 pm. $195. Aug. 6-10 from 9 am-5 pm. $265. Visit: advantagebasketball.com Call: 927-0602
Youth Basketball Camp, Hub Sports Center, 19619 E. Cataldo Ave., Liberty Lake. Campers (ages 6-17) will learn from Washington Huskies players Nate Robinson and Isaiah Thomas Aug. 20-22. $250. Visit: hubsportscenter.org Call: 927-0602
Basketball Intro Camp, The Warehouse, 800 N. Hamilton St. Campers (ages 8-12) will be introduced to the sport Aug. 8-12. $240. Visit: nbccamps.com Call: 466-4690
Boy's Team Camp, Whitworth University, 300 W. Hawthorne Rd. Campers in varsity or junior varsity will improve their skills and play seven tournament games June 1-3, June 8-10, June 15-17, June 18-20 and June 30-July 2. $74-$155 per player. Visit: whitworthpirates.com Call: 777-4415
Whitworth Day Camps, Whitworth University, 300 W. Hawthorne Rd. Campers (grades K-8) will learn ball handling skills, offense, defense, team play and more June 25-28, July 9-12, Aug. 6-9 and Aug. 20-23. $60-$100. Visit: whitworthpirates.com Call: 777-4415
NBC Team Camp, Whitworth University, 300 W. Hawthorne Rd. High school girls teams will practice July 18-22. $385. Visit: nbccamps.com Call: 466-4690
NBC Basketball Camp, Whitworth University, 300 W. Hawthorne Rd. Campers (ages 9-18) will learn the fundamentals of the game July 25-29 and July 31-Aug. 4. $490. Visit: nbccamps.com Call: 466-4690
Position Camp, Whitworth University, 300 W. Hawthorne Rd. Campers (ages 12-18) will learn to play specific positions Aug. 5-7. $300. Visit: nbccamps.com Call: 466-4690
Family Hoop Camp, Whitworth University, 300 W. Hawthorne Rd. Campers and a guardian will learn the fundamentals of the game Aug. 5-7. $340 per pair. Visit: nbccamps.com Call: 466-4690
Boys Basketball, Gonzaga Preparatory School, 1224 E. Euclid Ave. Campers (grades 4-12) will improve their skills and learn the fundamentals of the game June 18-22. Times vary. $50-$75. Visit: gprep.com Call: 483-8511
Girls Basketball, Gonzaga Preparatory School, 1224 E. Euclid Ave. Campers (grades 4-12) will improve their skills and learn the fundamental of the game June 13-22. Times vary. $50-$75. Visit: gprep.com Call: 483-8511
Boys Camp, Whitworth University, 300 W. Hawthorne Rd. Campers will learn from Whitworth coaches, have overnight retreats and do tournament play June 1-Aug. 23. TBA. Visit: whitworth.edu Call: 777-1000
Boys and Girls Basketball, Saint George's School, 2929 W. Waikiki Rd. Campers (grades K-5) will learn the fundamentals of the game, play on a team and more June 11-15 from 9 am-noon. $125. Visit: sgs.org/summer Call: 466-1636
Basketball Camps, Saint George's School, 2929 W. Waikiki Rd. Campers (grades 6-12) will learn team concepts and skills. Boys: June 11-15 from 1-4 pm, $125. Girls: June 11-15 from 4-7 pm, $100. Visit: sgs.org/summer Call: 466-1636
Cougar Boys Elite Camp, Washington State University, Pullman, Wash. Campers (grades 9-12) will have tournament play and learn the fundamentals of the game June 16-17. $30. Visit: wsucougars.com/m-basketball Call: (800) 402-0847
Cougar Boys Day Camp, Washington State University, Pullman, Wash. Campers (grades 2-8) will learn offensive and defensive strategies, play games and more June 18-21. $145. Visit: wsucougars.com/m-basketball Call: (800) 402-0847
Cougar Boys Team Camp, Washington State University, Pullman, Wash. Campers will have social hour, run drills, have tournament play and more June 26-29. $290. Visit: wsucougars.com/camp/m-basketball Call: (800) 402-0847
Cougar Girls Elite Camp, Washington State University, Pullman, Wash. Campers (grades 9-12) will learn about different positions, run offensive and defensive drills and have tournament play June 21-22. $99. Visit: wsucougars.com/camps/w-basketball Call: (509) 335-0329
Cougar Girls Team Camp, Washington State University, Pullman, Wash. Campers (grades 9-12) will have tournament play, team-building activities and more June 22-25. $75-$290. Call: (509) 335-0329
Softball/Baseball
NBA Baseball, locations vary. Campers (ages 5-14) will learn the fundamentals of the game June 18-21, June 25-28, July 9-12, and July 16-19 from 8:30-11:30 am. $80-$90. Visit: nbabaseballcamps.com Call: 939-0757
Spokane Indians, Avista Stadium, 602 N. Havana St. Campers will meet Otto the mascot and learn the fundamentals of the game June 19 from 3:30-5:30 pm, followed by a game at 6:30 pm. $5.Visit: spokaneindians.com
Cougar Baseball, Washington State University, Pullman Wash. Campers (ages 8-12) will learn the fundamentals of the game and team-play July 21-24. $399-$499. Call: (509) 335-3225
Elite 60 Camp, Washington State University, Pullman Wash. Campers (ages 12-15) will have intense workouts, advanced drills and tournament play July 25-28. $399-$499. Call: (509) 335-3225
Prospect Camp, Washington State University, Pullman Wash. Campers (ages 15-18) will prepare athletes for college baseball July 29-31. $299. Call: (509) 335-3225
Premier Mitts, locations vary. Campers will work on throwing accuracy, agility, pre-pitch readiness and more. Ages 11-15: June 25-28. Age 11-15: July 9-12. Ages 7-12: July 9-12. Ages 11-15: July 16-19. Ages 7-12: July 16-19. Ages 11-15: July 23-26. Times vary. $145-$175. Visit: premiermittsinc.com Call: 863-4605
The Hitting Zone, Gonzaga Prep, 1224 E. Euclid Ave. Campers will do drills, watch videos, play tournaments and more June 25-28 and July 23-26 from 9 am-noon. $130. Visit: hittingzoneusa.com Call: 868-2013
Baseball Pups Camp, Gonzaga University, 502 E. Boone Ave. Campers (ages 7-10) will learn the fundamentals of baseball June 25-26. $50. Visit: collegebaseballcamps.com Call: 313-5787
Lil Zags Camp, Gonzaga University, 502 E. Boone Ave. Campers (ages 7-10) will learn the fundamentals of baseball and improve their skills June 25-27. $225. Visit: collegebaseballcamps.com Call: 313-5787
Big Dogs Camp, Gonzaga University, 502 E. Boone Ave. Campers (ages 11-14) will learn the fundamentals of baseball and improve their skills July 9-11. $225. Visit: collegebaseballcamps.com Call: 313-5787
LilSluggers, various locations throughout Spokane and Spokane Valley. Campers (2-5) will learn basic baseball curriculum, motor skills and more. Dates and times vary. $117. Visit: kidssportsspokane.com Call: 534-5437
Softball Camp, Whitworth University, 300 W. Hawthorne Rd. Campers will learn the fundamentals of the game July 10-12 and July 17-19. TBA. Visit: whitworth.edu Call: 777-1000
Baseball Camp, Whitworth University, 300 W. Hawthorne Rd. Campers will learn the fundamentals of the game July 23-27 TBA. Visit: whitworth.edu Call: 777-1000
Baseball Academy Camp, locations throughout Spokane. Campers (ages 5-14) will learn the fundamentals of the game June 18-21, June 25-28, July 9-12, July 16-19 and July 23-26 from 8:30-11:30 am. $80-$90. Visit: nbabaseballcamps.com Call: 465-7030
Baseball Camps, Saint George's School, 2929 W. Waikiki Rd. Campers (grades 7-12) will learn the fundamentals of the game June 18-22 from 1-3 pm. $140. Visit: sgs.org/summer Call: 466-1636
Cougar Baseball, Washington State University, Pullman, Wash. Campers (ages 8-125) will run drills, sleep in dorm rooms and learn the fundamentals of the game July 21-24. $449-$99. Visit: wsucougars.com Call: (800) 402-0847
Elite Cougar Camp, Washington State University, Pullman, Wash. Campers (12-15) will work out, learn offense and defense, and play games July 25-28. $400-$500. Visit: wsucougars.com Call: (800) 402-0847
Cougar Prospect Camp, Washington State University, Pullman, Wash. Campers (ages 15-18) will learn from coaches and show off their skills July 29-31. $300. Visit: wsucougars.com Call: (800) 402-0847
Football
Vandal Kids Camp, University of Idaho, Moscow, Idaho. Campers (grades K-8) will learn the fundamentals of the game June 11-13 from 9 am-noon. Visit: vandalfootballcamp.com Call: (208) 885-0243
Vandal Team Camp, University of Idaho, Moscow, Idaho. Campers (grades 9-12) will improve their team play in game situations June 18-21. Visit: vandalfootballcamp.com Call: (208) 885-0243
Vandal Junior Camp, Post Falls High School, 2832 E. Poleline Ave., Post Falls. Campers (grades K-8) will learn the fundamentals of the game June 25-27 from 9 am-noon. Visit: vandalfootballcamp.com Call: (208) 885-0243
Eastern Football Camps, Eastern Washington University, Cheney, Wash. Campers will improve their fitness, team play, strategy and more June 20-23 and June 27-30. $75-$300. Visit: ewufootballcamps.com Call: 359-2463
Quarterback Camp, Eastern Washington University, Cheney, Wash. Campers will work on fitness, footwork, spot throws, sprint out, screen throws, pressure throws and more July 26 from 10 am-3 pm. $100-$125. Visit: ewufootballcamps.com Call: 359-2463
Football Camp, Gonzaga Preparatory School, 1224 E. Euclid Ave. Campers (grades 5-12) will improve their skills, work on the fundamentals of the game, and play in teams June 11-29. Times vary. $60-$100. Visit: gprep.com Call: 483-8511
Football Team Clinic, Whitworth University, 300 W. Hawthorne Rd. Eight-man teams will learn the fundamentals of the game and compete June 17-20 and June 24-28. TBA. Visit: whitworth.edu Call: 777-1000
Mini Camp, Washington State University, Pullman, Wash. Campers (grades 11-12) will meet with coaches and show off their skills on June 16. $50. Visit: wsucougars.com/camps/football Call: (509) 335-4214
Team Camp, Washington State University, Pullman, Wash. Campers (grades 9-12) will learn the fundamentals of the game and practice game situations June 20-23. $180-$290 per camper. Visit: wsucougars.com/camps/football Call: (509) 335-4214
Cougar Junior Camp, Washington State University, Pullman, Wash. Campers (grades 3-8) will do drills, learn teamwork and improve their skills June 18-19. $50-$100. Visit: wsucougars.com/camps/football Call: (509) 335-4214
Soccer
Gonzaga Boys Soccer, Gonzaga University, 502 E. Boone Ave. Campers will learn the fundamentals of the game June 2-3. $250. Visit: gonzagamenssocceracademy.com
Gonzaga Boys Progression Camp, Gonzaga University, 502 E. Boone Ave. Campers will improve their overall game Tuesdays June 5-July 31 from 6-8 pm. $200. Visit: gonzagamenssocceracademy.com
Gonzaga Boys Youth Academy, Gonzaga University, 502 E. Boone Ave. Campers will learn to dribble, pass, receive and more Tuesdays June 5-July 31 from 3-4:15 pm. TBA. Visit: gonzagamenssocceracademy.com
First Class Finishing, Whitworth University, 300 W. Hawthorne Rd. Campers (ages 10+) will learn striking techniques, placement, finishing off dribbles and crosses, heading and more June 20-22 from 1-3 pm. $90. Visit: whitworthpirates.com Call: 777-3766
Pirate Soccer Academy, Whitworth University, 300 W. Hawthorne Rd. Campers (ages 6-9) will learn dribbling, passing, receiving and shooting June 27-29 from 1-3 pm. $90. Visit: whitworthpirates.com Call: 777-3766
Whitworth Soccer ID Camp, Whitworth University, 300 W. Hawthorne Rd. Campers (grades 11-12) will do intensive drills and practice June 28-29. $195. Visit: whitworthpirates.com Call: 777-3766
High School Team Camp, Gonzaga University, 502 E. Boone Ave. Campers will learn to play as a team June 15-17. $125 per player. Visit: gonzagasocceracademy.com
Girls Day Camp, Gonzaga University, 502 E. Boone Ave. Campers (ages 5-12) will learn sportsmanship, leadership and the fundamentals of the game June 25-28 from 9 am-noon. $150. Visit: gonzagasocceracademy.com
Jr. Residential Camp, Gonzaga University, 502 E. Boone Ave. Campers (ages 10-13) will learn the fundamentals of the game June 26-28. $355-$395. Visit: gonzagasocceracademy.com
High School Residential Camp, Gonzaga University, 502 E. Boone Ave. Campers (grades 9-12) will learn the fundamentals of the game July 24-26. $355-$395. Visit: gonzagasocceracademy.com
Youth Camp, Coeur d'Alene Soccer Complex. Campers (ages 5-12) will learn the fundamentals of the game June 11-14, July 9-12, and Aug 6-9 from 9-11 am. $80+. Call: (208) 929-2503
Advanced Team Camp, Coeur d'Alene Soccer Complex. Campers (ages 10-17) will improve their offense and defense July 9-12 from 9 am-noon and 1 pm-3 pm. $125+. Call: (208) 929-2503
Soccer Tots, various locations throughout Spokane and Spokane Valley. Campers (ages 18 months-6) will learn basic soccer curriculum, motor skills and more. Dates and times vary. $108. Visit: kidssportsspokane.com Call: 534-5437
Spokane Soccer Academy, Dwight Merkel Sports Complex or Liberty Lake Elementary. Campers will learn the fundamentals of the game Mondays and Wednesdays June 18-Aug. 1 or Tuesdays and Thursdays June 19-Aug. 2 from 9 am-10:30 or 10:30 am-noon; $275. Visit: spokanesocceracademy.com Call: 879-7999
Goalkeeping Academy, Dwight Merkel Sports Complex. Campers will improve their goalkeeping offensive and defensive skills June 18-Aug. 2. $275. Visit: spokanesocceracademy.com Call: 879-7999
Salamander Soccer Camp, Dwight Merkel Sports Complex. Campers will be introduced to the sport June 18-Aug. 2 from 9-10 am. $100; from 10:15-11:45 am. $125. Visit: spokanesocceracademy.com Call: 879-7999
British Soccer Camp, Locations vary throughout Liberty Lake, Wash. Campers will learn to specialize in a position and learn the fundamentals of the game July 16-20 and Aug. 20-24 from 10:30-11:30 am (ages 3-4) $83. (ages 7-18) $183. Visit: libertylakewa.gov/recreation Call: 755-6726
Eagles Goalkeeping Camp, Eastern Washington University, Cheney, Wash. Campers (ages 9-18) will learn the essentials of goalkeeping July 9-13 from 4-7 pm. $100-$110. Visit: ewusoccercamps.com Call: 359-6045
Eastern Elite Soccer Camp, Eastern Washington University, Cheney, Wash. Campers with varsity and club experience will focus on technical, tactical and physical soccer skills July 9-10. $140-$160. Visit: ewusoccercamps.com Call: 359-6572
Valley Youth Soccer, locations vary throughout Spokane Valley. Campers (ages 5-12) will learn the fundamentals of the game July 9-13, July 23-27, Aug. 6-10. $44-75. Visit: vysoccer.org Call: 924-7661
Spokane Junior Soccer, locations vary. Campers (ages 5-12) will learn the fundamentals of the game July 16-20 and July 30-Aug. 3. $44-$75. Visit: spokanesoccer.org Call: 924-7661
Gonzaga Women's Soccer, Gonzaga University, 502 E. Boone. Ave. Campers will learn the fundamentals of the game, team play and receive individual mentorship. Ages 5-10: June 25-28 from 9 am-noon, $150. Ages 10-13: June 26-28, $395; $355 commuter. Grades 9-12: July 24-26, $395; $355 commuter. Visit: gonzagasocceracademy.com
Soccer Day Camp, Whitworth University, 300 W. Hawthorne Rd. Campers will learn the fundamentals of the game June 20-22, July 27-29 and July 27-28. TBA. Visit: whitworth.edu Call: 777-1000
Boys Soccer, Gonzaga Preparatory School, 1224 E. Euclid Ave. Campers (grades K-12) will improve their skills and learn the fundamentals of the game June 11-14. Times vary. $40-$60. Visit: gprep.com Call: 483-8511
Girls Soccer, Gonzaga Preparatory School, 1224 E. Euclid Ave. Campers (grades K-12) will improve their skills and learn the fundamentals of the game July 16-19. Times vary. $60. Visit: gprep.com Call: 483-8511
Soccer Camp, Saint George's School, 2929 W. Waikiki Rd. Campers (grades 6-12) will learn individual footwork, finishing, and one-on-one defense July 23-27 from 9 am-noon. $125. Visit: sgs.org/summer Call: 466-1636
Cougar Elite Camp, Washington State University, Pullman, Wash. Campers (grades 5-8) will learn the fundamentals of the game and have goalkeeper training June 15-17 and July 13-15. $325. Visit: wsucougars.com/camps/soccer Call: (800) 402-0847
Junior Coug Camp, Washington State University, Pullman, Wash. Campers (ages 9-13) will learn heading, dribbling, shooting and receiving skills July 16-19. $250. Visit: wsucougars.com/camps/soccer Call: (800) 402-0847
Coug Day Camp, Washington State University, Pullman, Wash. Campers (ages 5-13) will focus on agility, fundamental skills and ball handling July 16-19. $150. Visit: wsucougars.com/camps/soccer Call: (800) 402-0847
Cougar Girls Soccer, Washington State University, Pullman, Wash. Campers (grades 8-12) will have goalkeeper training, run drills, and more June 15-17 and July 13-15. $395. Visit: wsucougars.com/camps/soccer Call: (800) 402-0847
Cougar Girls Camp, Washington State University, Pullman, Wash. Campers (grades 8-12) will train together, learn team-building activities, play games and more July 20-22. $350 per camper. Visit: wsucougars.com/camps/soccer