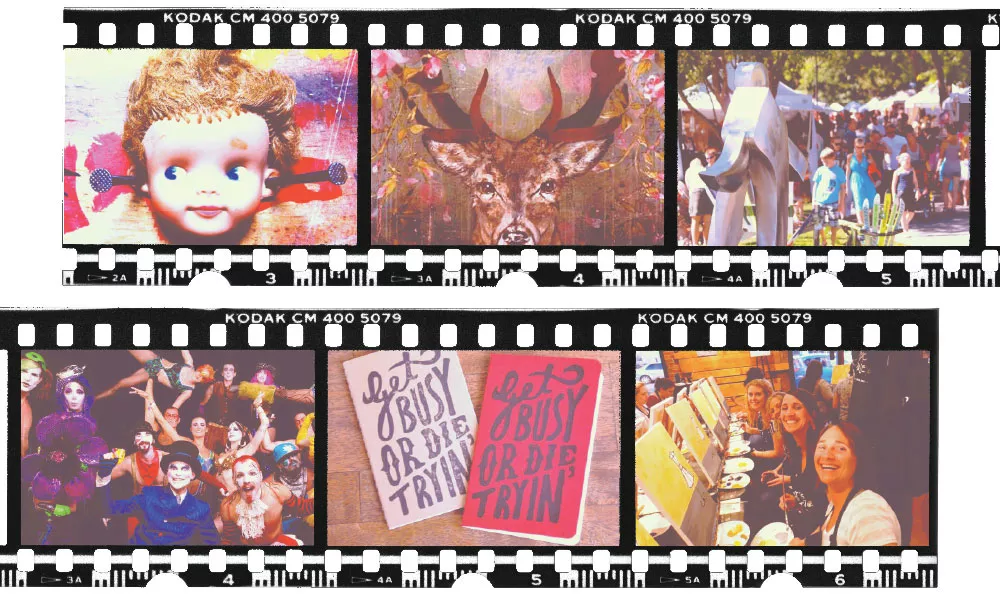 BAZAAR
It's no secret that Spokane has gotten a hell of a lot cooler in the past few years, and the folks behind the one-night arts extravaganza Terrain and the brand-new upcoming arts event Bazaar (June 21 on Wall Street in downtown Spokane) have certainly had something to do with that.
Ginger Ewing, one of the organizers of these events, says that Terrain has always been about celebrating artists. But Bazaar — an event with 50 artist booths, all with items mostly under $100 — goes one step further: "Over the last few years, we've begun to recognize that just as important as celebrating the artists within our community, so is building the kind of infrastructure that supports their ability to be artists within our community," she says. Ewing says the Terrain team — Inlander commentator Luke Baumgarten, Patrick Kendrick, Diego Sanchez and Brian Estes— aims to create a new kind of arts patron. At Bazaar, a young person can not only become a customer of the arts for the first time, but strike up a relationship with an artist for years to come.
"We want people to get comfortable about buying and owning art — not just possessing it, but knowing the story, making it a part of their lives," Baumgarten says. "We want fewer people saying, 'Oh, I got that at Pier 1' and more people saying, 'Oh, the most amazing artist named Bryan made that.'"
Don't expect some stuffy art fair from Bazaar: In the usual Terrain-style, the event will be hard to miss, with food trucks, a beer garden and a day-long schedule of music. Manatee Commune, who'll play Capitol Hill Block Party this year, and Emby Alexander headline, with local performers Water Monster, Mama Doll, Mallows, Teen Blonde, Pine League and Cloak & Dagger supporting.
It's all their way of getting people talking about art, interacting with it, shaking the hands of the artists and seeing vital connections made that can support emerging artists.
"The more conversations like that happen, the more quickly we believe the scene is going to grow," Baumgarten says. "Word of mouth is powerful, right?"
ART ON THE GREEN
We all put up with the terrible winters here — the icy roads, the shoveling, the nosehair-freezing temperatures — because the summers are absolute heaven. And Art on the Green, the longstanding Coeur d'Alene lakeside art festival held this year on Aug. 1-3 at North Idaho College, is one of those events that gets us through the cold months. If you've never been, here's why you should go: enjoy an easy stroll through the aisles of artist booths, sit on the grassy lawn with an ice cream cone, soak up the sun and the music and then look around: You won't see one face that isn't smiling.
WANDERLUST CIRCUS
With a team of high-flying aerial acrobats, jugglers, belly dancers and a bombastic ringmaster, the Wanderlust Circus is back in town this summer. The Portland based nouveau cirque troupe — who'll rock the Bing Crosby Theater on June 26 — throws the traditional big top shtick for a spin, twisting together modern performance art with vintage vaudeville and cabaret. This year the all-ages Spokane show pairs up with locals Spokane Aerial Arts.
PAINT AND DRINK
We're not completely sure who to credit for the new painting-and-drinking phenomenon that's been popping up around Spokane lately, but if you know please tell us: We'd like to give them a huge high five. There's Pinot's Palette, Van Gogh and Merlot and Tipsy Muse — and with each, the idea is generally the same. Get together a bunch of friends, sign up for a class where an artist walks you through creating a painting while you sip amazing wines. What we love about this trend is that it requires no experience, and everyone walks away having created their own piece of art in a relaxed, comfortable setting. Oh, and duh: lots of wine.
"HAVE A NICE DAY"
It's no secret that Spokane is a hotbed for unbelievable artists — and through the month of June, Kolva-Sullivan Gallery tips its hat to one of the city's longest-standing talents: Jon Swanstrom and his art show "Have a Nice Day." You've seen Swanstrom on the kit in a variety of punk bands in the 1980s. He's a filmmaker and actor and one of the owners of Spokane Vintage Warehouse. Most recently we've enjoyed watching him expand his repertoire as a visual artist, and — miraculously — bring together so many of his other disciplines. He makes pop art adorned with dismembered doll heads, found metal letters and chrome on/off switches. It's urban art with an edgy sense of humor. And it's art that could not be made by anyone but Swanstrom.
LIGHT UP THE SIGN BENEFIT FOR INK ARTSPACE
Spokane needs a place where kids can make art and get weird, right? Well, now we've got one. INK Art Space, spearheaded by Spokane son and celebrated writer Jess Walter, offers after-school classes, weekend and summer workshops where kids can do just that: learn how to be a slam poet, make urban street art, write their manifestos — you name it. INK is just barely off the ground and is holding a happy hour and silent auction benefit on Friday, June 13 at the art space (228 W. Sprague) to raise money to "light up the sign." Donations will go toward paying things like the power bill at the space, but also purchasing supplies for kids and building sustainability into the organization.
CATHERINE EARLE ART SHOW
You could argue that there are few galleries in the Inland Northwest that can compete with downtown Coeur d'Alene's The Art Spirit Gallery — which basically has an amazing show planned every single month. And in June, Sandpoint artist Catherine Earle only further underscores that argument. Earle, a native of Southern France, continually explores issues of life and death in her work — and every piece in this show is exploding with life. Birds soar in full flight, a deer peers through a field of pink flowers. There is no such thing as a boring still life study under Earle's eye. Flowers, birds, rabbits, pools of water — they all teem with a buzzing, frenetic energy that is hypnotizing.
NORTHWEST RENAISSANCE FESTIVAL
If traveling back in time is the kind of thing that blows your skirt up, then you're going to want to head out to Nine Mile Falls each weekend in July for the 20th year of the Northwest Renaissance Festival. There you'll find family-friendly fun, Celtic folk musicians and dozens of merchants peddling handmade goods. But mostly, it's a month-long game of pretending it's the 1600s. What does that mean? Expect to see elaborate costumes, real-life jousts and sword fights, battle chess games, dancing, singing and merry-making. You're not required to wear a costume — just leave your snickering at the gates and let yourself disappear into the world these folks have created for the last two decades. ♦