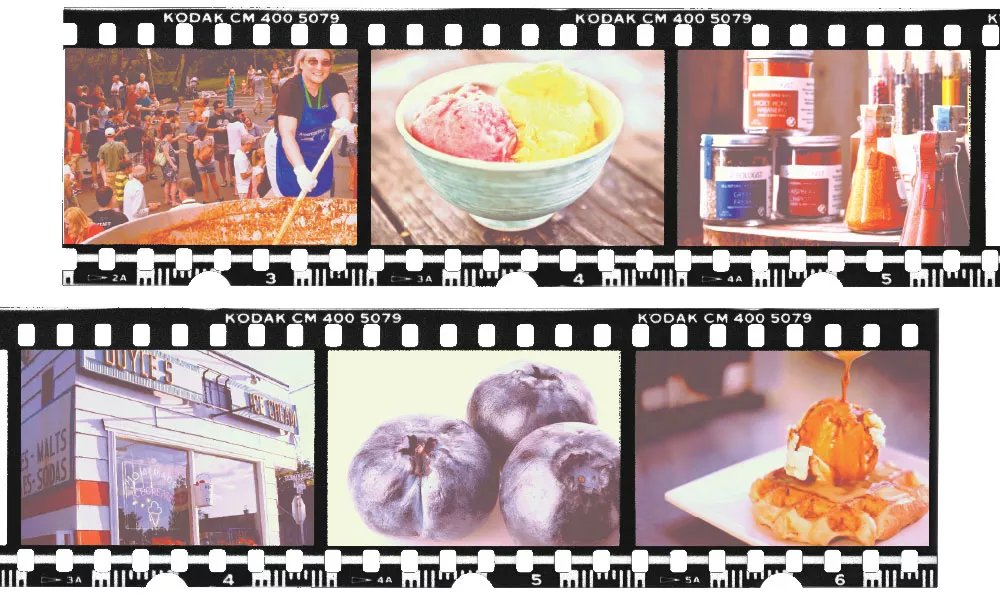 ICE CREAM CRAWL
Is there anything better than an ice cream on a hot summer day? Yes: all the ice cream. The Inland Northwest is home to a handful of local shops — some landmarks, some brand-new — that serve up their own dense, rich ice cream in a vast array of flavors. If you're feeling ambitious, you can stop by the highlights in just a single day. This is a strength-in-numbers situation — set out with the intention of sharing, and you'll be able to taste a full spectrum by the time you collapse into a sugar-induced stupor.
Start on the South Hill at The Scoop (1001 W. 25th), where their Liege waffles, served à la mode, make ice cream a perfectly legitimate breakfast option. Try the affogato waffle, topped with a scoop of ice cream — vanilla and salted caramel are popular — and two shots of espresso. Next, head out to the Valley for a stop at Pete & Belle's Ice Cream Shop (1330 N. Argonne), which opened last fall, and choose from the 48 flavors on display. Look for one of this summer's new flavors, like root beer float or lemon meringue.
It's a little out of the way, but swinging through Coeur d'Alene is well worth it for a stop at Roger's Ice Cream and Burgers (1224 E. Sherman). With a classic roadside atmosphere and a menu of similarly classic ice cream flavors, this is where you can keep things simple with a vanilla or chocolate shake and a side of fresh-cut french fries. Back in Spokane, head up north to Mary Lou's Milk Bottle (802 W. Garland) for retro diner charm and homemade flavors made with the local fruit that's in season.
Finally, head to West Central, where Doyle's Ice Cream Parlor (2229 W. Boone) celebrates its 75th anniversary this summer. Typically open for the season starting Bloomsday weekend, the shop had to overcome a series of mechanical problems and misfortunes before the first batch could be made this year. Not sure what to get? Try banana. End at Spokane's newest shop, Brain Freeze (1238 W. Summit Pkwy.), where you can opt for a flavor like green tea or avocado if you're feeling burned out on the sweet stuff. Its new location in Kendall Yards means you can opt for a cone and take your final scoop of the day for a stroll on the Centennial Trail.
SPICE UP THE GRILL
Firing up the grill for the first time is exhilarating, but it takes some creativity to keep backyard meals from becoming routine by Labor Day. You could experiment with marinades or brines, of course, but it's hard to beat the simplicity and versatility of spice rubs. Pete Taylor of local company Spiceologist, previously known as SAVORx, says it's as easy as it sounds: Rub on the spice mix, then grill, smoke or bake it.
"It can be super simple, or you can get creative with it."
The Cowboy Crust goes great with steak and red meat; the Chili Margarita makes excellent fish or chicken tacos. The Smoky Honey Habanero, good on just about anything, has an almost cult-like following, and vegetarians swear by the all-purpose Purple Haze. And it's not just for meat, Taylor says — try the Chili Margarita on grilled corn or the rim of a margarita glass, or mix a spoonful of Raspberry Chipotle — made with real raspberries — into brownie mix.
Spiceologist is doing a Kickstarter campaign through June 20 to launch their rubs nationwide; local stores carrying their products are listed at spiceologist.com.
GREEN BLUFF FESTIVALS
Every fruit gets its day at Green Bluff, where people can celebrate the crops as they reach their annual peak. The Strawberry Celebration arrives first on June 28-29 and July 5-6, when you can pick strawberries at their ripest. Next comes the Cherry Festival on July 12-13 and 19-20, with the 4-mile Cherry Pickers Trot and famous pit spit on July 17. The Peach Festival caps off the season from Aug. 16 through Labor Day. Find out more at greenbluffgrowers.com.
FOOD TRUCK SMORGASBORD
There are a couple of problems with Spokane's quickly growing food truck scene. One, it's kind of a pain to know where they are all the time. Two, if they all get together in the same place — like they've done for a few downtown food truck rallies this year — it's hard to choose what to eat. Spokane's first-ever Food Truck Palooza on July 20 aims to solve both these problems: At least a dozen food trucks and other vendors are gathering at the Luigi's parking lot downtown, and the $15 admission gets you samples from each truck. (Those who don't want to wait in line can get in early with the $25 VIP admission.) Buy tickets and see the food truck lineup at nwfoodtruckpalooza.com.
LENTIL FEST
The lowly legume is so fashionable these days, you'd be hard-pressed to find a local fine-dining establishment that doesn't include chickpeas or lentils in one way or another. That hasn't been lost on the organizers of the annual National Lentil Festival, held in Pullman Aug. 22-23, but fortunately they've resisted any urge to rid the festival of its kitschy, small-town fun. There's still the giant bowl of lentil chili, the recipe competition, the lentil mascot — Tase T. Lentil — and a focus on what makes agriculture unique on the Palouse.
PIG OUT IN THE PARK
Your metabolism just isn't the same once you reach your 30s, but Pig Out in the Park — now in its 35th year — isn't counting calories or worrying about portion size. Let out your belt and chow down like a high school linebacker on everything cheesy, dipped and deep-fried from more than 40 food vendors Aug. 27 to Sept. 1. You can always say you're just going for the music.
UNEXPECTED 20s
You're out for a meal, enjoying the breeze on the patio, fending off the heat with a cold drink: summer perfection. But look around, and you may notice that not everyone is having such a carefree day. Big Table, the local nonprofit that supports hospitality workers, has an informal program called Unexpected 20s that encourages diners to surprise restaurant servers and other workers with a $20 bill, no strings attached. Download the envelope template at big-table.com and keep it on hand for a good opportunity. On a day that's so warm and beautiful you can't imagine what could make it better — this is it.
SIP COLD-BREW
Not "a cold brew" as in beer, but cold-brew coffee. It's brewed at room temperature over time — sort of like iced tea — and an increasing number of devotees praise it as more flavorful and less acidic than your standard hot cuppa. You can make it yourself in 24 hours with a coarse grind and a French press, but if you're not so patient you can pick up refillable growlers of cold brew from local shops like Indaba and Revel 77. Just mix one part concentrate, one part water or milk, and you're ready to start the day with a cold glass. ♦