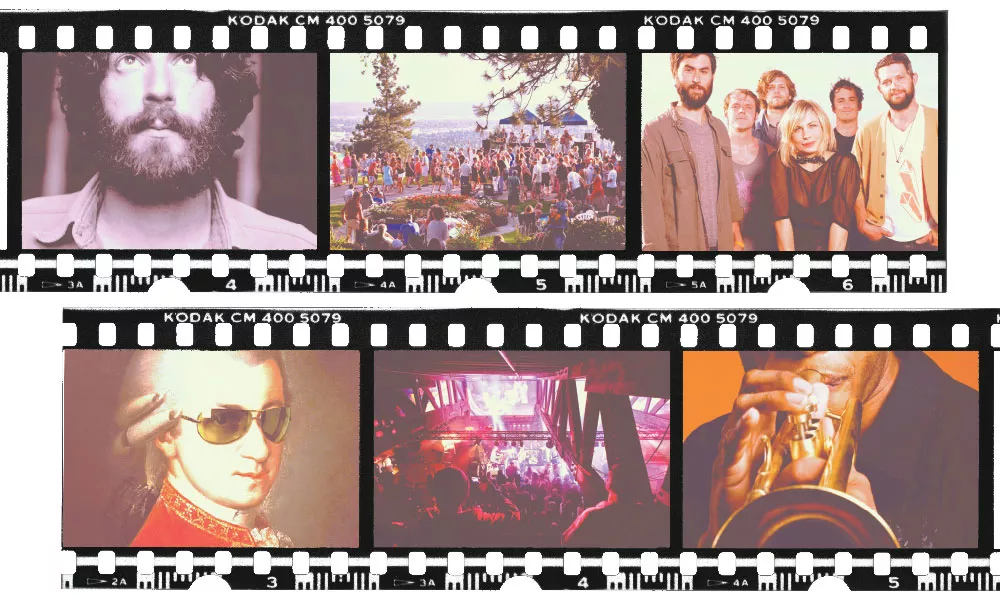 COUNTRY, DISCO, BOY BANDS, OH MY
This summer, Northern Quest Resort & Casino once more will bring in a slew of musicians dedicated to making you feel nostalgic. For those wanting to get their "YMCA" on, there's the Disco Quest '70s Party with KC and the Sunshine Band and the Village People (July 19). New Edition with Tony! Toni! Toné! will make you relive those '80s R&B boy groups (July 9). Foreigner, Styx and Loverboy are coming (Aug. 3), and so are the Turtles, on their Happy Together 30th Anniversary Tour (July 10). Train arrives (Aug. 1) to help you get in touch with your inner "Soul Sister." Then there's the country singin' crew — Tim McGraw along with Kip Moore and Cassadee Pope (July 30, right before he heads to the already sold-out Watershed Festival at the Gorge), Rascal Flatts (Aug. 8), then Toby Keith and Joe Nichols (Sept. 22). Truly something for everyone. Go to northernquest.com/experience/entertainment for tickets.
MOZART IN THE PARK
An event named "Mozart on a Summer's Eve Concerts" screams of privilege and blue-hairs, but that doesn't mean you can't show up to the party on the lawn east of Duncan Gardens at Manito Park. Fun fact: Mozart was a huge proponent of the poop joke. In many of his letters as a young man to family members and friends, his humor proved to be that of a third-grader. He was truly a man of the people, so why many in the younger generation believe his music to be boring is a mystery. Show up to Mozart in the Park July 15 and 16 with beer, snacks, lawn chairs and your homies, and prepare to be amazed by the Connoisseur Concerts Ensemble, soprano Phoebe MacRae, Northwest Bach Festival Artistic Director Zuill Bailey and classical guitarist David Leisner as they perform works by Mozart and more. Lawn seating is $10 and can be purchased at the event. For those wanting to reserve a table, that's $30 per person and gets you coffee and dessert service. Luna restaurant will cater dinner for table diners who separately request it. See nwbachfest.com/mozart for more information. The space opens at 5:30 pm for early seating.
BONNIE "PRINCE" BILLY
People in Spokane want to see Prince. They made that clear in this year's Inlander Best Of readers poll, voting for Prince as the artist they'd most like to see perform. As he isn't on any venue's schedule, you'll have to settle for Bonnie "Prince" Billy playing the Bartlett on July 18. Will Oldham's moniker since 1998, Bonnie "Prince" Billy is essentially the perfect music for those in love with American singer-songwriters. He's got a big, bushy beard paired with an achingly beautiful, warbling voice, and his music careens from melancholy to despair and back. His show undoubtedly will touch a piece of you you hadn't thought about in a while. Go to thebartlettspokane.com for information and tickets, which start at $23. David Ferguson opens the 8 pm show.
SANDPOINT FESTIVAL AND AFTER
Currently, there's no roof on the building, but Hive manager Lara Convery isn't stressed. She says it'll be ready for its grand reopening concert Aug. 8, which features the Dirty Dozen Brass Band and DJ Logic — as long as everything goes according to plan.
Experiencing music each year at the Festival at Sandpoint is simply magical. Sitting on a huge, fuzzy blanket with your wine and cheese and the people you dragged along as the sun shines brightly on War Memorial Field is something that shouldn't be missed, especially this year. The festival runs Aug. 7-17 and features one of its strongest lineups ever, including the Head and the Heart, Trombone Shorty and Ray LaMontagne.
What do you do after the show? That's what Convery and her business partner Jeff Grady, the Hive's owner, wanted to answer when putting together the "Aftival" concert series last year.
"We wanted a place people could go dance at afterward," Convery says.
This year, four Aftival concerts will take place after Festival at Sandpoint concerts: Dirty Dozen Brass Band/DJ Logic, Moon Taxi (Aug. 9), Big Sam's Funky Nation (Aug. 15) and Dr. John (Aug. 16). Unlike the Festival at Sandpoint, all Aftival shows are 21 and older.
When the Hive reopens, it will include larger bathrooms, two new bars, state-of-the-art sound and lighting rigs and a capacity of nearly 1,000. The biggest change will be the removal of all beams that went through the middle of the space, blocking views of the stage for patrons standing on the second level. That's why the roof is removed right now, Convery explains; the building support is being transferred to the top, where new beams are being installed.
"This place is going to be modern and cool and open with the beams gone," Convery says. "People will just want to stay up here all weekend." Go to livefromthehive.com for more information on Aftival and festivalatsandpoint.com for the Festival at Sandpoint.
TOM PETTY AND THE HEARTBREAKERS
We've all had that summer where Full Moon Fever was on constant rotation in the car — where the windows were down, and you and your friends shouted every word at the top of your lungs as the wind whipped through your hair and you felt as free as ever. If you haven't? This is the summer to make it happen. Go see Tom Petty and the Heartbreakers at the beautiful Gorge on Aug. 15. Steve Winwood kicks the party off at 8 pm. Tickets start at $45 and can be found at livenation.com.
PLAY ON
You don't have to start a band or be the greatest musician out there, but for those of you who want to learn a musical instrument, what better time than during the summer, when schedules are more open? Check out availability at places like the Family School of Music on the South Hill or Holy Names Music Center; Craigslist also can yield some excellent teachers. You're never too old to keep expanding your mind and motor skills. There's the added benefit that you can share your new skill with others. Maybe you'll start a band after all.
MARMOT FEST
The KYRS festival changed its name to Marmot Fest this year; we think that's more than appropriate for the Peaceful Valley event. Featuring Oakland-based indie rock band Rogue Wave, local favorites like Angela Marie Project and Folkinception, and the Hoot Hoots, a Seattle indie group that plays here regularly, the event is a paradise for outdoor music lovers. The show, held at Glover Field and run completely on solar power, runs from 1 to 11 pm on JULY 12 and benefits the radio station. Tickets start at $20. See marmotfest.com for more. ♦