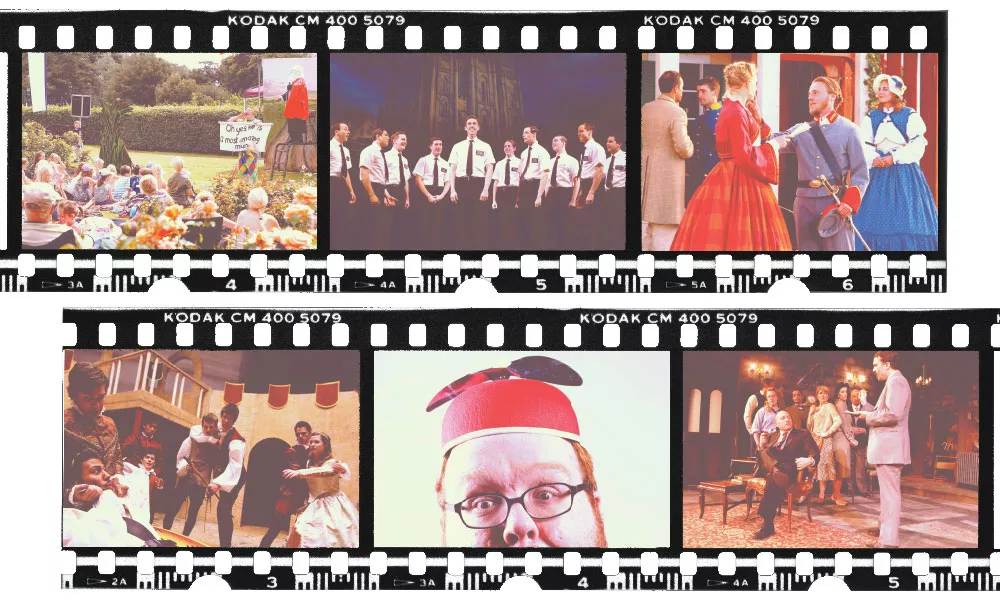 AL FRESCO THEATER
It's in Shakespeare's pastoral comedy As You Like It that the gloomy Jaques utters the famed phrase "All the world's a stage." However deep its commentary on the human condition, that statement quite literally gives theater the freedom to leave its brick-and-mortar indoors setting and venture anywhere.
Why not see performances in a park, on a patio or aboard a cruise boat, especially now that the weather has warmed?
Montana Shakespeare in the Parks will bring their touring performance of As You Like It to Liberty Lake's Pavillion Park on Aug. 23. In their version, the setting is Butte, Montana, in 1917, and the main characters find themselves exiled to logging towns.
Performing outdoors in natural light gives the actors an opportunity to use the surroundings — whether it's a tree or nearby swing set — and connect with the audience, says Susan Dickerson, the organization's managing director. It also makes the experience more casual.
"People will be wandering by, just playing Frisbee, and they stop and watch," Dickerson says. "We've had everything happen from ducks wandering on stage [to] kids really jumping into the action."
As another outdoor perk, spread out a blanket on the lawn and nosh on picnic-basket food all evening, something you would never get away with in an indoor theater.
Perhaps you want food and wine served to you during a performance? Coeur d'Alene Cellars is hosting a murder mystery theater dinner party on their patio (June 27, July 11, Aug. 15 and 22). Or snack on hors d'oeuvres aboard a two-hour cruise of Lake Coeur d'Alene and watch the comic opera Pirates of Penzance, put on by Opera Coeur d'Alene (July 13).
For an all-day outdoor theater experience, consider the Northwest Renaissance Festival in Nine Mile Falls for all four weekends in July. And catch the Mud Show, in which mud beggars get into an actual mud pit, slosh around and tell fairy tales and classic stories like Beowulf and Hamlet, says festival director Tienne Rogers.
"If you're really lucky, you'll get there on a day where they're synchronized swimming," she says.
TRY OUT YOURSELF
Maybe you've been rolling around the idea of acting in a local production in your head, but you make excuses not to, mostly because you've never auditioned before. Let this summer be the summer you simply go for it. Scott Finlayson, the artistic director for Ignite! Community Theatre, suggests starting out by auditioning for staged readings. "That's a great way to get your feet wet and let people hear you, and not necessarily have to go full-bore with all the pressure of a fully produced play and memorizing lines," he says.
Ignite! plans to hold auditions for their September show in late July or early August, and Stage Left Theater puts on staged readings as well. If you want to try your hand at memorizing lines, the Spokane Civic Theatre is holding auditions for Fiddler on the Roof in July and Dr. Jekyll and Mr. Hyde in August.
A bit of audition advice from Finlayson: "Go in willingly and remember that the audition starts from the minute you walk in the door."
COMEDY DEATH MATCH
Typically, comedy isn't a ferocious activity. It's done to create a few laughs and distract people from otherwise drab lives. But every Saturday in June, Spokane's improvisational comedy club, the Blue Door Theatre, hosts Cage Match, a comedy throwdown for the sake of competition — or as they're calling it, a "comedy death match." Multiple teams face off during the preliminary rounds (June 7, 14 and 21). The audience votes and then the three winners vie for the championship title at the finals (June 28). Bluedoortheatre.com has ticket details.
COEUR D'ALENE SUMMER THEATRE
It's in the name. Summer is the only time to catch performances by the Coeur d'Alene Summer Theatre. So don't miss this season's lineup of full-scale Broadway musicals at the Kroc Center. Watch Eliza Doolittle transform from shabby cockney to refined Brit in My Fair Lady (July 10-27) and get to know the eccentric Addams Family a little better in their musical comedy (Aug. 7-24).
THE BOOK OF MORMON
Two young Mormon missionaries. A remote Ugandan village. And the wrath of a brutal warlord. That's the recipe for the hit Broadway musical The Book of Mormon, written by the creators of South Park. The religious satire has received overwhelming praise and won several Tony Awards since it debuted in 2011, and it'll be in Spokane Aug. 12-17 at the INB Performing Arts Center. It's undoubtedly blasphemous, but definitely hilarious.
SUMMER CAMPS
If you don't feel like watching your kids waste away, staring at a screen all summer, you could shoo them outside. That's healthy enough. But how about sending them to theater camp, where they can draw out their budding inner artiste? Many local theaters — including Spokane Civic Theatre, Coeur d'Alene Summer Theatre, Christian Youth Theater, Interplayers and The Lion's Share — have five-day camps for kids and teens, which usually culminate in a performance for family and friends.
BACKYARD PERFORMANCE
Grab some neighbors, friends and family and put on your own backyard theater talent show. You can construct a DIY stage (a back porch with blankets hung as curtains would work just fine), have people perform a scene from their favorite play or movie and then vote for the best, funniest, most terrifying, etc. It'll probably be equal parts embarrassing and amusing, but that's how bonding experiences happen, right?
SHADY PLACES
At some point you'll get tired of going to the lake, or at least get tired of the relentless sun heating up your shoulders. When that happens, just know that Spokane's refreshingly cool and dark theaters have several productions lined up this summer. You can see Legally Blonde at the Civic from Aug. 8-17, a staged reading of The Clink at Stage Left June 13-14 and The Foreigner as well as A Midsummer Night's Dream at Interplayers June 12-28 and Aug. 7-17, respectively.
HAPPY & TOMATO PLANT GIRL
Each summer the Idaho Repertory Theatre brings performances to the University of Idaho in Moscow. This season they've lined up a one-night-only staged reading of Happy at the Kenworthy Performing Arts Centre on June 27. It's a play written by playwright and U of I professor Robert Caisley that's been praised in Chicago and nominated for awards in San Francisco. The IRT youth also will put on performances of the high-energy Tomato Plant Girl on the main campus lawn outside the Hartung Theater on select days from mid-July to early August.♦