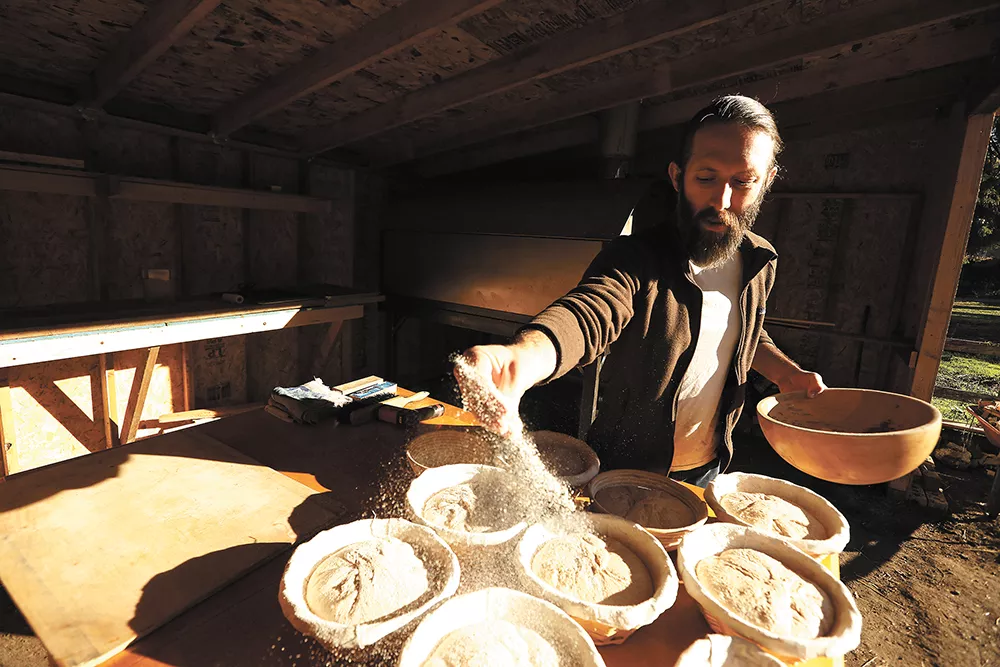 Spokane means something different to all of us, whether we've lived here all our lives, or have newly arrived. A new summer-long exhibit at the Terrain gallery inside the Washington Cracker Co. Building aims to capture these sentiments from as many viewpoints as possible.
"Our hope is to capture images of this moment in the life of our city from many angles, so that we can see, as comprehensively as possible, the way Spokane looks to all of its people," explains the exhibit statement for "Snapshot: A Look at Spokane Right Now."
Local professional photographers — including the Inlander's Young Kwak, along with Rajah Bose, Kristen Black, Robert Lloyd, Grace Lindsey and Laree Weaver — have contributed some of their most iconic images of the city and its people for display in the collective showcase. To complement their work, Terrain has asked the public, with a focus on populations whose perspective is not as often captured on film, to contribute their own Spokane snapshots to the exhibit. Budding mobile photographers are also encouraged to share their scenes for consideration using the hashtag #spokanesnapshot. New images from both underserved groups and those that are shared on social media channels will be added to the exhibit over the course of its three-month run. Terrain also plans to host several side events to supplement Snapshot's art, including a public reading of works created during a recent writing workshop facilitated by Spokane Poet Laureate Laura Read, set for July 12.
Snapshot: A Look at Spokane Right Now • Fri, July 7 from 6-7 pm • Terrain • 304 W. Pacific • terrainspokane.com/events
---
Receptions on Friday, July 7 from 5-8 pm, unless otherwise noted. For additional information, visit firstfridayspokane.org.
4 Degrees Real Estate, 1209 W. First
Various visual and performing artists are featured.
Auntie's Bookstore, 402 W. Main
The store hosts its first Friday poetry open mic with "Remember the Word" featured reader Jeff Dodd. Guest poets can also share up to 3 minutes' worth of material.
Avenue West Gallery, 907 W. Boone
"Remembering Dads," by artist Bari features watercolor and ink inspired by fathers.
Barili Cellars, 608 W. Second
Unique mixed wood wall pieces by Rebeca Abdala.
Barrister Winery, 1213 W. Railroad Ave.
Patti Simpson Ward presents her Americana-style paintings in "Heart of Spokane."
Bellwether Brewing Co., 2019 N. Monroe
Mixed media by Ryan Johnson.
Bistango, 108 N. Post
Music by Kori Ailene.
Bloem Flowers, Chocolates & Paperie, 808 W. Main
Medieval-style illuminated manuscripts by Hannah Charlton.
Boutique Bleu, 1184 W. Summit Pkwy.
Ceramics by local artist Liz Bishop.
Bozzi Gallery, 221 N. Wall
"Exodus" features original batiks by Spokane-based Maasai artist Nicholas Sironka.
Core Pilates & Wellness, 1230 W. Summit Pkwy.
Photography by Stuart Danford and metal sculptures by Paul Kuhlman.
Craftsman Cellars, 1194 W. Summit Pkwy.
Paintings by internationally recognized watercolor artist Stan Miller, with music by Wyatt Wood from 6:30-8:30 pm.
Hills' Restaurant & Lounge, 401 W. Main
Live music by the Front Porch Trio, from 6:30-9:30 pm.
Iron Goat Brewing Co., 1302 W. Second
"Better Spokane Headlines" featuring wacky artwork by Clancy Bundy.
Keith Powell Gallery, 123 E. Second
Featuring art by Caroll Vrba, Keith Powell and David McMillan.
Kolva-Sullivan Gallery, 115 S. Adams
A juried group show curated by Jennifer LaRue, featuring more than a dozen local artists whose work reinterprets the concept of "reclaiming." Reception July 8 from 4-8 pm.
LeftBank Wine Bar, 108 N. Washington
Oil on canvas paintings by Spokane artist Amanda Richard.
Marketplace Winery, 39 W. Pacific
Live music by the Spare Parts Duo, from 5:30-9 pm.
Marmot Art Space, 1206 W. Summit Pkwy.
"Nerd," a multimedia exhibition by SFCC professor Carl Richardson, which also features collaborative pieces by Riverpoint Academy Students and local digital firm Gravity Jack.
Nectar Catering & Events, 120 N. Stevens
Art by Mark Addy, along with live music by Jamison Sampson, from 5-10 pm.
Object Space, 1818½ E. Sprague
"Empty Playgrounds" by Dario Ré features 55 photographs, alongside an interactive sculpture and sound installation.
Overbluff Cellars, 304 W. Pacific
Selections from members of the Inland Outlook Photo Club.
Pottery Place Plus, 203 N. Washington
Paintings by Charleen Martin and handmade soaps by Genae Millar in a guest show titled "All the Pieces of Our Lives."
Richmond Gallery, 228 W. Sprague
"Hypothesis" features new works by the Richmond Art Collective's resident Spokane artists Brian Deemy, Julie Gautier-Downes, Ira Gardner, Hannah Koeske, Alex Mann and Mallory Ware.
River City Brewing Co., 121 S. Cedar
Art by local artist Chere Perrigo.
River Park Square, 808 W. Main
Live music by Ken Davis and friends in the third floor food court, from 5-7 pm.
Saranac Art Projects, 25 W. Main
The gallery features new works by member artists: an installation by Dan McCann and works on paper by Tobe Harvey.
<
p>Spokane Public Library, 906 W. Main
Live music by Troubadour with Celtic Cross, from 6:30-8 pm.
STA Plaza, 701 W. Riverside
Visual art by Patrick Welker and live music by singer-songwriter Joshua Belliardo, from 4-6 pm.
Steelhead Bar & Grille, 218 N. Howard
Landscape photography by Nick Nelson.
Terrain, 304 W. Pacific
"Snapshot: A Look at Spokane Right Now" features personal views of Spokane from professional and community photographers.
V du V Wines, 12 S. Scott
Original watercolors and pastels by local artists Marlee Griffith and Tami Goolie, and live music by Crushpad from 5:30-9:30 pm.
William Grant Gallery and Framing, 1188 W. Summit Pkwy.
Myron G. Bursell's photography project "Courage: Spokane Heroes" honors retired and active duty members from all branches of the military.
Wollnick's General Store, 421 W. Main
Live music by Kevin Dorin, from 5:30-7:30 pm, in the store's newly remodeled space.