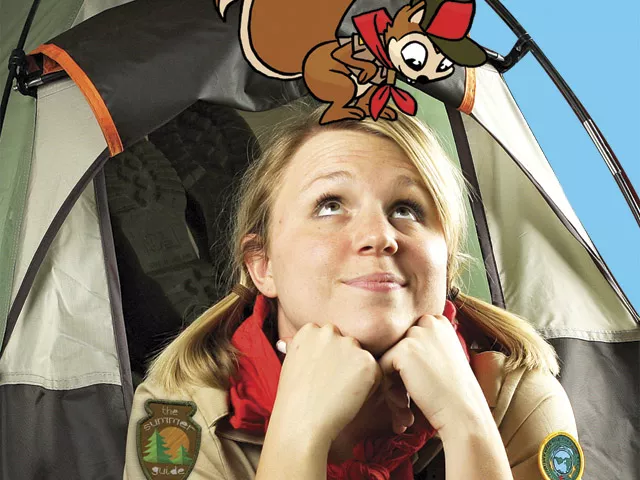 CDA/PF
Parasail
Located directly on City Beach Dock at Independence Point, COEUR D'ALENE PARASAIL AND WATERSPORTS is a seasonal outfitter — so seize the opportunity before winter rolls around again, because you can't parasail over ice. This is also the spot to rent canoes, paddleboats and those goofy-looking aqua cycles. Visit cdaparasail.net. (BT)

SANDPOINT
Let Someone Else Drive
Just a few times on Lake Pend Oreille, and we were impressed with its vastness — and with the myriad ways you could get lost out there. Having a skilled captain and tour guide at your boat's helm is a definite advantage. At 40 feet long and 14 feet wide, with an enclosed lower deck, a spacious upper deck and cruising speed of seven knots, the Shawnodese makes any lake trip worry-free. Although LAKE PEND OREILLE CRUISES has other boats, including those built for speed, we love the idea of a lazy-sunset and eagle-watching cruise, complete with dessert service or wine tasting and Pend Oreille Pasta hors d'oeuvres ($22-30). Fees vary by cruise; reservations recommended. Visit lakependoreillecruises.com. (CS)

SPOKANE
H2-Overload
There's something really magical about waterslides. That's why SPLASHDOWN WATERPARK and SPOKANE'S RIVER 96.9 are teaming up for four hours of music and waterslide mayhem every Tuesday night after June 15, starting at 4 pm. Get your fill of feeling like you're being flushed down a drain, or just sit back and watch your friends and family as they willfully subject themselves to full-body swirlies for $8. Visit www.splashdownpark.net. (CJ)
SPOKANE
City Pools
In 2007, the City of Spokane promised us six new pools and 11 new splash pads as part of the Parks Improvement Bond. It's been a long wait, but the final two pools will soon be open for splishin' and splashin'. LIBERTY AQUATICS CENTER (Fifth Avenue and Pittsburg) will open on June 14 along with all of the other city pools, while WITTER in Mission Park will open sometime later this summer. You bought the pools with your tax dollars, so make like Scrooge McDuck and dive into that water like it's a bunch of cool, refreshing gold coins. Find pool locations at spokaneparks.org. (CJ)
---
SPOKANE
Going with the Current
Michael Bowen, holding on for dear life. [Photo: Young Kwak]
It's like a giant Disneyland log ride in our own backyard. On a "Friday Night Float" on the Spokane River with the NORTHWEST WHITEWATER ASSOCIATION (six guys, four rafts) — after floating downstream from the Meenach Bridge — it soon looked and felt as if we were out in the backcountry.
Ducks quacking in the reeds. Osprey nests high atop trees. The ospreys themselves, all beak and flapping wings, flying low overhead. River banks and trees that look so undisturbed, it was startling at one point to see a mountain biker flashing past on a hidden trail.
With the river flowing at 7,000 cubic feet per second, even the Bowl and Pitcher didn't seem too scary. Dangerous rocks and timber loomed, but we stayed river-right. Waist-high water splashed into the boat, fogging my glasses. And the thrill level? Not scary. Invigorating. Like a Disney log ride.
Of course, I had it easy. Paul Delaney, point man of our raft expedition, was on the oars, with both of us ensconced in his $6,000 rubber boat with seating for six. And Delaney — a booming-voice guy in a "Raftafarian" T-shirt who drives a truck with "RIVRRNR" plates — is everything you want in a river guide.
He can wax eloquent about how the river changes character according to how much water Avista allows through the upriver dams. Just after the water treatment plant (with its surprising cascade of bleached water pouring into the river), there's a sign, 15 feet overhead, warning of Dangerous Rapids Ahead. "At 40,000," Delaney says, "you can stand up in the boat and almost touch that sign."
Past the Bowl and Pitcher and near the triple outcropping of angled boulders known as "the Devil's Toenail," he pointed out dangers. "We call that one 'Cyclops,'" Delaney said about some granite mound we were idly bypassing. "It creates a good hole at 15,000… that hole, it's a flipper" — meaning that particular wave-trough would send you and your boat down and up and over.
Any raft float has its own fast-slow rhythms. Long quiet stretches with insects denting ripples on the surface alternate with rapids big enough that you hear them before you see them — froth over stones, drop-offs, that soothing/discomforting sloshing sound. But after bracing for one set of rapids, and the next, and the next, now it was time for those long-promised "post-Toenail beers."
At Disneyland, you can't lean back with a cold one while the pine trees glide by. (MB)
---
SPOKANE
Parks & Rec
Sometimes, you just feel like getting outside and doing something. You don't know what — and you don't feel like planning it — but you're ready to go. That's where SPOKANE PARKS AND REC'S OUTDOOR SUMMER PROGRAM comes in handy. From jet boating Hells Canyon (June 19, July 17) to kayaking Badger Lake by moonlight (June 26, July 24, August 24), you're sure to find something that suits your interest and schedule. Sponsored in conjunction with area businesses like REI, Mountain Gear and even Aloha Island Grill (kayak and luau on the Little Spokane), these events are a great way to have fun on the water while supporting your city and the local economy. Download the Outdoor Summer Program schedule at spokaneparks.org. (CJ)
SPOKANE
Rafting — for a Cause
You've done charity walks, but what about a charity raft? Float along the Spokane River on June 20 for RAFT TO REMEMBER, benefiting Alzeheimer's Association Inland Northwest Chapter, or down the Clark Fork River Aug. 8 for RAFT FOR THE CURE, benefiting the Eastern Washington affiliate of Susan G. Komen for the Cure. (Raft for the Cure in Spokane on June 13 is already sold out.) If you're a rafting newbie, don't worry — sponsor ROW Adventures was named by National Geographic as the second-best water adventure travel company in the world, so they know how to do things right. Sign up at www.rowadventures.com. (CJ)
---
VALLEY
Playboating
From now until Aug. 4, there is an evening opportunity for a little WNP. Which, if you hang with members of the Spokane Canoe and Kayak Club, is shorthand for WEDNESDAY NIGHT PADDLE. Summer evening paddles begin around 5 pm and boaters play in Class III and Class II rapids (they will decline as the summer advances) in the Spokane River near Sullivan Park. Visit www.sckc.ws. (KT)

---
HINTERLANDS
I'm On a Boat
It ain't Twain's Mississippi, but the three eight-day PADDLE-WHEELER CRUISES offered along the Snake and Columbia Rivers this summer will show off angles of Washington and Oregon that you never see from the freeways. Of course, the trip from Clarkston to Portland, offered by Adventure Cruises, will set you back over $4,000 (no stowaways or cub pilots here), but what finer Northwest summer experience than to sit topside and sip a glass of Yakima red while the sun sets on the mighty Columbia? (We've seen Twain's Mississippi — it pales in comparison.) (JS)
Summer Guide 2010
SORT BY CITY Spokane • Spokane Valley/Liberty Lake • Coeur d'Alene/Post Falls • Sandpoint • Pullman/Moscow • West Plains • The Hinterlands

SORT BY CATEGORY Festivals • Food/Drink • Kids • Music • Outdoors • Sports • Theater • Water • Etc.

READ THE E-VERSION
Stories
•
Calendar listings