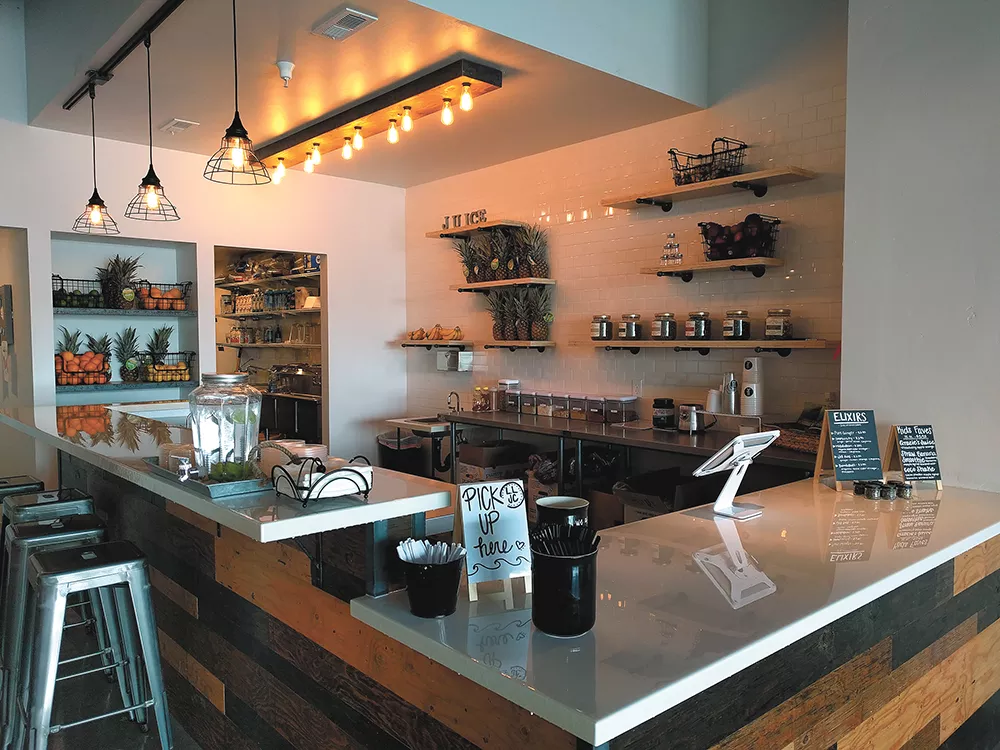 A new business in Liberty Lake hopes you'll consider trading in your afternoon caffeine fix for a natural pick-me-up, courtesy of fresh fruits and veggies.
Liberty Lake Juice Company opened last month in a large shopping center just off the main I-90 exit to the lakeside community. Whether you're looking for a post-workout refresher or simply a cool, sunny-day treat, the new juice bar offers a menu of fresh-pressed fruit and vegetable juices, blended smoothies and acai bowls, along with a handful of hot drinks, including tea from local purveyor Winterwoods Tea Co. and a "superfood" hot cocoa.
Tucked between a Chinese restaurant and a Starbucks, Liberty Lake Juice Co. features a crisp, open-floored interior with several tables for guests who want to stay and sip their juice or smoothie over conversation. To encourage customers to stay a while and chat, the noisy blenders and juicers are intentionally set up in a prep room off of the bar top counter where customers order.
Owners Amy and Jordan Redman were inspired to bring fresh, organic juice and smoothies to Liberty Lake after a trip last year to Hawaii, where the couple enjoyed numerous businesses offering the tropical treats.
"We thought there was a need for it in Liberty Lake. It's a very health-conscious community, and we thought it would really be appreciated here," Amy Redman says.
All of the juice ($6.95-$8.95) and smoothie ($6.95-$7.95) combinations were created and perfected at home by the Redmans; customers can also build their own blends of fresh fruit and veggies, and smoothies offer add-ons like Tahitian vanilla, cacao nibs, and chia and hemp seeds.
Top sellers since the juice bar's debut include the acai bowls ($8.95-$9.95), which are essentially smoothies served in bowls with a base of naturally sweet acai berry purée, topped with fresh fruit, granola, honey, nuts and seeds. Redman says her best-selling juices include the "green lady," a blend of kale, chard, parsley, romaine, cucumber, pear and lemon, along with the citrus-forward "energizer," containing orange, lemon, carrot, apple and ginger. The fruity "sunrise" smoothie of coconut water, banana, pineapple, mango, raspberry and lemon is another favorite.
The Redmans hope to introduce local customers to the health benefits of freshly made juice and smoothies — which not only help fulfill the recommended daily servings of fruits and vegetables we should eat, but are rich with antioxidants and other nutrients, including vitamins — as alternatives to sugary, caffeinated drinks that the couple themselves one day realized they consumed too much.
"We started replacing [our lattes] with fresh juices, and while I love my coffee, the juice is a more pure and clean energy," Redman explains. "You feel better after having them. We hope other people experience that, and can have this as a replacement for their morning or afternoon coffee." ♦
Liberty Lake Juice Co. • 1334 N. Liberty Lake Rd. • Open Mon-Sat from 7 am-7 pm, Sun from 7 am-3 pm • libertylakejuice.com • 818-2674