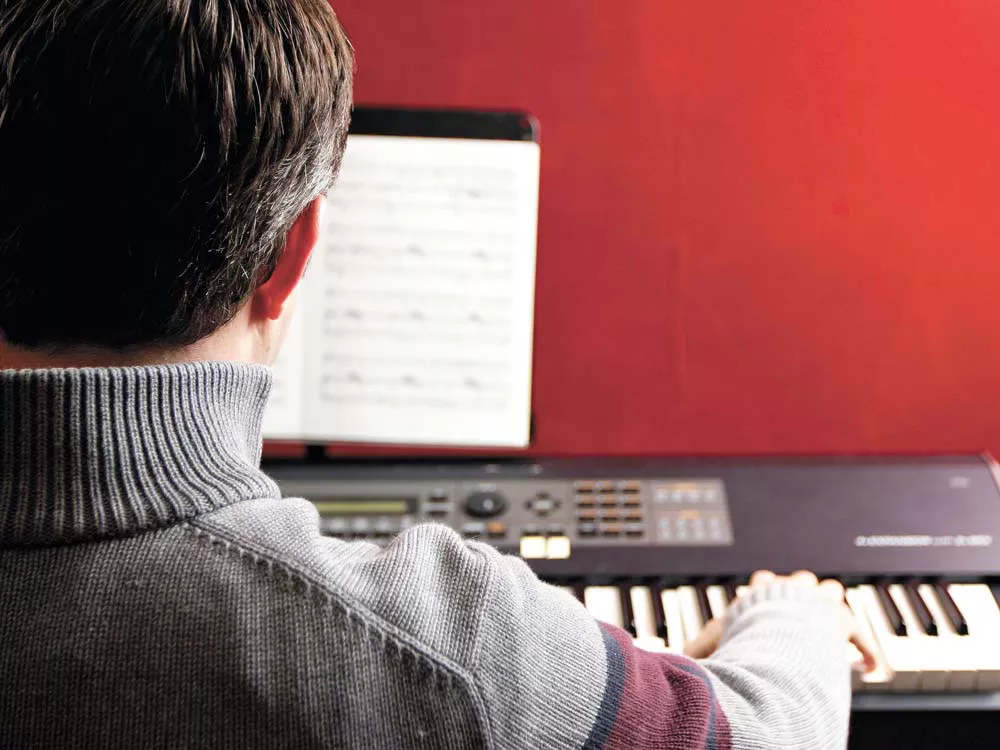 It had been a coup for Yvonne A.K. Johnson, executive artistic director of Spokane Civic Theatre. In the middle of a recession, ticket sales and fundraising were so successful that she succeeded in creating a much-coveted position: the theater's first-ever full-time music director, who would oversee the Civic's most profitable productions.
Johnson considered applicants from across the country and in June, she inked a three-year contract with James Ryan. Ryan, who made a cross-country move for the job, started work on Aug. 23 and set about co-directing — and playing two small onstage roles in — the Civic's sold-out Buddy Holly musical last month. His wife, Lynn, had meanwhile been hired in the Civic's box office.
The Ryans had seemed to fit right in. But on Oct. 15, all that changed.
That day, the Civic received an alarming e-mail about the Ryans: "What kind of people do you employ????? The attached photos and e-mail excerpts are outrageous," it said. "Do I need to go to a higher authority......or maybe the press."
The e-mail was signed, "Megan Wilson," and included seven photos: Four were clothed, casual shots of the Ryans. Three were headless nude torsos. No sex acts were depicted. The e-mail also had explicit excerpts from e-mails that James Ryan had written.
"For lack of a better word," explains James Ryan, "we're swingers." Specifically, they solicit other couples for the purpose of consensual husband- and wife-swapping. They've been doing so for the past two and a half years and they think of it as "dating," James Ryan says.
Soon after moving to Spokane, the Ryans had posted an ad under "Casual Encounters"
in the Personals section of the Spokane Craigslist site.
On Oct. 4, the Ryans received a response from an interested married couple. Via e-mail, niceties were exchanged.
So were sexual preferences and explicit photos. The couple disclosed their backgrounds and occupations — he was a lawyer, she a nurse — and in response, the Ryans revealed that James was the Civic's musical director.
And then, 11 days after the Ryans' first e-mail exchange with the interested couple, the Civic heard from "Megan Wilson" — who just happens to use the same e-mail address as the couple the Ryans were writing. The e-mail was sent to the Civic's director of communications, Allyson Shoshana, who brought it to the attention of the Ryans and Johnson.
After discussing the situation with Johnson, James Ryan says, "I remember thinking that my job was not in danger." Indeed, as Johnson wrote later in a termination letter, the Ryans' sexual activity, in her opinion, "was no big deal then and remains innocuous to this day. The concerns arose later … [after] realizing the public nature of the association of your sexual solicitations with the Theatre."
On the morning of Oct. 17, Johnson summoned James Ryan to the Civic for a board meeting that afternoon, saying his only options were resignation or termination. After requesting a chance to plead his case and being refused, he chose termination.
That same day, shortly before the next performance of Buddy, Johnson informed the cast that James and Lynn had been fired. She wasn't clear why, say some who were at this meeting, but Johnson and board president Michael Muzatko indicated that the Civic needed to "protect the children" — leaving some to think that James Ryan was a child molester.
Johnson and the Civic, for their part, aren't talking.
They've referred all questions to David Black, an attorney with the Jackson Lewis law firm in Seattle. On Monday, Black called to say he had no comment at this point.
On Oct. 20, as people learned more,
a petition in support of the Ryans was circulated among many of the Civic's volunteers — actors, directors, producers, backstage and front-of-house personnel. Fortynine people signed it before delivering it to Johnson.
It reads, in part: "We love the Spokane Civic Theatre.
Our greatest desire would be to continue acting, directing, donating to and supporting shows at the Civic. We, however, cannot be silent in our disdain, disappointment and disgust in this horribly ugly [resolution] to an unfortunate situation."

Janae Paenitz, who will appear in the Civic's upcoming White Christmas production directed by Troy Nickerson*, has signed the petition supporting the Ryans.
"The fact that evidence was collected against Jim under false pretenses, deliberately to expose something personal, should have been taken into greater consideration," she says. "How does a lie expose the truth?" In a brief interview on Oct. 25, Johnson repeatedly stated the Ryans "are saying that they got fired because they are swingers. That is false." She said she couldn't elaborate, on advice from attorneys, but a termination letter Johnson wrote to the Ryans indicates grounds for the couple's firing.
"The Theatre decided to terminate your employment because you exercised extremely poor judgment by placing into the public domain sexually graphic text and pictures of you and [Lynn] combined with information that permitted an association to the Theatre," the letter says. Johnson then goes on to enumerate "three gross offenses": 1) making indiscretions public by using Craigslist.org; 2) failing to maintain "even a modicum of judgment and … professional anonymity" by connecting the Civic to the Ryans' "sexual activities" in various ways; and 3) failing to uphold high moral standards and damaging the Civic's reputation.
Ryan is considering a lawsuit against the Civic and has filed a request with the Washington State Civil Rights Commission, which sometimes takes on such cases pro bono. In the meantime, he and his wife are out of their jobs after just two months.
The Ryans want to know who outed them and why.
James Ryan has hired a private investigator with a cybersecurity firm known as Net Trace, which has tracked the Internet Protocol address of "Megan Wilson" to the vicinity of Salem, Ore. The investigator hopes a subpoena will reveal more about Wilson.
They realize that bridges have been burned at the Civic, but James Ryan says he still wants to see justice done: "I believe that, given our move here — the expense, the geographical distance — I believe we are owed more consideration than we were given."
* An earlier version of this story incorrectly identified the director of the Civic's White Christmas production.