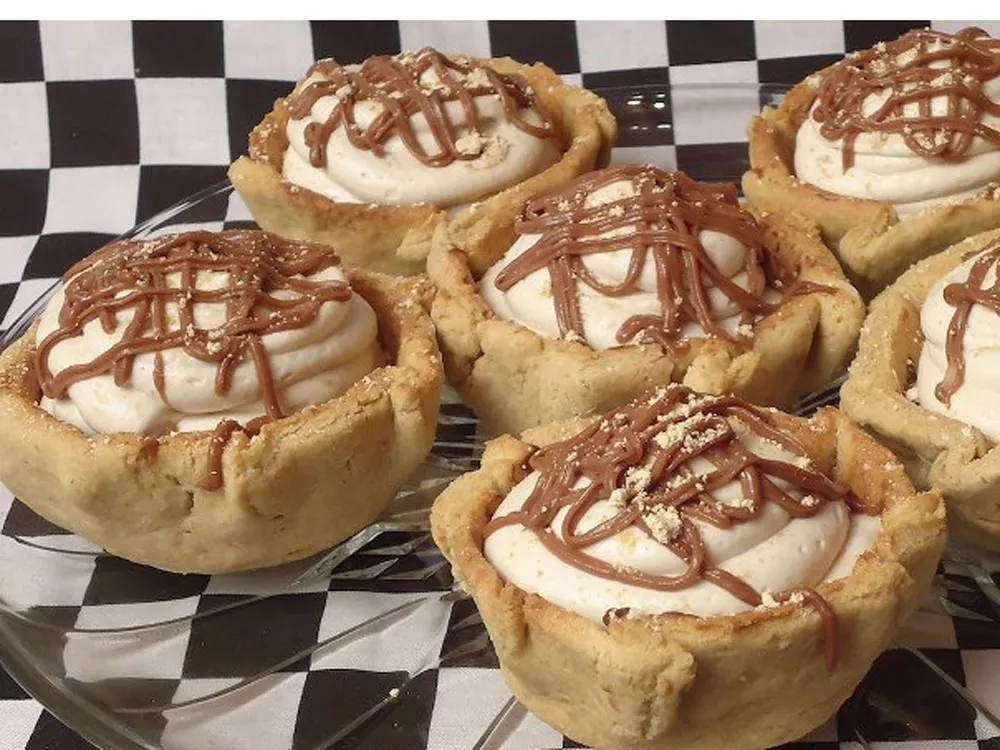 When you take a bite of V American's banana cream pie, you might hear yourself saying through a mouthful that this is truly the best banana cream pie you've ever eaten. That first bite will be thick with whipped cream tinged with a slight coconut flavor. The next bite will be all fresh bananas and sweet-but-not-too-sweet pastry cream, with a buttery crust adding a savory note.
Your cheeks will likely be filled with this pie when you are told that this divine creation is vegan — meaning no dairy was used in making it. Even if you eat vegan food, you'll be surprised. But, either way, you won't care because V American, the vegan comfort food project of Curtis Rew and Desiree Cassano, has truly mastered the goal of any good pie: getting people to inhale it.
The couple sells their pies — banana cream, chocolate cream, peanut butter and chocolate cream and pumpkin — out of a small glass case at the South Perry Farmer's Market every Thursday. Their tiny two-bite pies are just $2, and it's easy for one person to mow through four of those in a single sitting.
Over the last 15 years that the couple has been vegan, Cassano has perfected her pie recipe. It's their entree into the local food world — and their first step in providing the Spokane area with a full menu of "American diner comfort food." It's not the hippie food you might be thinking of.
"A lot of people try vegetarian [food] and it's horrible," Rew says.
Rew says when the couple decided to go vegan in 1996, there weren't the options in grocery stores that there are today. The lack of options in Spokane forced Cassano to perfect vegan versions of food she had once loved in her own kitchen: biscuits and gravy, "chicken" sandwiches, breakfast sandwiches.
"It's not all black beans and quinoa," Cassano says, noting that she often converts old Betty Crocker recipes into vegan dishes. She then tests her recipes out on meat eaters to make sure they are satisfying to everyone.
The pair aimed to open a vegan food truck, but decided to start small by selling their pies. If all goes well, they want to expand to serve that comfort food that Cassano has perfected.
"Our goal is to provide the world with food that's good for them," Rew says.
And now, they feel like people in Spokane are ready to try something new.
"People are willing to try things when their friends aren't looking," Rew says. The pies, he says, "are a good gateway drug."
V American Cream Pies • South Perry Farmers' Market • Inside South Perry Yoga, 915 S. Perry St. • Thu from 3-6 pm • vamericanfastwholefoods@gmail.com